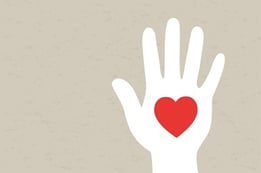 In a time where companies are being asked to do more with less, it can be challenging to implement changes in your business that make the shift to social and environmental responsibility. But more businesses are making those changes to do good and take pride in their workplaces, and they are seeing the return on their investment as a result. The bottom line is that social responsibility can increase your company's bottom line while making a difference in your community. Make no mistake – consumers notice organizations that are being socially responsible, and they reward them with their dollars, accolades, and loyalty.
What Does It Mean to Be a Socially Conscious Company in Your Area or Marketplace?
Corporate social responsibility (CSR) can be defined as adhering to ethical and legal standards across a company's operations. That includes promoting and supporting local, national and global causes. That's typically achieved through corporate philanthropy, where businesses donate some of their profits or resources to charitable causes. Of course, companies that show social responsibility in this way must be committed to doing so on a regular basis. If you say you support socially responsible causes but don't follow through with it, your organization may quickly be regarded by the public as disingenuous.
A well-designed and properly executed corporate giving program can give your business a competitive advantage by:
Improving name recognition – Individuals will start to attach your brand or name with a cause. If they also support that cause, they'll be more likely to buy your product, even if it costs a bit more.
Boosting brand reputation among consumers – Social media is huge right now, and as consumers talk about the brands they prefer, those that value socially responsible businesses with socially responsible services will discuss your brand and recommend it to others.
Increasing sales and positive consumer sentiment – A satisfied customer is one who is likely to return again to your storefront for purchases.
Assisting in efforts to recruit and retain talented employees for your company – Are you discussing your social responsibility campaigns in your advertisements for new hires? If not, you may be missing an exceptional opportunity to recruit people who believe strongly in giving back to the environment or certain charitable organizations.
Improving the quality of life in communities where you do business – The stronger you can help your community become, the more revenue your business will see. It's the reason that so many local stores add a budget line for sponsorships and charitable donations. They know that when their neighbors are doing better and feeling better, they'll be more open to make purchases.
Consumers Care about CSR
Research shows more consumers are basing their buying decisions on corporate social responsibility. A study earlier this year by public relations and marketing firm Cone Communications and Echo Research revealed 90 percent of shoppers worldwide are likely to switch to brands that support a good cause, given similar price and quality. The study also shows businesses that aren't socially responsible run the risk of losing customers. Again, 90 percent of the shoppers surveyed would boycott companies if they found the firms engaged in irresponsible business practices.
This study is just the latest that shows companies should care about social responsibility because their customers do. It's no longer enough just to sell a good product or service. Consumers are expecting more from businesses, including real, meaningful social impact. It appears business owners are listening to these demands. Rather than tacking philanthropy onto the Public Relations department as an afterthought, more companies are trying to integrate corporate social responsibility throughout all of their operations. That commitment is showing through in the kind of jobs provided, the kinds of products made, and the ways in which resources are used.
Paying Off
Companies are no longer looking at CSR as a marketing move, but rather as a long-term investment. For example, the Coca-Cola Company's 5×20 program aims to bring five million women in the developing world into its business as local bottlers and distributors of Coca-Cola products by 2020. This investment to empower young women entrepreneurs will obviously generate more revenue for Coca-Cola because they will have more bottlers and can sell more product. But at the same time, this type of investment will undoubtedly lead to better-educated people and eventually, more prosperous communities in areas that need help.
Cost Saver
Other companies look at CSR as a way to save money. Energy efficiency is a good example. Wal-Mart has three goals of its social responsibility policy: to be fully supplied by renewable energy, to create zero waste, and to sell products that sustain people and the environment. These are lofty goals, but if achieved, they will ultimately save the company a great deal of money.
From savings to developing loyalty with consumers, the benefits of becoming a socially responsible far outweigh the costs. Companies can no longer to afford to ignore their social responsibilities.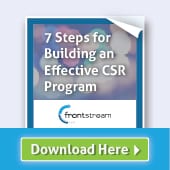 Getting an effective CSR program off the ground isn't easy. All too often, a program is received with enthusiasm at the beginning and then gets pushed off to the side for other priorities. This doesn't have to be the case.
Download the 7 Steps for Building an Effective CSR Program eBook for best practices that will help you develop a program that is truly valued by your organization.
Get the latest trends and topics delivered to your inbox!
Subscribe to FrontStream's Blog