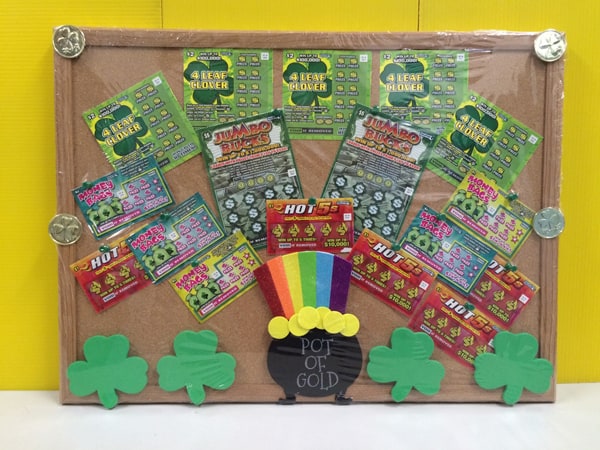 The luck of the Irish be with you! St. Patrick's Day is coming up fast (on Friday March 17th this year) and we're quickly seeing a sea of green and gold appearing in stores everywhere. But more than just being a day for epic pub crawls and funny hats, St. Patrick's Day can also be the perfect occasion for a creative themed fundraiser! There's no better occasion to infuse your peer-to-peer events with playfulness and fun - think rainbows, leprechauns and pots of gold. (No time for a fundraiser? Check out these auction ideas for the holiday!)
Whether in your workplace, school, or community centre, there are plenty of great St. Patrick's Day fundraising ideas. Here are a few of our favorites:
Pot o' Gold Guessing Game
Put a seasonal spin on the "guess how many jellybeans are in the jar" game by putting chocolate gold coins in a decorated pot. You can then charge a few dollars per guess, and the person who has the closest guess to the actual number of coins wins a prize (or even just all the chocolate!). This is a fun and casual way to raise money that can be done over a number of days, with a sweet reward at the end.
Clover Draw
Another "party game" type of fundraiser could be the Clover Draw. Fill a box or a jar with a number of cutouts in the shape of regular three-leaf clovers, but include one that has four leaves. Participants can pay a set amount to try their luck (get it?) at grabbing the four-leaf clover, which could win them a prize.
Shamrock Bake Sale
It's a classic for a reason, and making a St. Patrick's Day spin on a bake sale is a particularly sweet (get it?) fundraiser. Shamrock-shaped cookies, cupcakes decorated with green frosting and gold sprinkles, and Guinness chocolate cake are a few examples of treats that could be on offer (here's plenty more delicious ideas to get you going!). Make sure you've got ample signage in the days leading up to the bake sale as well as the day of the event, in order to get the word out.
Irish Potluck
Speaking of cuisine, the Irish have a good reputation for producing filling comfort food & drink - think stew, potatoes, and Guinness - so why not have a potluck to raise funds? Not only can you raise money by selling tickets for entry, but you could also incorporate a draw or a raffle component for prizes. Building community AND raising money for a worthy cause? That's worth raising a pint.
St. Patty's 5K
Ready to work off all that delicious Irish food? A St. Patty's Day marathon could be just the ticket. Take the suggestion from PsPrint and get green t-shirts, offer green sports drinks along the way, and even partner up with a pub to throw an after-party (with green beer!) once the 5K is completed. Allow for fun, Instagrammable costumes and you've got the recipe for an exceptional P2P event.
No matter what the special holiday is, there's bound to be a fundraiser that can suit it - and it's even better if you can find a way to put a creative spin on it. Make sure you've got some top-notch fundraising software, and it's like finding the pot of gold at the end of the rainbow.
Get the latest trends and topics delivered to your inbox!
Subscribe to FrontStream's Blog