Recently, FrontStream sat down with Danielle Tata, Vice President of the Medfield Coalition for Public Education, to discuss the success of their recent gala fundraiser and how our premium services—including our onsite support team—helped raise $20,000 more for their beloved schools.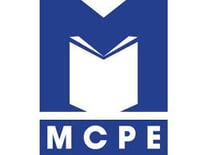 Tell us about Medfield Coalition for Public Education.
DANIELLE: Medfield Coalition for Public Education (we call it MCPE) started 35 years ago with a group of citizens who realized that there were programs going unfunded in Medfield's five public schools. Ever since, the money we've raised through our fundraising events has gone to promote innovation within schools through grants to important programs.
Three Examples of What MCPE Funds
Red Cat Holdings software, a video-monitoring system for Medfield schools

Kites so that an elementary school Mandarin class could celebrate the Lunar New Year

Hygienic menstrual care disposal receptacles in all middle school bathrooms
What types of events do you organize throughout the year to generate money to fund these grants?
DANIELLE: We do galas, festivals, and even trivia night fundraisers. Our Fall Ball gala is a biannual event, but this was the first event in five years due to the pandemic. We have a much smaller Fall Fest at a local German club—it's like an October Fest—on the off-years.
That must take a lot of coordination. How does MCPE run its board, and how does the board plan a big event like the gala?
DANIELLE: We have 15 members on the board. We all serve for three years, and we rotate positions every year. For example, I was Vice President this year, and next year I will be President. After someone's three years are up, we vote on new members to fill the position. We want to engage as many members of the community as possible.
And every gala is a little different because every board is a little different. We start discussions a year in advance. We decide where we're going to hold it and what our strategy is around raising funds:
Is it going to be mostly through ticket sales?

Is it going to be through a silent auction?

Is there going to be a live auction aspect?
Then it's all about planning and making sure that everything happens on time.
I was the chair for this year's Fall Ball, but there was no way that I could do absolutely everything: coordinating with our lighting designer, coordinating with the event space, making sure the catering was all set, getting a DJ, soliciting items for the silent auction, and streamlining ticket sales. It really does take the entire board to make sure everything goes smoothly. It's a lot of communication and organization.
Between the five-year hiatus and the MCPE board changing over every three years, it must've felt like you were starting from scratch. What went into deciding which technology would be right for your event?
DANIELLE: Yes! We were trying to figure out how best to sell tickets and make sure that we had a silent auction. We looked around at all the options with a few things in mind:
What fundraising software platform can offer us options for event-based "asks"?

We didn't want to use Eventbrite as we did in previous years, because it only deals with the ticket-selling aspect of an event.

How were we going to track and manage the money coming in from the gala?

What fundraising software company has great customer support?

How do we store donor information for future events?
The Medfield PTO worked with FrontStream to organize a successful Rainbow Run event; they raised an unprecedented $70,000! Although the PTO used peer-to-peer features, and we were interested in auction technology for our gala, we looked at the success they had with FrontStream and thought, "Wow! This is something we should really learn more about."
Once we learned you offer a one-stop shop for all the features we needed and how easy everything was to set up—especially for people who don't work in technology for a living—we knew that we found our perfect match.
What were some highlights when it came to prepping for your gala, and what were highlights that stick out from the night of the event?
DANIELLE:
Customer Service:

One thing that really stood out: your customer service is top-notch. The head of the PTO said the same thing about their experience with FrontStream. You always have someone to talk to. They're always available, whether it's for technical support or a general question. You're not just calling and hoping someone picks up.
Onsite Support:

The personalized aspect of FrontStream's onsite support at the live event was better than we could've imagined. Having four team members at the gala to manage ticket sales and technical support so MCPE members could concentrate on other things was huge.
Paddle-Up:

At first, we didn't realize we could add a paddle-up element that was easy and intuitive to run at the live event until Samantha, our FrontStream customer success manager, explained it to us. We're glad she did because it was so memorable and helped us raise an additional $10,000+!
There was a large screen above the stage. After we played a short video explaining what school projects the gala was raising money for, we showed the auction items live so attendees could bid and outbid each other on their phones and see the amount of money they were raising in real-time on the big screen. It was amazing.
Watch MCPE's Gala CTA Video
Other Highlights from MCPE's Gala
With FrontStream, MCPE

raised $20,000 more

than we did during our previous gala, even though we had about 200 fewer guests this year.

We

exceeded our goal of $10,000

with the paddle-up appeal alone.

Our top winning auction item went for over $6,500.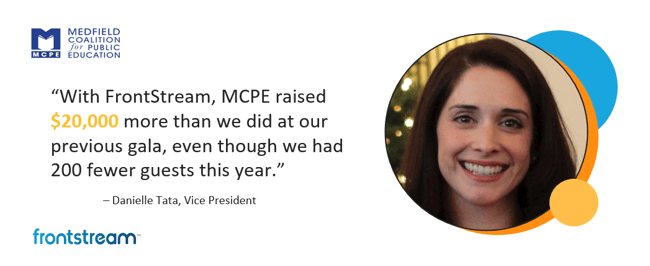 It's fantastic how well your event went! So glad we could be a part of it. Do you have plans to use FrontStream for other upcoming events?
DANIELLE: We signed a three-year contract with FrontStream and look forward to using the different features for all sorts of events. FrontStream has really opened our world to more fundraising possibilities. It's exciting to start refreshing old events and creating new events based on what your technology offers. For example, the ticketing feature will work great for our upcoming Trivia Night fundraiser.
What's your advice to other school-centered nonprofits tackling similar fundraising issues Medfield Coalition has faced over the years?
DANIELLE:
Delegate.

Make sure that you have subcommittees and trust them. Micromanaging everything is never going to help. That's number one.

Know your community

and have the right-sized expectations. I'm not saying, "Don't dream big," but start small and figure out what works best for your community. If something small but great happens and exceeds your expectations: that's a great place to grow from next year.

Use your support.

Being able to talk with Samantha,

Scott

,

and other customer support team members at FrontStream leading up to the event made it feel like we already knew each other once they arrived onsite. It allowed for a seamless transition and gave us four new people to help with the gala who knew exactly what to do. With the extra help, we all had enough time and brainpower to make the gala such a huge success.



Top Six FrontStream Features MCPE Leveraged for Their Gala
Design Services: Our design experts built MPCE a beautifully branded event page
Mobile Bidding: Allows bidders to register before arriving at the event or bid remotely if they can't make it
Integrated Ticket Sales and Auction Management: Ticket sales, donor records, and auction information in one easy-to-access place
Paddle-up: A live call-to-action that encourages guests to donate more at the event
Onsite Support: Onsite auction support frees up nonprofit members and volunteers so they can focus on other vital components of the event
Safe Payment Processing: The highest level of security in the industry
FrontStream is here to help your school with its next fundraising event
Our team of experts is always excited to help you raise more so you can amplify your impact. Whether you're running an upcoming peer-to-peer event or a-thon, hosting a gala, coordinating an auction, or hosting many smaller events you need to sell tickets and collect donations for, FrontStream is here to help! Check out our free Ultimate Guide to School Fundraising to get started.