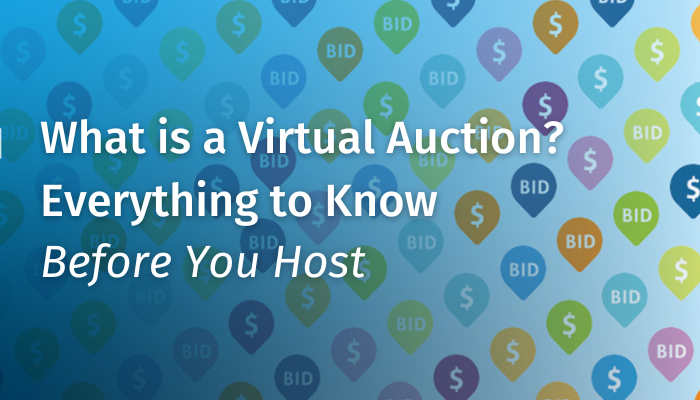 Have you heard of virtual auctions? They are a great way to raise funds for your nonprofit, and because these auctions are held online, they reach a much wider audience. They also enable participation during times when social distancing is recommended or for those who otherwise are unable to leave home for health reasons.
Here we cover the ins and outs of virtual auctions, including how to prepare and advertise, what to look for in a hosting platform, and ways to optimize engagement and returns.
What is a Virtual Auction?
A virtual auction is just like a regular auction, except that it is held online. And just like with regular auctions, virtual auctions can be held in a live format or as a silent auction. Instead of in-person bidding, participants place bids virtually, usually through a virtual auction platform designed to orchestrate and facilitate most aspects of the auction.
The Difference between Hosting Virtual Live Auctions and Virtual Silent Auctions
The differences between live and silent virtual auctions are similar to the difference between in-person live and silent auctions. For example, live auctions happen in real-time and are hosted by an auctioneer who presents each item, while silent auctions have several items on display at once that interested individuals may bid on. With a live auction, participants bid against each other for one item at a time. With a silent auction, participants add their bids to a bid sheet for each item.
When it comes to the virtual setting, a live auction must happen at a specific time, and all participants must attend during that time if they wish to bid. Silent virtual auctions, in contrast, may take place over longer time periods–such as a week or more–and hence enable people to participate at times that best suit them.
There are, of course, pros and cons to each format. Live auctions can generate more excitement and competitive bidding, but sometimes there are limits on the number of participants, or some individuals may be excluded due to time constraints. Silent auctions allow more people to participate but may need motivation and reminders to encourage competitiveness and higher returns.
Everything You Need to Host a Virtual Auction
If you're considering hosting a virtual auction, you'll want to ensure you get the right tools in place and start planning and preparing early. The following sections outline key things to remember as you prepare for your event.
Find the right software or platform
You should take some time to find a virtual auction platform that can support the functionality you need for running a smooth event. Some key elements to look for in a platform are as follows:
Event Management Capabilities: The platform should make it easy for participants to register and purchase tickets online. Other management features to look for are bid sheets, email and letter templates, shipping labels, printable auction catalogs, and more.
Bidding Functionality: For a virtual auction, participants should ideally be able to bid from any internet-connected device quickly and easily.
Notifications: The ability to notify participants about situations like having been outbid, a new item coming up to the auction block, or when the event is about to begin is very useful for keeping participants both informed and engaged.
Streamlined Checkout: Once someone wins a bid, they should be able to render payment quickly and easily.
Live Streaming Capabilities: This is particularly important for live auctions, but even if you are planning a silent auction, you may wish to incorporate some live event components to promote engagement.
Marketing Tools: Getting the word out ahead of time is key for hosting a successful event. Look for a platform with marketing capabilities and social media integration.


Don't underestimate the importance of proper planning
Planning should begin at least six months before the scheduled event. This allows for enough time for planning, procuring items, and marketing. Once you've set the date, be sure to form a team and set goals such as how much you hope to raise, how many people you plan on reaching, and how many items you will auction off (as well as where you will get those items from).
From there, you should develop a marketing strategy to build up interest and hype prior to the event. Another part of planning is the event logistics–how will the auction be run? If it is a live event, when will it occur, in what order will items be presented, and how will the bidding unfold? If it is a silent auction, you may want to plan for things like a staggered release of new items for bid so that you maintain interest and engagement throughout.
Your work doesn't end when the event does
Keep in mind that there is more to do and more insights to be gained after your event is over. Be sure to distribute items in a timely manner and thank all participants. This will make them feel appreciated and keep them coming back for future fundraising efforts. If your auction platform has data and analytics capabilities, you should also review your performance data and reflect on what went well and what could be improved in future iterations. Taking time to reflect immediately afterward will help provide valuable insights that will bolster your next event.
Steps for Hosting a Virtual Auction
If you're ready to start organizing your next virtual auction, let the following six steps serve as a rough guide for how to approach it:
Plan and prepare: As described above, planning and preparation are vital. Organize a team and assign roles as soon as possible so you can begin pinning down details and logistics.
Procure items: You can't hold an auction without items! Make sure you begin the procurement process well in advance. Consider reaching out to your supporters for donated items, or contact local businesses for additional offerings.
Promote the event and generate interest: You also can't hold an auction without bidders! Event promotion is vital for generating interest. Make sure your promotional announcements include links to registration and other important details. The easier it is for people to sign up and participate, the more likely they are to do so.
Begin your auction: When event time arrives, ensure you have clearly defined roles for everyone involved and a plan for how things will go. Note that you can even allow pre-bidding to generate more interest if desired.
Engage supporters during the auction: Engagement is key. Participants need to feel like they are involved, even if they are remotely located. Consider using multimedia features, notifications and reminders, and real-time updates during your event–whether it is live or silent.
Distribute items and thank participants: After your event, package all won items and ship them to their new owners. Then send out letters of thanks to all participants. You can even include information about other upcoming events and ways to get involved in your thank you notes.
Implementing FrontStream's Virtual Auction Software
Choosing the right platform is critical for hosting a successful event. At FrontStream, we aim to help nonprofits like yours raise more money to do more good. With BiddingForGood, our cloud-based auction platform, you can get started with easy-to-use tools and templates to create a unique branded homepage in under an hour, manage your auction items, sell tickets, promote your event and easily incorporate mobile bidding to raise more.
With BiddingForGood, you'll also have access to an online community of 1.7 million philanthropic shoppers to increase bids and help you gain new supporters. You can even securely process payments with a single click, thank your donors, and run comprehensive reports to see how the event went and make improvements for the future. Schedule a free consultation today to learn more.