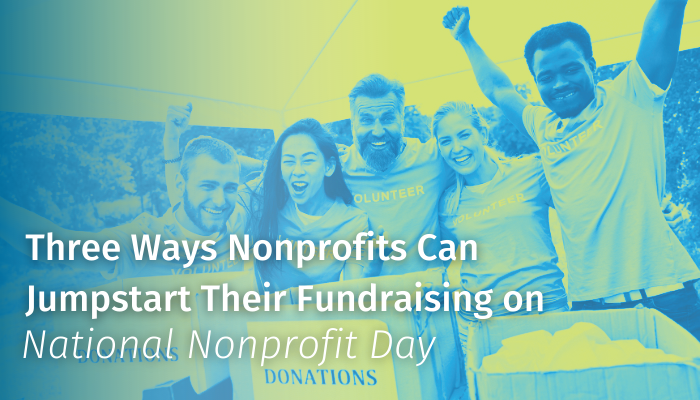 August 17th, 2022, is the sixth annual National Nonprofit Day. The goal of this day is to recognize the efforts of nonprofits and the positive impact they make on communities everywhere. This recognition extends not only to donors but also to the volunteers and nonprofit employees who work hard behind the scenes, giving their time, money, and shared passion for making the world a better place.
Wondering how your organization can celebrate National Nonprofit Day this year? We've collected three top ideas to help you get started. Keep reading to learn more about the history of this day, as well as how FrontStream can support your Nonprofit Day efforts by increasing brand awareness and fundraising results to help you keep doing what you do best: supporting your mission and contributing positively to the community.
The History of National Nonprofit Day
Founded in 2017 by a nonprofit expert, author, and speaker Sherita J. Herring, this day recognizes the good work done by nonprofits everywhere. The date was chosen to align with the signing into law of the Tariff Act of 1894. This law, which imposed federal taxes on corporations, made exemptions for charities.
Since the Tariff Act of 1984, additional laws and protections have been enacted in support of nonprofits and charitable giving. These include the 1917 income tax deduction for charitable donations, the creation of 501(c)3 tax-exempt status in 1969, and the 1976 statute that protected nonprofits' lobbying rights.
Now in its 6th year, National Nonprofit Day is gaining momentum and recognition, and more organizations than ever are participating.
Jumpstarting Your Fundraising for Nonprofit Day
You can celebrate National Nonprofit Day by recognizing the efforts of nonprofits, including the economic and community benefits they provide. It's a great day to send thank you notes to volunteers and donors. This special day also provides a perfect opportunity to jumpstart your fundraising efforts. Below are our top three ideas for using this day to boost your fundraising so you can keep doing more good work.
1. Launch a Peer-to-Peer Campaign
Peer-to-peer fundraising uses the power of interpersonal connections by encouraging your supporters to reach out to friends, relatives, and coworkers for donations, participation, and general support. This type of campaign allows you to grow your sphere of influence in ways direct targeting cannot because people are much more likely to donate if the message is coming from someone they know personally.
Remove barriers by making it easy for your current supporters to participate and spread the word about your cause. The right fundraising tools and platform can make all the difference here. Easy sharing, multichannel engagement, and one-click registration and donation all help to streamline participation. With FrontStream's Panorama, for example, you can also personalize engagement and even track activity in real-time, so you'll know how the campaign is going.
2. Establish a Donation Page
Make it easy for donors to give and engage by creating a campaign or donation page. Fill your page with compelling narratives, videos, and branding. Don't forget to include an easy way to donate. Choose an online platform that lets you incorporate secure payment processing alongside your messaging so donors don't have to search for ways to contribute. The easier you make it to give, the more people will do so.
Once you've built your page, be sure to share it across social media channels. Make your social media posts concise and impactful to encourage clicks and engagement. Also, consider reaching out to your current list of supporters and ask that they share the links and posts with their networks as well to extend your reach and gain momentum.
3. Create an Online Auction
Auctions are a great way to increase interest and engagement while raising funds. The good news is that these events can now be done virtually, enabling broader participation. Whether you decide on a live auction or a silent auction, you can easily set up the event using pre-made tools and platforms.
For example, FrontStream's BiddingForGood is a cloud-based auction platform that lets you easily add items, videos, and images and access an online community of 1.7 million philanthropic shoppers. Mobile and online bidding features make participation easy for bidders, and a secure payment platform streamlines the checkout process.
Celebrating National Nonprofit Day with FrontStream
At FrontStream, our mission is to help charities and socially responsible corporations raise and process funds so they can do more good for their communities. We pride ourselves in serving those who serve others with an array of products and solutions that are powerful, effective, and budget-friendly. Let us help you get your National Nonprofit Day fundraising efforts off the ground quickly and easily. Request a free demo today to learn more.