Raising money is one of the most important jobs of a parent-teacher organization (PTO). Successful fundraisers enable PTOs to support core school-wide initiatives, including educational programs and extracurricular enrichment activities. And with budgets tightening due to ongoing inflation, it's especially critical to ensure schools have the resources to provide these opportunities to students and teachers.
But it can be challenging to develop new and exciting fundraising ideas to keep donors engaged. You've done the classic bake sale… now what?
There are countless ways you can engage your school community while raising funds — especially since it's easier than ever to organize virtual events that expand both reach and engagement possibilities. Read on for our comprehensive PTO fundraising guide to get inspired to start planning your next event.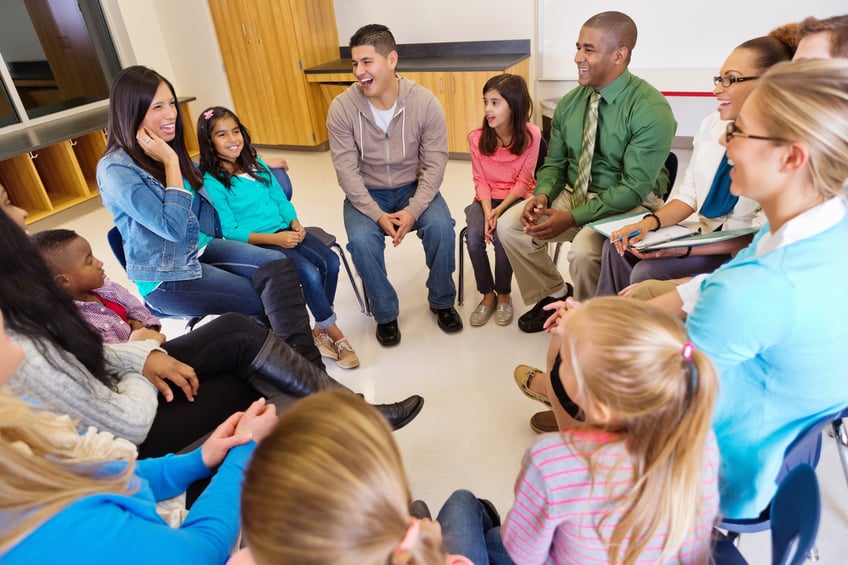 What Is Parent Teacher Organization (PTO) Fundraising?
PTO fundraising is the process of raising money from parents, teachers, students, and the community to support a school's needs. It frequently plays a significant role in supplementing school budgets and providing teachers and students with educational resources that may otherwise have been out of reach.
A PTO fundraiser can take various forms, including events such as game nights, auctions, or talent competitions where proceeds are directed toward supporting school initiatives. PTOs may also engage in product sales, such as selling merchandise, coupon books, or holiday gift items, with a portion of the profits going to the organization. Additionally, PTOs often seek out partnerships with local businesses for sponsorships or apply for grants from community organizations or foundations.
Beyond financial contributions, PTO fundraising also fosters community engagement and collaboration. It brings parents, teachers, and students together, creating a sense of shared purpose and building a supportive network within the school community.
How to Choose the Right Fundraising Strategy for Your PTO
The ideal fundraising setup for PTO events does more than generate funds. Here are some things to look for in a fundraising strategy:
Expanded Reach: The most effective fundraising strategies enable PTOs to tap into the personal networks of their supporters, extending their reach far beyond the immediate school community. By empowering parents, teachers, and students to reach out to their friends, family, and neighbors for donations, PTOs can engage a wider audience and attract new supporters.


Community Building: Besides raising money, PTOs can use fundraising activities to foster a sense of community and unity among supporters. Participants become ambassadors for the PTO, sharing their personal stories and reasons for fundraising. This not only strengthens the bond between participants but also encourages others to join the cause and contribute.


Cost-Effectiveness: PTOs rely on limited resources and volunteer time, so fundraising must be cost-effective. For example, leveraging peer-to-peer fundraising reduces the need for hiring professional fundraisers or pouring resources into fancy marketing campaigns. Instead, the fundraising efforts rely on the passion and dedication of the participants, leveraging their personal networks and collective social media presence.


Viral Potential: Fun, engaging fundraising campaigns have the potential to go viral, particularly through social media sharing and online platforms. When participants actively promote their fundraising campaigns, it increases the visibility of the cause and attracts donations from individuals beyond the immediate network.
40+ Creative PTO Fundraising Ideas To Try
Looking for something a little different for your next PTO fundraising event? Get inspired by our list of event ideas and themes that will captivate donors and rally your school community.
Races and "A-thons"
1.

5k/10k Race – Students, parents, and community members run a designated distance, usually 5 or 10 kilometers, while gathering sponsors or paying an entry fee. Invite participants to gather in person or run remotely. To add to the fun, give your event a theme like superheroes, Halloween, or Back to the '80s and encourage participants to dress in costume on their run.


2. Color Run – A unique running event where participants are showered with vibrant colored powders at various stations along the course, combining fitness and fun while raising funds.


3.

Dance-a-thon

– Students and families dance for an extended period, often several hours, seeking sponsors or collecting donations based on their dance duration. Add a theme like a disco or swing and encourage costumes to add to the fun.


4. Read-a-thon – Sponsors pledge donations based on how many books or pages students read during the contest period.


5.

Walk-a-thon

– Participants walk laps around a track or along a designated route, collecting pledges or donations for each mile or lap completed.


6. Spell-a-thon – Challenge students to a classic spelling bee with a fundraising twist, raising money from parents and local organizations for each correctly spelled word.
Art Contests
7. Photography Competition – Charge an entry fee for community members to submit their best photographs and offer prizes for the winners. Involve students, teachers, or local artists as virtually or in- person judges.
8. T-shirt Design Contest – Challenge students to design a T-shirt for their school, sports team, or club. Print and sell the winning design to raise money.
9. Mural Contest – Invite artists or students to design and paint murals on designated walls or spaces, with funds raised through sponsorships, donations, or an auction of the completed murals.
10. Craft Fair – Invite a blend of local artisans and art students to showcase and sell their handmade goods, providing an opportunity for the community to support local talent. Vendors pay a fee table fee, which goes directly to your school.
11. Digital Art Competition – Challenge students to create artwork using digital tools and software, with entry fees and digital art sales contributing to the fundraising efforts.
12. Street Art Festival – Arrange a street art festival where local artists create live artworks on designated walls or pavement, with visitors paying an entry fee to attend.
Community Learning Courses
13. Cooking Class – Participants cook along with a professional chef, learning how to make a new recipe while supporting the fundraising cause. Consider aligning the class with a timely cultural event, such as Asian American and Pacific Islander Heritage Month.
14. Dance Lesson – Enlist a local instructor to hold a class for students and families to have fun while learning some new moves.
15. Gardening Course – Green thumbs unite in a gardening course where participants gain knowledge about indoor or outdoor gardening and have the opportunity to plant and take home a small container garden or terrarium.
16. Jewelry Making Class – Participants learn to craft unique pieces of jewelry using different techniques and materials.
17. Improv Lesson – Partner with a local theater group or improv club to host an improv night where improv novices can join in the fun.
18. Knit-a-long – Knitting newbies and experts alike gather for a knit-a-long session where everyone tackles the same knitting pattern, sharing tips and learning as they go.
Auctions
19. Experiences Auction – Offer unique experiences such as a hot air balloon ride, a gourmet cooking class, a VIP concert package, or a behind-the-scenes tour of a local attraction.
20. Art Auction – Showcase artwork donated by local artists or students and hold a live or silent auction where attendees can bid on paintings, sculptures, photographs, or other artistic pieces.
21. Sports Memorabilia Auction – Collect autographed sports memorabilia from local athletes or professional teams and host an auction where sports fans can bid on jerseys, signed equipment or game tickets.
22. Dining Auction – Collaborate with local restaurants or chefs to offer exclusive dining experiences, such as private chef dinners, tasting menus, or themed culinary events.
23. Services Auction – Request donated services from professionals in various fields, such as legal advice, home renovations, spa treatments, or personal training sessions.
24. Fashion Auction – Obtain donations of designer clothing, accessories or fine jewelry and host a fashion-forward auction where attendees can bid on luxury items.
Talent Shows
25. Kid's Got Talent – Organize a talent show specifically for young performers, encouraging children to showcase their talents in singing, dancing, playing musical instruments — or anything unusually impressive.
26. Comedy Night – Arrange a talent show highlighting stand-up comedians, improv groups, or comedic acts.
27. Dance Showcase – Host a talent show focused on dance performances, featuring various dance styles and choreography.
28. Artistic Expressions – Create a talent show that explores different artistic forms, including spoken word poetry, painting demonstrations, live art performances, or photography showcases.
29. Battle of the Bands – Organize a music-focused talent show where local bands or musicians compete against each other.


30. Cultural Showcase – Host a talent show to celebrate cultural diversity. People from different cultures can come together to share their own heritage. It's important to remember that these events should be a way to appreciate and respect other cultures, not to mock their traditions.
Game Nights
31. Trivia Night – Host a trivia game night where teams compete in various categories, challenging their knowledge for donated prizes, and raising funds through entry fees or team sponsorships.
32. Board Game Tournament – Organize a board game tournament featuring popular board games like Monopoly, Scrabble, or Settlers of Catan, with students competing for prizes and bragging rights.
33. Video Game Tournament – Arrange a video game tournament with popular console or PC games, inviting gamers to compete against each other and projecting gameplay on a large screen.
34. Escape Room Challenge – Partner with an escape room facility or create your own escape room experience, challenging students and families to solve puzzles and riddles within a time limit.
35. Outdoor Game Olympics – Organize an outdoor game night with fun and competitive family-friendly games like sack races, three-legged races, tug-of-war, and more.
36. Brain Teaser Night – Set up puzzle stations with different difficulty levels and themes, allowing participants to compete individually or in teams to complete challenges against the clock.
Themed Dinner Galas
37. Hollywood Glamour – Host a red carpet affair with elegant décor, celebrity-inspired cocktails, and a dress code that encourages attendees to channel their inner movie star.
38. Arcade Night or Retro Video Game Night – Have some nostalgic fun organizing a dinner even where guests can indulge in classic arcade games, vibrant neon lights, and a playful atmosphere inspired by retro gaming.
39. Around the World – Take guests on a culinary journey by offering a variety of international cuisines, cultural performances, and themed decorations representing different countries and regions.
40. Masquerade Ball – Create an enchanting atmosphere with masks, elaborate costumes, and Venetian-inspired decorations, allowing guests to indulge in the mystery and allure of a masquerade.
41. Enchanted Garden – Transform your

fundraising gala

venue into a lush garden setting with floral arrangements, whimsical décor, and a menu inspired by fresh, seasonal ingredients.
42. Under the Stars – Set up an outdoor gala with twinkling lights, starry decorations, and celestial-inspired elements to create a magical and romantic ambiance.
Streamline Your PTO Fundraising Events with FrontStream
You've landed on the perfect PTO fundraising event idea — but operational hurdles like donation tracking, payment security, financial record-keeping, and participant registration pose challenges to getting your fundraiser off the ground.
That's where FrontStream can help. Our digital, all-in-one fundraising platform, Panorama, provides everything you need for any type of fundraiser you have in mind. Personalized fundraising pages, donation tracking, secure payment processing, dynamic ticketing options…the list is limitless! and engage with your supporters virtually. Additionally, our BiddingForGood auction software is included with Panorama to support auctions, enhancing your fundraising efforts further while freeing up volunteers' time to focus on the fun parts of fundraising and event planning.
Ready to take the stress out of fundraising and expand your reach? Get in touch and request a demo today.