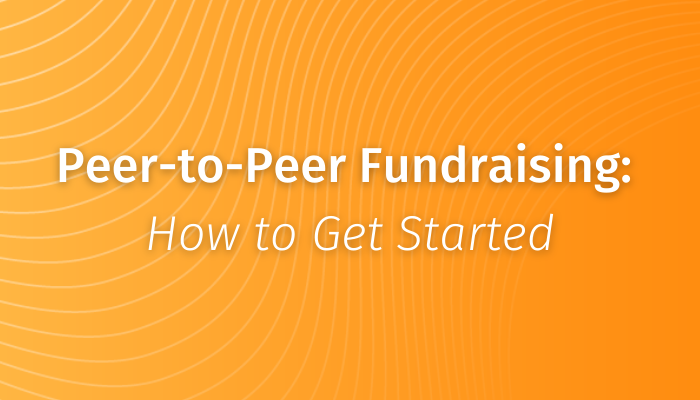 Peer-to-peer fundraising provides an amazing opportunity for nonprofits: It can not only lead to increased donations but increased engagement and awareness as well. This comprehensive guide was written for nonprofits like yours that want to learn more about what peer-to-peer fundraising is, the benefits and best practices, and how to get started. Let's dive in.
What is peer-to-peer fundraising?
As the name implies, peer-to-peer fundraising is when individuals organize fundraising campaigns in which funds are sourced from their peers. This may be done to fund something specifically for the individual, such as asking for donations through a crowdfunding platform to pay for an unexpected medical expense. Or, peer-to-peer fundraising may be done on behalf of a larger purpose, such as when individuals host an event to collect donations for a non-profit organization.
For non-profit organizations, peer-to-peer funding allows supporters to engage in activities to raise money on their behalf. These activities may involve occasion-specific campaigns like collecting donations at a birthday party, events like fund runs and walkathons, or ongoing efforts. Peer-to-peer fundraising can also happen virtually, in person, or in a hybrid setting where a face-to-face event has a virtual participation component.
What are the top benefits of peer-to-peer fundraising?
Peer-to-peer fundraising is a strategy offering a whole host of benefits to nonprofit organizations. Consider your current network of supporters and donors–then imagine how your sphere of influence would grow if each of those individuals reached out to each of their networks on a personal level.
People are much more likely to donate or contribute if something feels closer to home, which is exactly what a peer-to-peer campaign can provide. An individual who may not have contributed on their own may now feel compelled to because a friend, family member, coworker, or another peer is doing the asking. And not only does peer-to-peer funding increase your donations received, but it is also a great way to spread awareness and grow your support base. Moreover, it improves the sense of purpose of the fundraising "peers" themselves, which improves retention.
In summary, the top benefits of peer-to-peer fundraising are:
Increased reach: You'll rapidly grow your sphere of influence across social media and elsewhere and improve brand recognition.


More donations: With peers on the ground connecting with those who know and trust them, those who would have been reluctant donors are much more likely to give.


New regular donors and supporters: You may gain many new regular donors and supporters for your cause because of the reach and personal connection.


Donor retention: Those engaged with peer-to-peer campaigns gain a strong sense of purpose which keeps them in your corner.


What are the most common challenges of peer-to-peer fundraising?
The main challenges of peer-to-peer fundraising stem from the fact that the "peers" doing the fundraising are often everyday people. They may or may not have much experience launching a campaign and they may balk at having to do the bulk of any planning or implementation themselves. These challenges can be overcome, however, with some foundational work on the part of the nonprofit.
Removing barriers
First and foremost, remove barriers to participation by creating ready-made ways for individuals to fundraise. While some of your current supporters may be self-starters willing to go out and raise money on their own, the general rule is that, the easier it is for someone to launch a campaign, the more likely they are to do it. Create a page on your website that offers a variety of options such as personalized landing pages that would-be fundraisers can direct their friends towards.
You can also create ready-made fundraising "packages" that guide people step-by-step through setting up and launching events like bike-a-thons or social media campaigns. Some people prefer in-person events, others prefer virtual options, and still, others might be interested in hybrid ideas. The wider the variety of options to choose from, the more likely an individual will find something that works well for them to take on.
Differing experience
Another factor to consider is experience. At your nonprofit organization, you might have a lot of people with experience in how to get the word out or how to engage people and get them to donate. While your donors and supporters are inspired by these efforts, they may not know how to turn around and similarly inspire others. So consider creating guides and how-tos to walk them through tips, tricks, challenges, and more so that when they launch their peer-to-peer campaign, they can find success.
Keep in mind that success breeds success. If a supporter can create a successful campaign, they are more likely to want to do something like that again. If it's a failure, however, they may slink away into the background. The more tools and support you can provide, the more likely your supporters will find success, inspire others, bring in more funds, and expand your reach.
Best practices to keep in mind when creating a peer-to-peer strategy
Let the following best practices guide you as you create your peer-to-peer strategy. Some of these may echo practices already mentioned in this guide, but they bear repeating:
Tell a story: Stories are how people connect. If you want your donors and supporters to participate in peer-to-peer fundraising, tell the story of your nonprofit with compelling images and videos. Make your goals and potential impact apparent as you tug on heartstrings.


Make it easy: It can't be said enough–if your followers find it difficult to find, engage in, or interact with your peer-to-peer fundraising ideas, then they simply won't take on the task. Provide options and ready-made campaigns in different formats along with easy-to-consume guides and support.


Spread the word: Advertise your peer-to-peer opportunities across all of your media both digital and paper. Emphasize both how important and helpful this type of fundraising is as well as how easy it is to get started.


Stay engaged and supportive: Offer not just tips, tricks, and advice, but positive feedback and recognition. People thrive on recognition and it motivates them to keep going and participate again in the future.


A few peer-to-peer fundraising ideas
Hopefully, by now you realize that the landscape of peer-to-peer fundraising ideas is nearly endless. There are just so many unique and creative ways to engage from "a-thons" to social media, to challenges, and more. But to further whet your palate, here are some more examples:
Auctions: Your supporters can host an auction in person or online. Setting up an auction not only brings in people willing to bid on items but often, auction items themselves are donated from area businesses, which further increases awareness of your cause.


Food: People go out to eat all the time. What if they had the option of paying for a meal in which the proceeds went to a good cause? Consider pancake breakfasts with Santa during the holidays or a summertime barbecue with music from local musicians.


Giving instead of gifts: For birthdays, weddings, graduations, and more, provide an option for guests to donate in lieu of a gift.


Competition: Never underestimate peoples' natural inclination to compete. You can use competition to encourage supporters to beat each other out with their fundraising efforts. Those supporters can also host golf tournaments, iron man competitions, trivia nights, and more.


Frequently asked questions about peer-to-peer fundraising
Here we cover some frequently asked questions to help you get an even better handle on how things work in the land of peer-to-peer fundraising.
How do I get supporters interested in engaging in peer-to-peer fundraising?
First, they have to know it's an option. Put the word out through all of your standard channels–mailing list, social media, web pages, etc. Second, make it easy for them to get started by providing ideas and access to resources. You can also encourage them with success stories and offer continued support along the way.
What are the most effective peer-to-peer fundraising campaigns?
Well, "a-thons" are a staple in the fundraising world for a reason. These events bring communities together, create a lot of hype, and bring in a lot of donations. Sometimes, however, these types of events start to feel stale. Many organizations have found great success by putting their creative hats on. For example, Shriners Hospitals in Canada found that by offering something unique–an Amazing Race-style challenge called The Wonder Race–they garnered a lot of interest in the peer-to-peer space, managing to bring in over a quarter-million dollars in the first five years.
However, don't overlook quicker and simpler options with lower barriers to entry such as ready-made social media campaigns that only require individuals to make a quick post to their Facebook or Twitter. A single such campaign may not bring in as much as a walk-a-thon fundraiser, but because it's so much easier to launch, more people will be willing to give it a go, meaning it can bring in quite a bit of funding in aggregate.
What are the different types of peer-to-peer fundraising?
The truth is, the full list is far too long to place here. Why? Because there's virtually no limit to the different ways that peers can raise money. That said, some of the most popular ideas fall into the following categories:
In-person events: These include "a-thons", bake sales, competitions, raffles, and more.


Online events: These include social media campaigns, crowdfunding, and sales.


Hybrid events: These include in-person events with an online component or a way for others to participate from afar. It also includes

challenges

(remember the

ice-bucket challenge

?) that can be completed by small groups and then shared online.


One-time events: Whether online, in-person, or hybrid, these are events that happen just once–perhaps on a day of significance or during pride month, for example.


Ongoing campaigns: These are long-term efforts that extend for weeks, months, or even years. Examples include things like personalized landing pages where friends and family can donate to a cause.

What do I need to make peer-to-peer fundraising an option for my nonprofit?
The first step is to understand your organization's needs, fundraising goals, budget, and resources. Make sure your goals are appropriate. Setting your sights too high can lead to disappointment and hinder future engagement. Next, you need to acquire the tools you need–namely, the right peer-to-peer fundraising software or platform.
There are many choices out there, but we recommend FrontStream's Panorama–the industry's leading, all-in-one digital fundraising platform for planning, managing, promoting, and securely processing fundraising events. (By making things easy for you, Panorama helps you make things easy for your supporters–which, as mentioned above, is key.)
From there, you can begin creating opportunities for your supporters to engage in peer-to-peer fundraising, populating your web pages and social media sights with details, spreading the word, and engaging in ongoing support.
How FrontStream's offerings can support an organization's peer-to-peer strategy
Maximize reach, customize campaigns, personalize donor engagement, track activities, and more with Panorama by FrontStream. Our powerful fundraising platform offers organizations like yours an end-to-end solution that helps you manage your peer-to-peer activities and optimize engagement. Panorama also offers reporting tools that provide valuable insights that help you reach your goals. Learn more or get started today.