We love to see nonprofits think "outside the donation box" when taking advantage of in-kind gifts. Businesses are often happy to donate their goods and services to nonprofits in support of causes they value. Nonprofits can use donations of office supplies, travel points, discounted services, and other similar gifts, known as "in-kind donations," to boost their fundraising efforts. In-kind donations are especially helpful when hosting an auction, as they save nonprofits from having to purchase or make items themselves.

In this blog, we'll explore how nonprofits can take advantage of in-kind donations from businesses and individuals to expand their fundraising impact and raise more funds for their cause.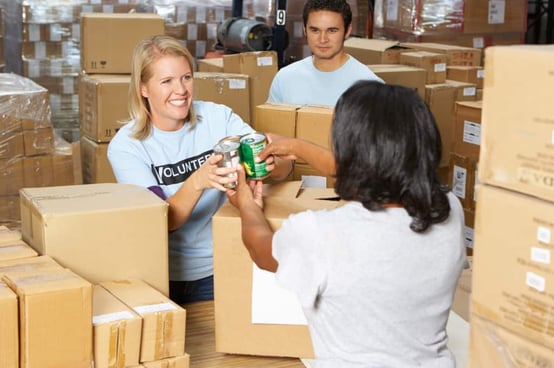 What are In-Kind Donations?
Donations of goods or services, rather than money, are known as "in-kind donations." They can come from anyone, from individuals to corporations to other charitable organizations.
In-kind donations are useful to nonprofits because they supply necessities that otherwise would eat up valuable cash and free up funds for other uses. Prizes in raffles, silent auctions, swag bags, and other forms of incentives are great ways to put these donations to good use at a fundraising event.
Types of In-Kind Donations
Usually, there are two types of in-kind donations given to nonprofits: goods and services.
In the past, goods could be anything physical, such as office supplies, furniture, appliances, collectibles, and groceries. Some of the most popular in-kind donations in recent times, however, have been experience-focused things like tickets to concerts, sports events, and other exciting venues; hotel stays; and even complete packages like an all-inclusive vacation or weekend away.
In-kind donations can also come in the form of services an organization may need to carry out its work, ranging from accounting to web development to legal assistance or even hotel accommodations or plane tickets for the fundraising team. The sky's the limit when it comes to the items or services a business can donate to a nonprofit in support of a good cause!
Fundraising With In-Kind Donations
When you run an auction, you can use in-kind donations to inspire your supporters to give in a brand-new way. We see this every day with Panorama by FrontStream!
Your supporters can shop and give at the same time when you put in-kind donations up for bid with Panorama. For example, everyone loves to take a fun trip, and a big part of that is getting your airline tickets squared away! Reaching out to an airline for an in-kind donation of plane tickets you can use in a silent auction is a great way to increase your fundraising dollars.
The Seeing Eye charity is a banner success story for in-kind donations. Since 2009, these intrepid fundraisers have consistently brought in over $80,000 per event with their online auctions and have raised over $606,627 to date with FrontStream. One of the keys to their success is auctioning off in-kind donations given by some truly famous names, such as VIP tickets to Lady Antebellum, dinners with Betty White, and a guitar signed by Garth Brooks. With all that star power on their side and a great fundraising platform backing them up, no wonder they've been so effective in their mission to bring seeing-eye dogs to the blind!
Some auction items are more down-to-earth. Instead of, or in addition to, auctioning off plane tickets and travel packages, some focus on gift baskets of food, pet supplies, and everyday home goods - the kinds of things local supermarkets have in abundance. An example of this kind of in-kind donation is the Jacksonville Humane Society's Mutt March online auction, which features items like gift baskets of tasty foods and bundles of pet supplies to fundraise for their cause. With the help of Panorama, this worthy cause raised $10,421 from their 2020 online auction alone, making a strong case for the power and value of in-kind donations.
You can also benefit by contacting a local sports team for an in-kind donation. Sports tickets are among the most popular auction items, ranging from baseball to football to basketball tickets and more. A good example of in-kind donations of sports tickets used in a fundraising auction is the annual Harvard Varsity Club auction. Now in its 7th year, this event sees particularly strong competition for donated basketball tickets. There's nothing better than a bit of healthy competition when fundraising for a good cause!
These examples may have you wondering how to start getting in-kind donations like these for your own organization. As part of Panorama's suite of fundraising tools, you can visit a business's donation page and easily submit a request asking them for an in-kind donation, or make the process even easier by searching for one of the 350+ organizations already participating with us.
Maximize In-Kind Donations with FrontStream
As a part of FrontStream's all-in-one fundraising platform, you can visit a business's donation page and easily submit a request asking them for an in-kind donation, or make the process even easier by searching for one of the 350+ organizations already participating with us!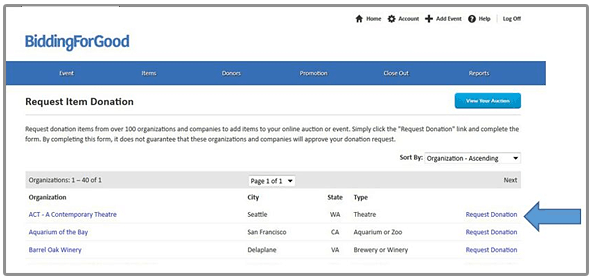 Request a demo with FrontStream today to learn more about how Panorama and other fundraising tools can help you meet and exceed your fundraising goals.