Businesses are often happy to donate their goods and services to nonprofits. Many charitable organizations benefit from generous donations of office supplies, travel points, discounted services, and other similar gifts.
We love to see nonprofits thinking "outside the donation box" when taking advantage of in-kind gifts. Has your organization ever considered how in-kind donations can generate new revenue for your good cause?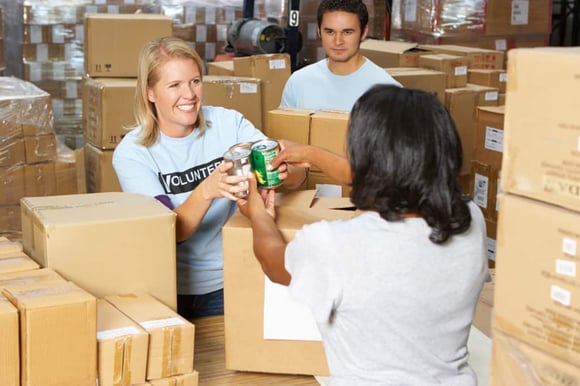 When you run an online auction, you can use corporate donations to inspire your supporters to give in a brand new way. We see this every day at BiddingForGood!
Your supporters can shop and give at the same time when you put in-kind item donations up for bid with BiddingForGood. For example, everyone loves to take a good trip, and a big part of that is getting your airline tickets squared away! Reaching out to an airline for a donation you can use in an online auction can be a great way to increase your fundraising dollars.
The Helen Hayes Hospital Foundation Inc. is a recent success story. They sold two donated round-trip JetBlue travel certificates in an online auction for $1,283. The lucky winner was able to start planning their next travel adventure and help an important cause at the same time.
Some auction items are more down-to-earth. Have you ever thought about reaching out to your local supermarket for a donation? You may not realize it, but an in-kind donation of groceries can go a long way.
For example, The Children's Cancer Foundation Inc. auctioned off a certificate for "Groceries for a year", donated by their local Giant Supermarket. The winning bid raised $4,222 for the foundation. The winner was able to take care of grocery shopping for an entire year, and also help a hugely important cause.
You can also benefit by contacting a local sports team for an in-kind donation. Sports tickets are among the most popular items in BiddingForGood's online auctions. A good example is the YMCA of the Greater Twin Cities - they sold tickets to last year's Super Bowl for $10,000. You can bet the Patriots and Seahawks fans bid fiercely against each other to support a great cause!
These examples may have you wondering how to start getting donations like these for your own organization. As part of BiddingForGood's online auction platform, we have a way for you to submit in-kind donation requests online to businesses using our Automated Item Request System (AIRS). You can visit a business's donation page and easily submit a request asking them for an in-kind donation.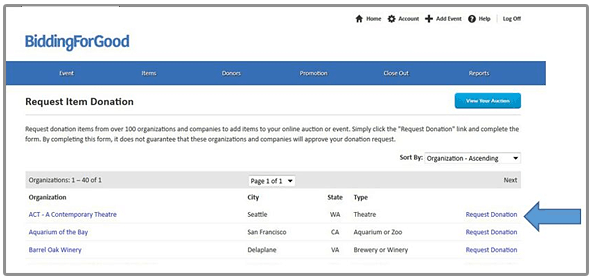 Taking advantage of in-kind donations in an online auction is a powerful way to fundraise. Read more about how BiddingForGood can help you raise more money!
Get the latest trends and topics delivered to your inbox!
Subscribe to FrontStream's Blog