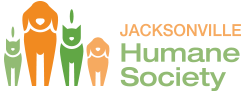 The COVID-19 pandemic isn't the first threat that the Jacksonville Humane Society (JHS) has faced in recent years. In 2017, Hurricane Irma hit Jacksonville, FL the Monday before their annual fundraising gala. The team at JHS decided to move their auction online and were able to quickly adapt the event and host it on BiddingForGood.com . Despite the last minute changes, the event was a success and they managed to come very close to their original fundraising goal.
As the threat of COVID-19 worsened, the JHS team drew on past experience , allowing them to quickly pivot and move their major spring fundraiser- the Mutt March- to a completely virtual event.
The Mutt March traditionally includes a dog walk, silent auction and a community festival for participants and sponsors. As it became increasingly clear that the spread of COVID-19 would mean a possible cancellation of their event, the team came up with another plan.
They already had a virtual walker option for supporters with cats and those that couldn't attend in person, so it was easy to switch their registration settings in Panorama to only virtual participants. They asked supporters to continue to raise funds online and asked attendees that had already purchased a ticket to the event to consider honoring the purchase as a donation to the organization. They were pleasantly surprised to find that they didn't receive a single refund request. Many other supporters also continued to register despite the event going virtual.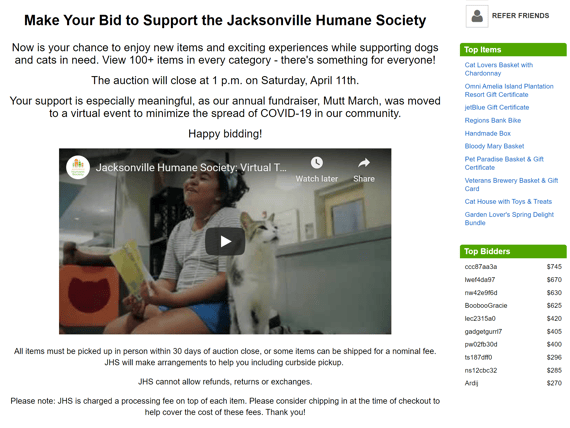 Jacksonville Humane Society included information on their website pages about virtual fundraising and a video highlighting their mission
Their event sponsors also stepped up. While a few did need to pull their support for various reasons, the majority supported the event with sponsorship money. The JHS team modified the normal sponsorship benefits to include increased virtual exposure for sponsors. Normally sponsors were able to host tables during the festival and pass out coupons or special incentives to draw in new business. Instead, the team created a page on their website where participants could access these coupons and still have a chance to support the sponsors. They also created their traditional "Wag Bags" which attendees were able to collect from JHS using curbside pickup.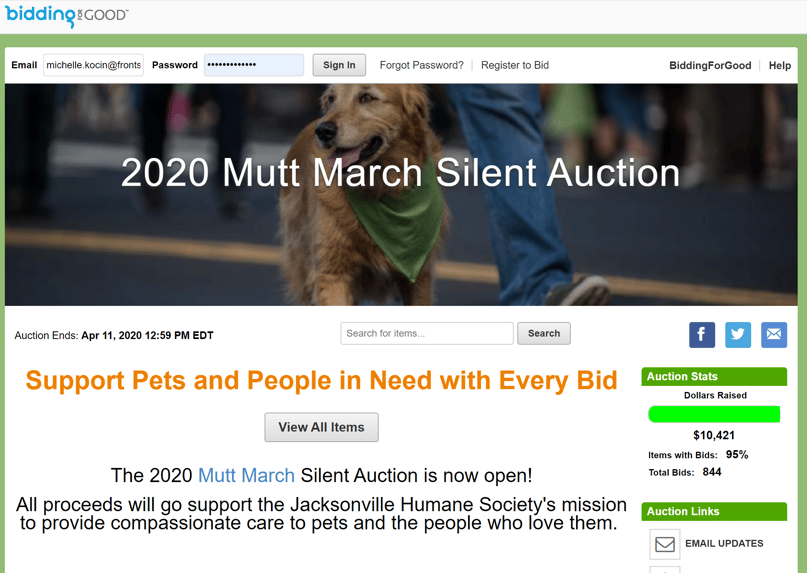 Instead of an in person walk, they hosted a Facebook Live parade of dogs and encouraged participants to take their dogs for socially distance safe walks (and cuddle their cats) and post photos with the hashtag #muttmarch on social media.
For their silent auction, they chose to host it online again on BiddingForGood.com, as they had in 2017, as it was included in their Panorama by FrontStream subscription. After the virtual walk, they hosted another Facebook Live session to start the auction and tease some of the items.
Once again, their supporters showed up and they managed to meet their auction fundraising goal and sold the majority of donated items. They had to pull a few items but were able to save them for a future event.
Restaurant gift cards were especially popular and they even auctioned off a roll of toilet paper! When a board member saw that the high bid for this special roll of toilet paper was $250, he matched the original donation and doubled it- paying $500 for a second roll of toilet paper.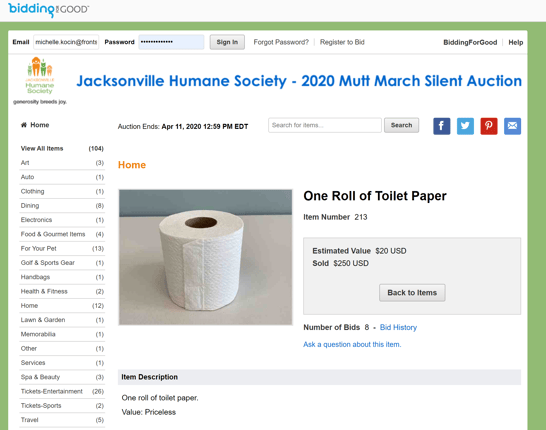 This creativity and their ability to pivot to a completely virtual event with less than a week's notice allowed them to still reach their fundraising goal. While revenue was down for some aspects of the event, it was up in others and the reduced costs they normally incurred for day-of expenses all balanced out.
JHS was able to effectively communicate with supporters and quickly made the right decisions to ensure their event was a success, even in uncertain times.
We asked the JHS team who they wanted to thank for such a successful event and they had a long list!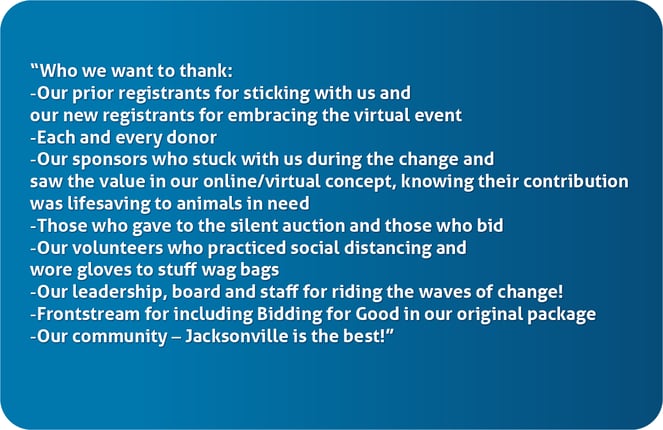 About the Jacksonville Humane Society:
The Jacksonville Humane Society provides care, comfort and compassion to animals in need while engaging the hearts, hands and minds of their community to bring about an end to the killing of abandoned and orphaned shelter animals. Read more on their website.
About FrontStream:
FrontStream is a leader in the nonprofit fundraising industry and makers of the Panorama by FrontStream- your all -in-one digital fundraising platform.With over 20 years of experience in the fundraising software industry, our FrontStream team is mission-focused on helping nonprofits and socially responsible corporations raise more funds to do more good. Through our innovative and secure fundraising solutions, we help organizations reach their goals and effect positive change in the world.
Additional resources from FrontStream
FrontStream Blog Post: Misericordia Takes Candy Days Virtual