Nonprofits across the country are adapting to a new fundraising model. Instead of hosting festivals, in-person events such as walks, runs, rides, and collecting donations in their communities, nonprofits are finding creative ways to engage supporters and fundraise for their mission in an incredibly uncertain time.
Misericordia, a nonprofit in Chicago, IL that provides residence, programs, and services for individuals with developmental disabilities, and has embraced the challenges that COVID-19 has presented head-on. Their signature spring fundraiser, Candy Days, aims to raise between $1-$2 million and is a vital part of their annual fundraising efforts. However, a large portion of the funds have been raised by over 10,000 volunteers who normally go out into the community and collect cash donations. The spread of COVID-19 has presented a shift to this fundraising model, however the Misericordia staff have found creative ways to adapt and ensure success.
Misericordia was founded in 1921 as a maternity hospital for women in need and spent 30 years providing care to women that had little support. In 1954, Misericordia recognized an even greater need in their community and added services for young children with intellectual, developmental, and physical challenges, as well as medical issues- from diverse religious, racial, and socio-economic backgrounds.
Today Misericordia serves over 600 children and adults at their 31-acre Chicago campus. They provide a variety of residences, including CILAs (Community Integrated Living Apartments), on-campus apartments, group homes, and skilled nursing residences. Misericordia also serves families who want the best for their loved ones, but cannot provide the level of care needed in their own homes.
It takes a lot of funding to run this massive operation, and Misericordia's Development staff works tirelessly each year to raise $20 million through community fundraisers, corporate support, and various fundraising events. Their Candy Days fundraiser is celebrating its 34th year, and more recently has relied on online peer-to-peer fundraising and collection efforts throughout the Chicagoland area.
In a pre-COVID-19 world, online fundraising has provided a platform for volunteers to raise money from family, friends and out-of-town supporters. This year, the team at Misericordia transformed the event to be completely virtual. Above all, the safety of their residents, staff, volunteers, and other supporters is their priority. They have successfully made the transition by being flexible, proactive, and creative. Here are a few key steps they've taken:
Communication is Key
Misericordia staff use multiple methods to communicate with their fundraisers. When the decision was made to go completely virtual, they sent emails, mailed letters, and posted regularly on their social media channels.
Coaching Fundraisers
They asked volunteers and previous fundraisers to register and create a fundraising page on their event website:
They provided sample language to use on fundraising pages, helped supporters who were less comfortable with the technology get registered, and provided tips and guidance to support their fundraising. A few great examples of participants pages include: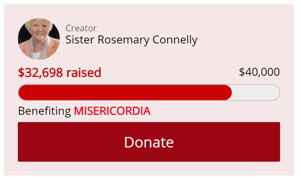 "No matter the obstacle, we have been able to raise significant funds through this important event. Now, with the Coronavirus upon us, we need to be as creative as ever"
Sister Rosemary Connelly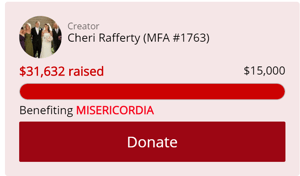 "Staff have been working tirelessly to arrange many activities to keep residents engaged. Your donation will help cover extra expenses for staff overtime, nursing, store bought crafts, meal deliveries and counseling services. "
Lauren Rafferty and family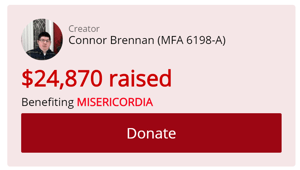 "This year, Misericordia will NOT be asking volunteers to collect donations in the streets, storefronts, or at train stations. Instead, they will be relying strictly on their ONLINE donations."
Connor Brennan and family
Creating Healthy Competition
Misericordia staff encouraged teams to find ways to compete amongst each other and cheer other teams on. Since they had to forgo the in-person aspect of the event this year, creating competition has added a fun element and given supporters additional motivation to raise funds.
Engaging Supporters in New Ways
In the past, most volunteers gave their time, not money to the cause. Misericordia engaged their volunteers and asked them to create a page and fundraise virtually this year. They were pleased to find that their many volunteers were happy to accept the challenge of participating virtually.
Engaging Leadership
Misericordia credits a lot of their success to their own Sister Rosemary Connelly who has been Executive Director for over 50 years. Her leadership and guidance has helped the Executive and Administrative Team work towards a common goal of providing the best quality of life for the residents they are privileged to serve. Misericordia has also reached out to the leadership of companies and organizations that support them. Messaging that comes from the executives or employees helps to give their cause more credibility and drives more support.
Leading with Positivity
They attribute the biggest piece of their success to their ability to remain positive. The staff acknowledges that this year has been challenging, but they are steadfast in their commitment to not compromise the quality of care their residents receive. They are incredibly optimistic about the ability of their community to show up (virtually) and support their cause. Many of their volunteers have family or friends that have benefited from their services and are strongly invested in the success of their organization. This support allows them to remain hopeful and positive despite the circumstances.
Many nonprofit leaders are questioning whether they can continue to fundraise during a global pandemic. It's true that COVID-19 has caused hardship for many, but there are many people that are searching for ways to help and support others. Misericordia provides services that their residents would not otherwise receive and their cause is just as relevant as ever. The key is striking a balance between being sensitive to the challenges many face and continuing to share the importance of their mission.
To learn more about Misericordia and support Candy Days, visit their event page.
You can also find more information on their website: https://www.misericordia.com/ or contact their staff at 773-973-6300.
Additional resources from FrontStream: