The vital services nonprofits provide are needed now more than ever, but economic uncertainty and limits on public gatherings are creating unprecedented challenges to nonprofits of all sizes.
FrontStream is here to support you while you navigate these uncertain times. Please check out the resources below for fundraising tips, nonprofit industry news, blog posts and example events from our nonprofit partners.
---
The Latest from FrontStream
FrontStream Unveils New Enhancement to Peer-to-Peer Fundraising Platform for Virtual Events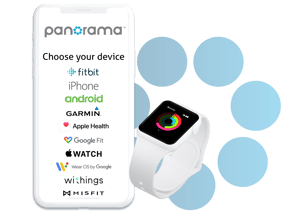 FrontStream offers the first-of-its-kind, truly virtual peer-to-peer fundraising solution that seamlessly syncs with fan-favorite fitness trackers like wearables and smartphones so you can raise more to do more good!
---
Recent posts about fundraising during the spread of the Coronavirus
---
Explore FrontStream's product knowledge base
---
Our library of infographics and free E-Books in our resource library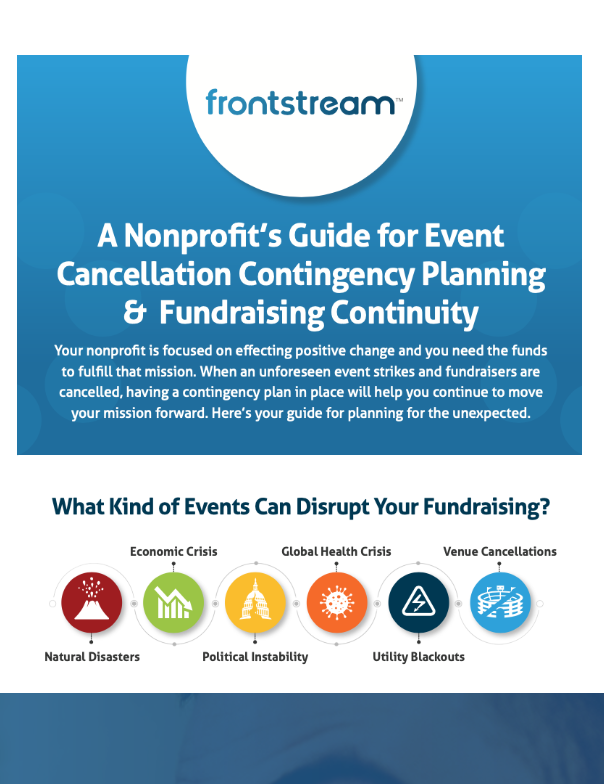 Featured Resource
Event Cancellation Contingency Planning
In today's uncertain world, nonprofits need to plan for the unexpected so they can continue to raise funds and effect positive change even when unforeseen global events disrupt planned in-person events. There are numerous alternatives to in-person events and having a contingency plan in place can make all the difference in continuing your fundraising efforts when an event is cancelled.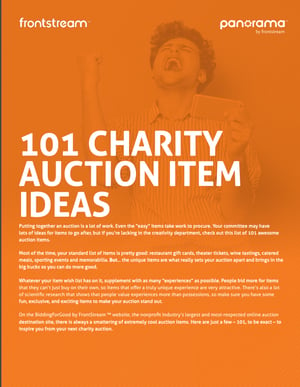 ---
Our nonprofit partners have mobilized and are rapidly responding to the challenges COVID-19 is presenting. These are just a few of the great examples we've seen from our partners on Panorama by FrontStream
Virtual & DIY Fundraising

Online Auctions and Galas
Jacksonville Humane Society Mutt March Page
Blog post: Jacksonville Humane Society: Successful fundraising during COVID-19
---
Recent articles with advice for nonprofits fundraising during the spread of COVID-19
Additional COVID-19 Resource Centers: