Are you thinking about how your organization can reach out to your supporters in creative ways this year? If you're looking for wonderful fundraising challenge ideas, here's three fabulous fundraising events that genuinely put the emphasis on "fun"!
How often do you get a chance to pull a plane?
Some people climb Mount Kilimanjaro for charity, some folks swim the English channel ... And some people pull planes! The 7th Annual Plane Pull Challenge at Ottawa Airport is one of the most unique team challenges around.
On September 22nd, fifty eager teams will line up for their turn to pull a plane 12 feet across the tarmac! Medals are awarded to the three teams with the fastest plane pull times. Team must register online with a $1,000 event fee, and proceeds will benefit the Sens Foundation. Last year's plane pull raised $60,000, will this year's top it?
Lawn bowling gets a stylish make-over!
With team names like Behind Enemy Lawns, Bowl Movement & Dolls With Balls, the Lawn Summer Nights fundraising events are not your grandpa's lawn bowling game. Every Thursday evening in July, creatively named (and stylishly attired!) teams gather together to bowl, groove to jazz, and sip cocktails, all to raise money for Cystic Fibrosis research.
The event started in Vancouver in 2009 to honour blogger Eva Markvoort, and grew to be so popular it made its debut in Toronto this month. Join in the excitement on Twitter by following the hashtag #lawnsummer!
The recipe for a successful flash mob...
A picnic is nice, but a mystery picnic? Even nicer! The Cook for the Cure PinkNic in support of Canadian Breast Cancer Foundation took a unique (and tasty!) approach to the flash mob trend. Participants were asked to wear white and bring a picnic dinner to a mystery location in downtown Toronto on June 25th.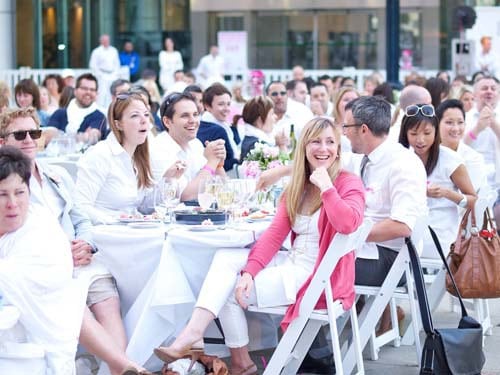 How did the "mob" organize? After buying a $20 ticket online, guests received a text message that day letting them know the secret location for the evening event! The first ever PinkNic flash mob location was David Pecaut Square, where guests were provided with tables, linens, drinks, dessert, music and dancing. The evening's highlight was a meet-and-greet with celebrity chef Lynn Crawford.
Your supporters are always looking for new ways to engage with your organization. What kinds of unique experiences are you building to excite your community and raise money for your good cause?
Get the latest trends and topics delivered to your inbox!
Subscribe to FrontStream's Blog