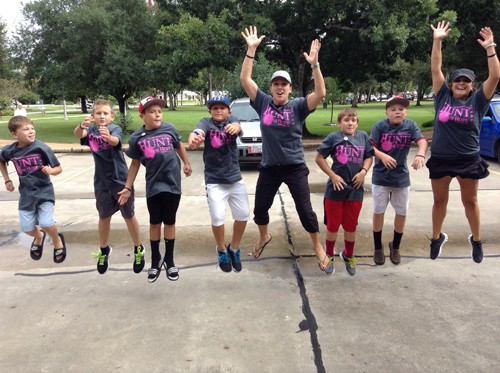 Inflammatory breast cancer (IBC), a rare and aggressive form of breast cancer in which cancer cells block lymph vessels in the skin of the breast, accounts for 1 to 5 percent of all breast cancers diagnosed in the United States, and it often progresses in a matter of weeks or months. Given that it's not commonly seen in a mammogram, research into how IBC occurs and what can be done to stop it is crucial.
That's where the IBC Network Foundation comes in. The charity funds IBC research through donations and events (more on that in a bit), but as with any cancer charity, there are a few challenges that must be overcome.
Terry Arnold, founder of the IBC Network Foundation (and IBC survivor), notes via email that their challenges include "educating that there is more that one type of breast cancer - not all breast cancers have a lump or early detection. Also, funds are needed for more than education and awareness - we need funds for research as well."
The IBC Network Foundation raises those funds with their particularly unique and fun annual event, the Hunt For Hope. The fundraising portion of this scavenger hunt is powered by our peer-to-peer fundraising platform, allowing donations to participants and teams who gather to complete the scavenger hunt's tasks.
"We had goals for our annual events to each raise more than the year prior, and each year we have been successful," Arnold says. "We also have a goal to add an event in a new state each year. That has been easy to do with FirstGiving."
However, the end goal isn't just to measure how successful the fundraising was - it's also to provide an entertaining experience for everyone taking part. Arnold reiterates: "Since we are a charity focused on fundraising for research, the bottom line of dollars raised is a great indicator of the success of event. However, we measure our success in more than just dollars. We ask if our guests enjoyed the event coupled with the online campaign. Is it something they would want to attend again next year?
"We also measure to see if someone learns of our events and if they then carry the mission into their community. That is a huge measure of success - a shared mission shows a successful campaign."
As for how peer-to-peer fundraising integrates with The IBC Network Foundation, Arnold explains, "We are an all-volunteer ran charity and we office from our houses. We have very low overhead, allowing the most impact of donation dollars to go to research. FirstGiving has given us a virtual office that people can come visit and know we are legitimate, since FirstGiving only serves charities with a 501c3 standing. They are giving the community a voice to share their stories."
Find out more about the Hunt For Hope, and don't forget to get educated on IBC as well - awareness can help save a life!
Get the latest trends and topics delivered to your inbox!
Subscribe to FrontStream's Blog