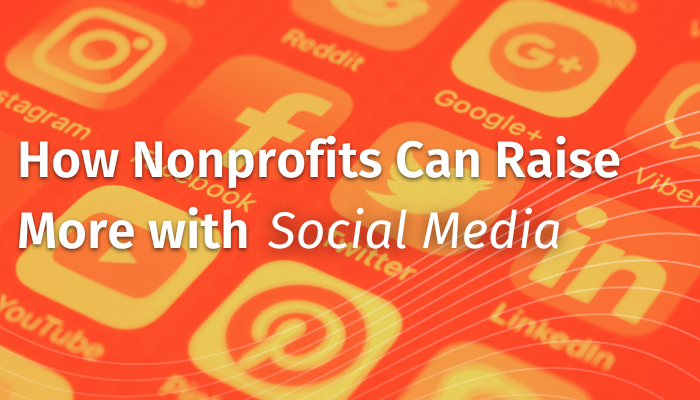 Happy World Social Media Day!
Social media is a part of our everyday lives. From Facebook and Instagram to newer platforms like TikTok, social media is used to connect easily with family, friends, and even strangers all over the world.
Social media tools give you the power to engage with your audience directly in ways you could never have imagined in the age of traditional media. These tools can help promote events and raise awareness. This is a power to harness for all as it democratizes and levels the playing field. Nonprofits of all sizes can use the power of social media to help increase their fundraising efforts. The introduction of this new dynamic introduces a new set of challenges and questions – where to start and how do I break through the noise and grow my followers to make an impact? We have put together some tips on how to leverage social media to raise awareness, draw more followers, and yes, ultimately grow donations to your cause:
1. Choosing the Right Channel
The first step in using social media for your nonprofit is to find the right social channels for your organization. Your organization doesn't have to use every social channel to increase its awareness. Choose the social media platforms that your supporters are using more frequently. Platforms like Facebook are used more frequently by groups of all ages. 51% of people ages 50-65 use Facebook. Whereas platforms like TikTok are used more frequently by younger age groups. The Largest age group for TikTok users is between 10-19 (25%).
For nonprofits, finding the right social media channels is a crucial step in starting their online fundraising journey.
2. Engaging with Your Audience
After your organization chooses the right social channels for your cause, the next step is to engage with your supporters. Your supporters want to see all the amazing things your organization is doing. By posting updates and photos of your events and other fun activities, supporters can see what it is your organization is doing to help benefit the community.
Another way to engage with supporters is by using social tools such as surveys and polls. Platforms like Facebook, Instagram, Twitter and LinkedIn all can create polls that your followers can answer. These tools are an easy way for your audience to engage with your social channels and for your organization to collect feedback and data from your supporters.
It also can be as simple as sharing your thoughts on experiences and stimulating dialogue. Simple and spontaneous posts where you share in your day-to-day fundraising activities and asking your followers to do the same will go a long way. Down-to-earth dialogue is what social media is all about.
3. Promoting Your Fundraising Event
One of the best things about social media is that it can be used to engage with audiences from all over the world. Promoting your next event with social media channels is a great way to reach new supporters and expand your audience.
Posting your event details on your social channels isn't the only way to share your fundraiser. You can add fun and engaging widgets to amplify your event. You could add an event count down to your Facebook or Instagram stories to increase your audience's excitement or create an event page on Facebook so registrants can add the details to their calendars.
There are many ways you can promote your fundraiser over social media. It's an easy and free way to share details with the public. You can read how Collision Repair Education Foundation increased its donations through social media promotions.
4. Livestreaming Your Event
With Platforms like Facebook and YouTube, it's easy to livestream your event and share it with your supporters. Livestreaming allows you to chat with donors and registrants, answer any of their questions in real-time, and see how people react to your event as it occurs. You can also embed links to the live broadcast on your event pages. This gives your supporters multiple avenues to watch and participate in your event.
More than 63% of people aged 18-34 watch live-streaming content regularly. Incorporating livestream with your in-person fundraising events or auctions enables you to reach new demographics of donors from across the globe.
5. Creating Hashtag Campaigns
Creating a hashtag campaign is a fun and easy way to get your supporters to share your organization's brand and message. You can have supporters use the hashtag on images that they take at the event, or in support of an online campaign. Make sure to use a hashtag that supports your mission and values.
To gain traction for your hashtag campaign, you can promote contests and giveaways to encourage your supporters to use the hashtag. Studies have shown that 55% of social media users who are engaging with a cause online are inspired to take progressive actions for it.
Back in 2014, the ALS Ice Bucket Challenge spread across the globe. This online campaign raised over $100 million for ALS research. With the use of social media, the importance of ALS research spread, and individuals from all over the world took part in the challenge and raised needed funds and awareness for the cause.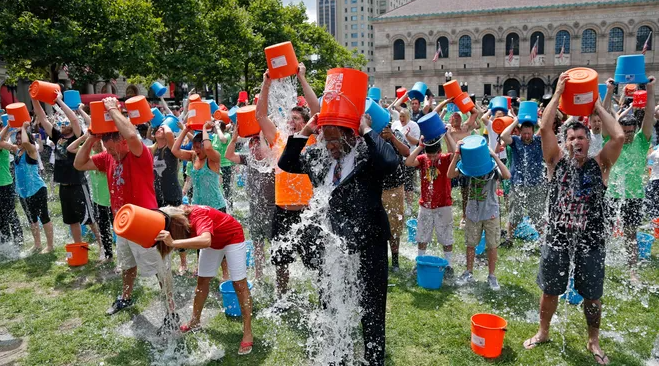 Led by Boston City Councillor, Bostonians take on the ALS Ice
Bucket Challenge (Photo Credit: Elise Amendola, AP)
6. Social Sharing Donations and Event Registration
Having your supporters share their donations over social media is a great way to share your message and reach new donors. By having social share options on your donation, campaign, and registration pages, donors and registrants can easily share their donations or fundraising progress for your event. Potential donors from outside your community can easily find your cause and donate through other supporters.
With online fundraising tools like Panorama, your supporters can easily share your organization's donation, campaign, and registration pages over Facebook, Twitter, and LinkedIn with social sharing options.
Social media and nonprofit fundraising can work hand in hand. By using these strategies, your nonprofit can increase its donation revenue and expand its donor reach.
Show us how you use social media to fundraise on Facebook, Twitter and LinkedIn!