We are thrilled to announce we have expanded our AIRS product to include a new Sponsorship Request Management system! Our easy to use system allows philanthropic businesses to manage all of their sponsorship requests online and streamline their approval process. With our system companies can:
Build a branded sponsorship request page with custom content
Turn sponsorship requesters into customers
Easily manage their charitable giving budget
Access comprehensive reports
Our sponsorship request management system allows nonprofits to visit a business's custom sponsorship request page and easily make a request for sponsorship. Requesters simply:
Fill in a form with their contact information
Answer questions about the specifics of their request
Specify the deadline for a decision and receipt of goods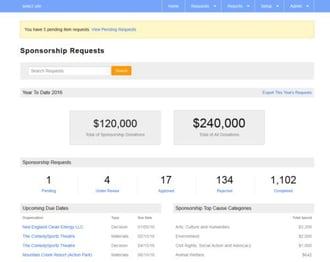 FrontStream's sponsorship request product is a fit for every company receiving requests for sponsorship. Pricing is available to accommodate businesses of every size from a single store establishment to Fortune 1000 companies. FrontStream also offers businesses an equally easy to use and streamlined system to manage in-kind donation requests with the AIRS platform, which can be used independently from or in combination with the sponsorship request platform.
Schedule a call to learn more about how our sponsorship request system can help you manage your business's charitable giving.
Get the latest trends and topics delivered to your inbox!
Subscribe to FrontStream's Blog