For some nonprofits, digital and virtual fundraising has become the new normal since the start of the pandemic. With many organizations using digital and virtual aspects to fundraise, how do you stand out from the rest? Nonprofits of all sizes are looking for creative ways to attract new supporters and grow donations.
Incorporating creative digital aspects adds value to your fundraising efforts. Don't take it from us, learn how four nonprofits gathered creative donations for their auction, communicated before, during, and after their digital event, engaged virtual and in-person audiences at the same time, and reached bidders far beyond their database:
How a Nonprofit Gathered Creative Donations for Their Auction?
Collision Repair Education Foundation:
Collision Repair Education Foundation is an organization that supports collision education programs, students, and schools to create qualified entry-level employees and connect them with an array of career opportunities. Since 2009, they have given over $250 million worth of support to schools and students in monetary and in-kind donations.
Collision Repair Education Foundation used BiddingForGood to gather and showcase creative donations for their auction. They auctioned off a tour of Jay Leno's garage. This private tour included comedian and talk show host Jay Leno's extraordinary collection of approximately 200 vehicles. They use social media and news outlets, and featured this item on the BiddingForGood homepage to raise more money for the single item. This Jay Leno experience sold for $10,600. Other nonprofits who auctioned the same tour received an average of bid $1,200. These "outside of the box item ideas" are a great way to raise funds and are a big hit with bidders and supporters!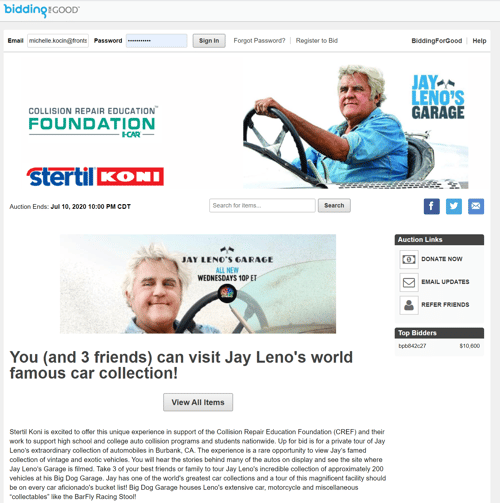 How a Nonprofit Comminuted Before, During, and After their Digital Event?
Rhinebeck Responds:
Rhinebeck is a small historic town in Hudson Valley. This small town predominantly thrives on local businesses. To keep out larger box stores, the community formed Rhinebeck Responds to help small businesses in their town in some really different ways. What was unique was how they communicated before, during, and after their digital event.
They roped in local talent and some celebrities like Paul Rudd, to paint birdhouses that they then displayed all throughout the town. Each birdhouse was assigned a QR code posted to it, and from there, town's people were able to safely and at a social distance walk through town, scan the QR codes, and bid on those birdhouses. They took advantage of the customizable auction run times through the BiddingForGood platform to maximize the time that they had to make this kind of a living bidding exhibit available while still quickly getting those funds to the businesses that were somewhat desperately in need of assistance. Rhinebeck Responds created a unique, COVID-19 safe, and engaging experience for their donors and kept costs low by sourcing local talent and using features like "donor covers the fee".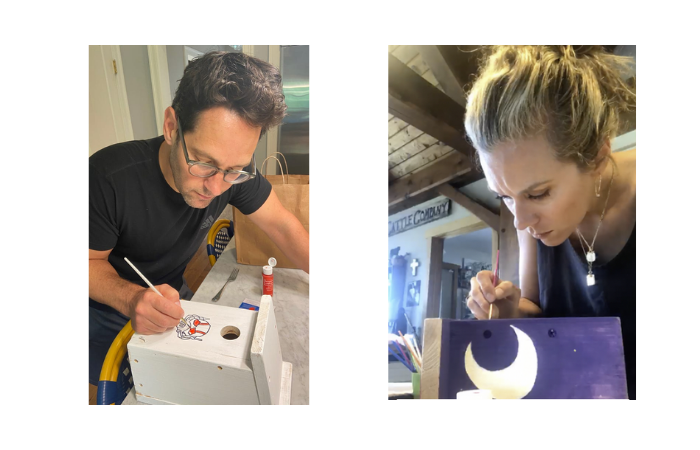 How a Nonprofit Engaged Virtual and In-person Audiences at the Same Time?
Rise Above Violence:
Rise Above Violence is a nonprofit dedicated to helping victims of sexual assault and domestic violence. They use FrontStream's fundraising platforms such as Panorama and BiddingForGood to create multiple revenue streams to spread awareness in their community, gain new donors and engage existing donors to raise more money for their cause.
In 2021, they hosted an online-hybrid gala where 100% of the bidding was done online. Then they had individuals from across the country bid on their online auction items. If donors attended the gala in-person, they were able to bid on items via QR codes. Ashley Wilson, Outreach and Evaluation Coordinator from Rise Above Violence stated, "Online fundraising is important and it lets people bid, even if they're far away". Rise Above Violence found that 50% of their donors covered the additional donation fee through BiddingForGood and on their donation pages.
How a Nonprofit Reached Bidders Far Beyond their Database?
Bay Laurel Elementary:
Bay Laurel Elementary utilized the tools that FrontStream brings to your table. Bay Laurel is a public K-5 school in California. They are a long-time partner with FrontStream and each year they continue to grow their network and their overall proceeds, attributed largely in part to their consistent use of the BiddingForGood Bidder Community.
Opening their auction to the 1.7 million bidders on BiddingForGood, has resulted in about $41,000 raised during their first-ever auction! About 1/3 of their bids came from BiddingForGood shoppers. By opening their auction to the BiddingForGood Bidder Community, Bay Laurel was able to reach bidders far beyond their immediate network.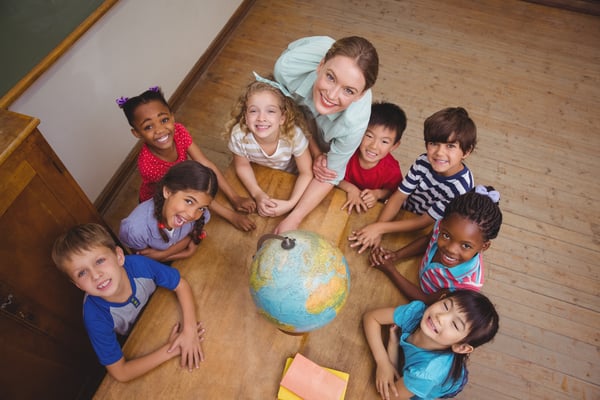 The services and resources nonprofits provide to vulnerable communities are in sky high demand. Now is the time to start planning and organizing your fundraising efforts and researching creative ways to bring in new donors and supporters.
To learn more about hosting a digital fundraiser, watch our recorded webinar:
Additional Resources:
BiddingForGood Advertising Feature Services
Collision Repair Education Foundation: Driving Revenue With Online Auctions and Virtual Golf Tournaments
Rhinebeck Responds: 6 Steps to Successful Community Fundraising
How 5 Essential Strategies Helped One Nonprofit Increase Their Revenue Streams