Blog Update: CREF's Chip Foose item is live on BiddingForGood.com! Check it out now.
Like so many other nonprofits, the spread of COVID-19 meant the Collision Repair Education Foundation (CREF) faced some tough choices. While some of their corporate partners were able to continue to support the organization, other supporters have been hit hard by the economic downturn and uncertainty the coronavirus has caused.
CREF is leveraging key corporate partners to procure unique and exciting auction items and open their traditional fundraising efforts to brand new supporters. Keep reading to find out how they are using online auctions and virtual golf tournaments to ensure their fundraising success.

Background
In the 1980s, the collision industry was facing its first critical shortage of qualified and well-trained entry-level employees. The country's technical education system was no longer able to produce enough high-caliber graduates to meet industry needs. In response, industry partners created the Collision Repair Education Foundation (CREF) in 1991.
The Foundation now supports collision repair educational programs, schools, and students to create qualified, entry-level employees and connect them with an array of career opportunities. Since 2009, they have given $250 million worth of support to schools and students in monetary and in-kind donations.
CREF knows that most students are pushed into the four-year college track and little emphasis is put on skilled technical trades like auto body repair (collision) program. The $30-$40 billion collision repair industry needs trained and qualified employees that are often lacking from the employment market. CREF focuses on supporting high school and college programs that focus on collision repair education.
COVID-19 and CREF
As COVID-19 spread, the CREF team knew they needed to be creative to ensure that they maintain fundraising for these vital programs. They also knew that many programs would need to develop virtual learning programs to continue education while complying with social distancing guidelines.
It was a unique time to be a fundraiser and by March they knew that some of their traditional support would change. They proactively identified creative ways to continue to fundraise for their programs.
CREF is actively working with key corporate partners, like Steril-Koni and 3M, to create unique auction items that appeal to any motor/car enthusiast. They are also developing a virtual golf tournament program with TopGolf- a first for CREF and TopGolf and the entire nonprofit industry.
Part 1: Online auctions with BiddingForGood
Instead of hosting a traditional auction with lots of items, CREF decided to focus on one "big-ticket" item that they could promote to as many potential bidders as possible. They planned to host one item for several weeks on BiddingForGood.com.
Their first auction item was facilitated by heavy duty vehicle lift leader, Stertil-Koni. The item was a private tour of Jay Leno's Garage that included:
"The winning bidder, along with three of their friends, will have a private tour of Leno's extraordinary collection of approximately 200 vehicles at his Big Dog Garage in Burbank, CA. The tour will include stories behind many of the autos on display and see where Jay Leno's Garage is filmed. Funds raised through this once-in-a-lifetime experience for any automotive enthusiast will allow CREF to support high school and college collision programs this upcoming school year who have expressed concern about their already limited program budgets being reduced."
Bidding started at $750. CREF elected to list the unique experience as a 'Featured Item' on BiddingforGood where the item was displayed prominently on the homepage of BiddingForGood.com.
BiddingForGood.com, a part of the Panorama(TM) platform by FrontStream. BiddingforGood has hosted over 40,000 auctions since its inception and features a bidding community of over 1 million members. This community is constantly growing and the homepage alone is visited by over 850,000 individual users for a total of over 16.85 million total page views annually.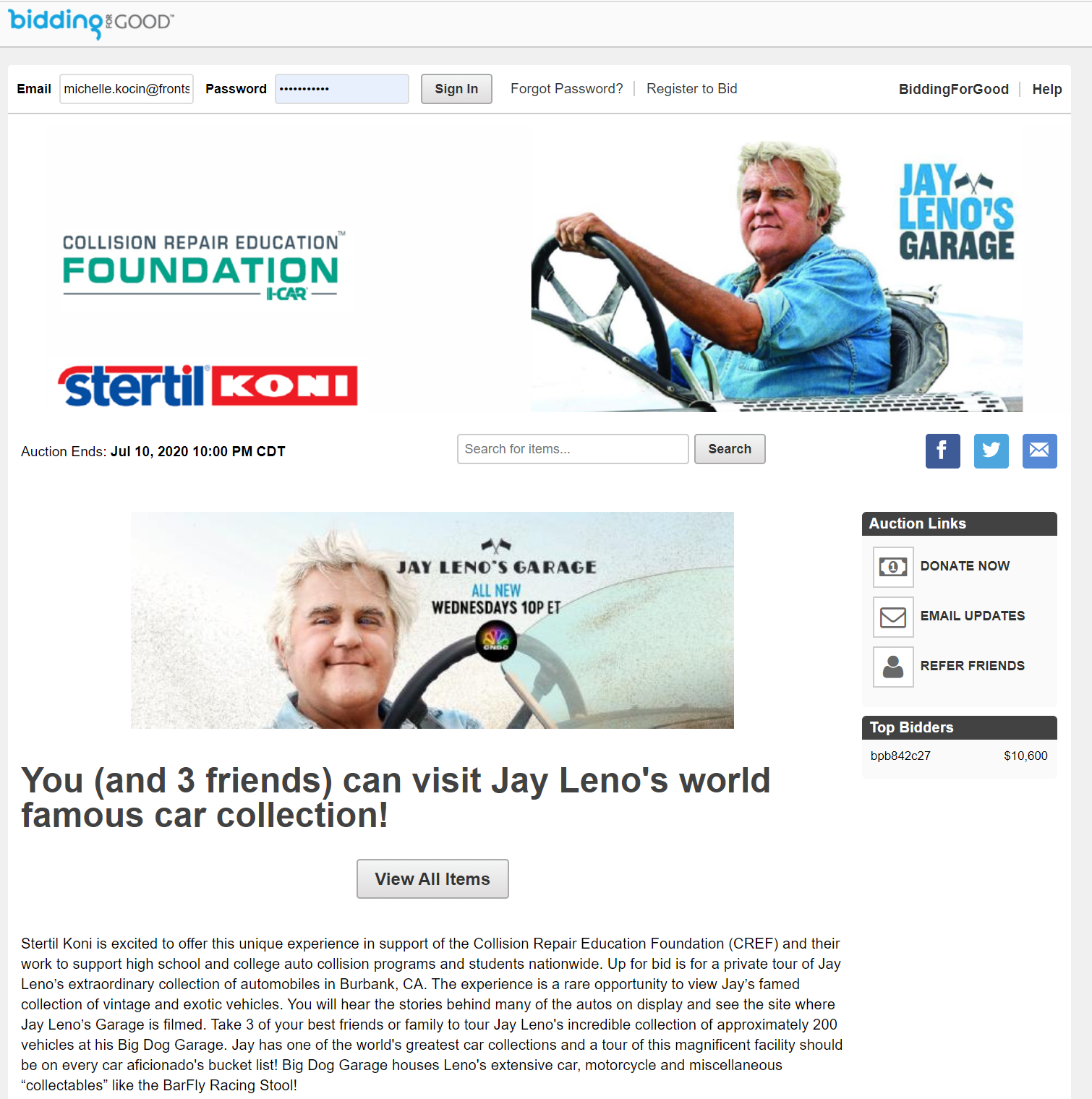 Press Coverage:
In addition to promoting the item to their past and current supporters, CREF was able to secure press coverage of the item and used their own social media and blog to promote the item.
They included links to key BiddingForGood articles on the FrontStream knowledge base including:
How to Login and Register as a Bidder
CREF's own blog post: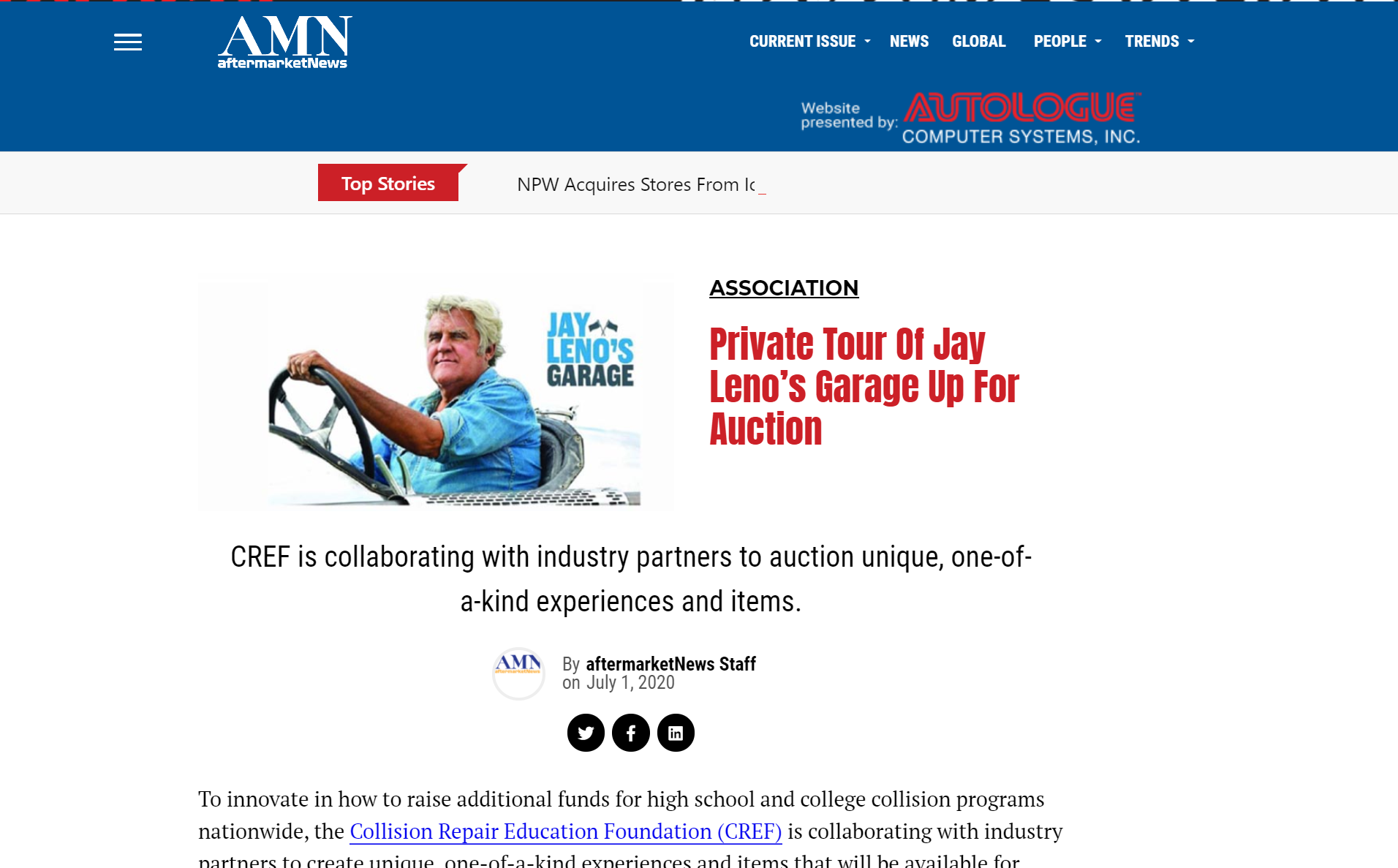 Additional press coverage:
Social Media:
They used Facebook to announce the item and posted regular updates on the current high bid to keep momentum going.
Jay Leno Item: Final results:
Boosting the item on the homepage helped to create excitement and additional bids and the Jay Leno Experience sold for $10,600. This exceed their goal and confirmed that they were on the right track with online auctions.
Upcoming auction experience with Chip Foose:
Encouraged by the success of their Jay Leno item, CREF worked with their corporate partner 3M to create an experience with Chip Foose- the host of Overhaulin'. This popular TV series features a team of ace mechanics and designers who transforms mundane or even junky autos into unique custom cars under the watchful eye of auto design legend Chip Foose.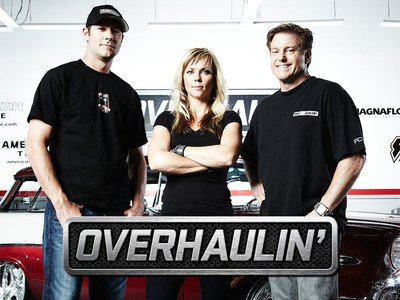 The auction item features a meet and greet experience with Chip Foose at his shop in California. CREF has already started to promote the item on their Facebook page:
Chip also plans to promote the experience on his social media channels, including his Instagram page where he has 1.3 million followers.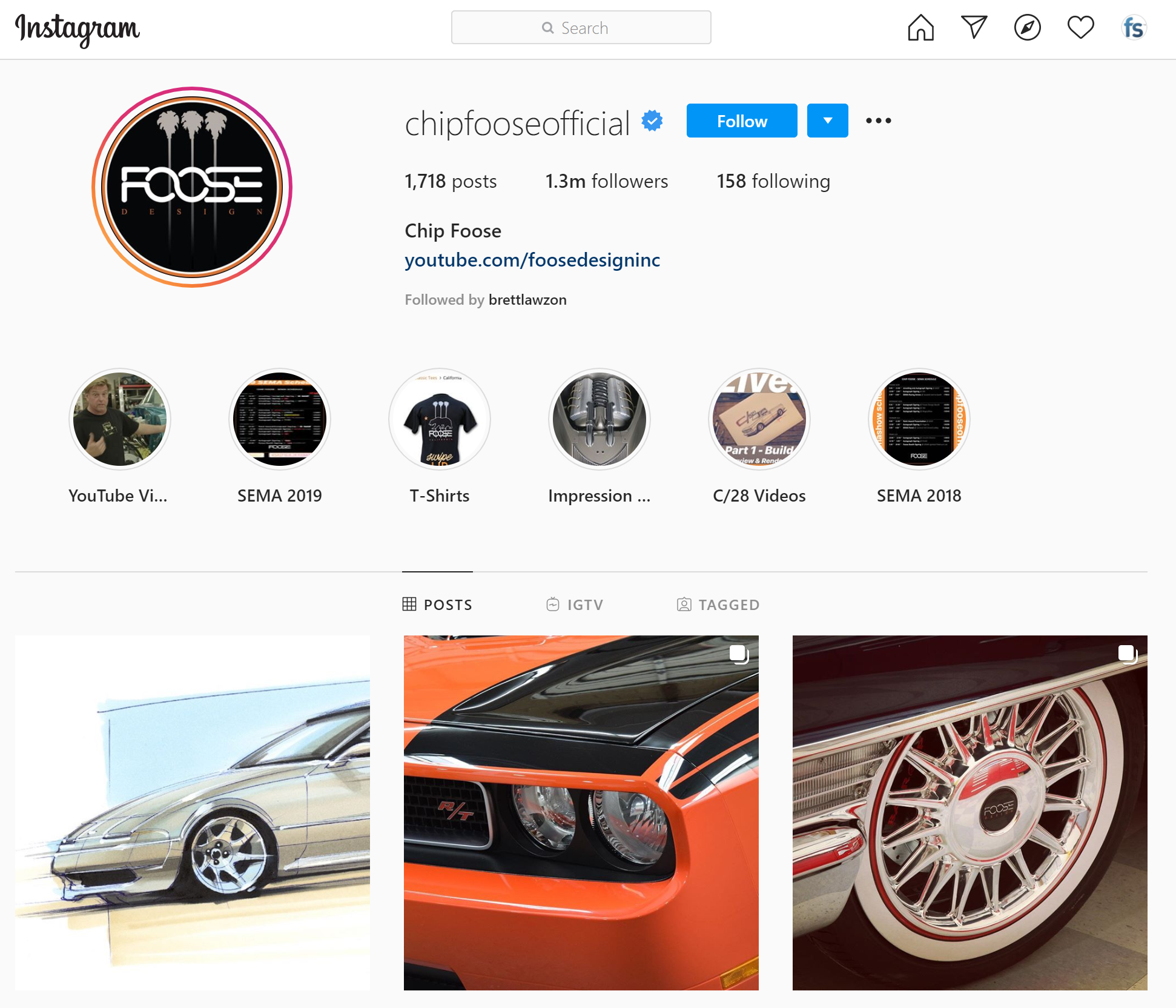 Their corporate partner 3M will also help to promote the item to their network. The combination of CREF's supporters, Chip Foose's followers and 3M's network is sure to drive up excitement and hopefully promote lots of bids!
Update: The meet and Greet with Chip Foose is now live on BiddingForGood.com! Bid on the item now.
Part 2: Virtual Golf Tournaments with Top Golf
CREF traditionally holds an annual golf tournament, but chose to create a virtual event in 2020. They are partnering with TopGolf to host completely virtual golf tournaments.
Since this was a brand new fundraiser for both TopGolf and CREF, they held a test event to ensure it would work on a larger scale. Their July 25, 2020 test event allowed people to play a virtual round of golf for a $25 donation that went to CREF. The first 150 registrants received a "CREF Golf Swag Bag". Players could log in and practice prior to the event on the World Golf Tour by TopGolf.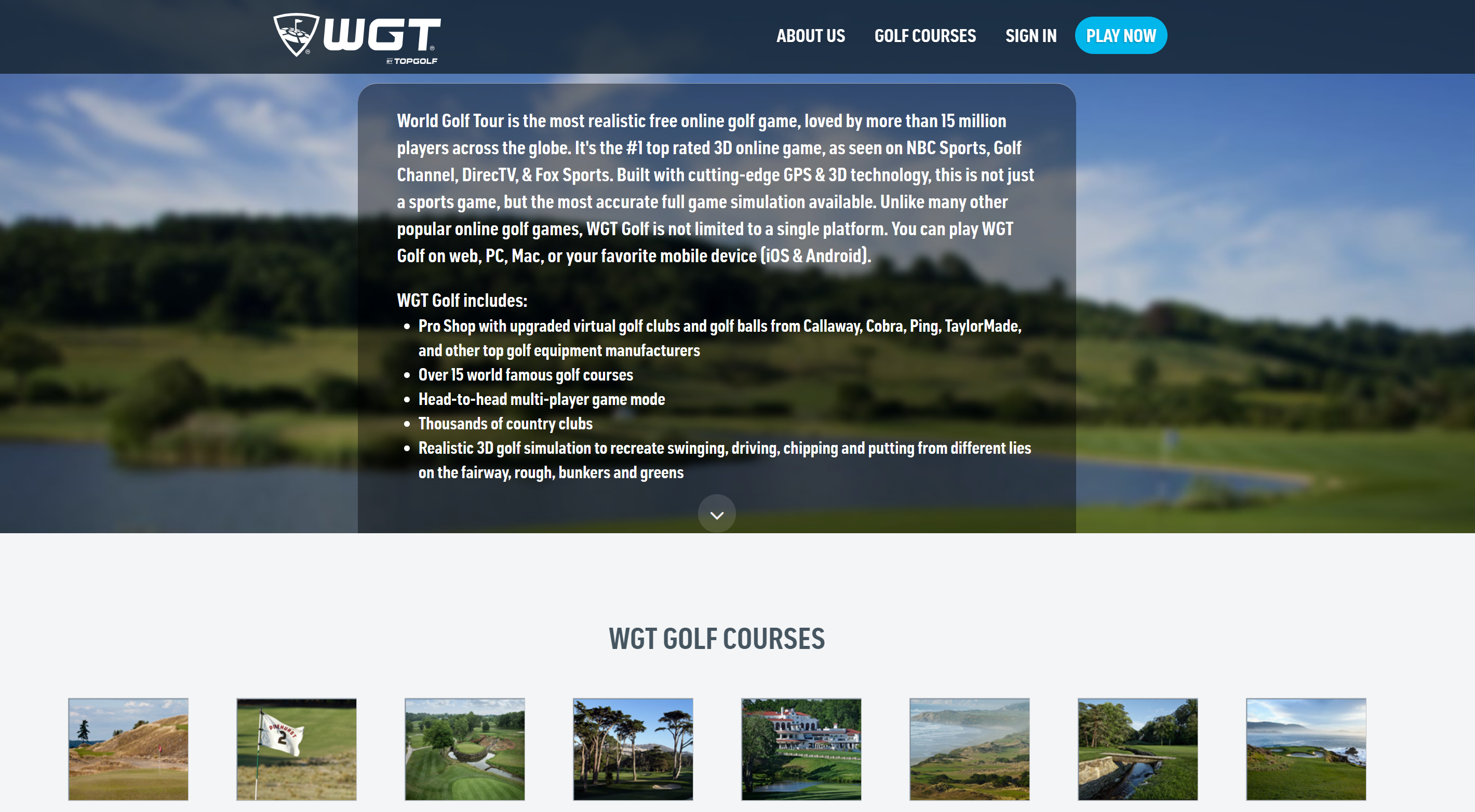 One of the major benefits of hosting a virtual tournament is you can expand the event's reach beyond the 144 player cap for traditional golf tournaments. Also, there's no minimum skill level required and you don't have to worry about rain delays or cancellations!
The test event was a huge success, with participants from 30 different states plus Canada. Another, much larger tournament is in the works to launch in November.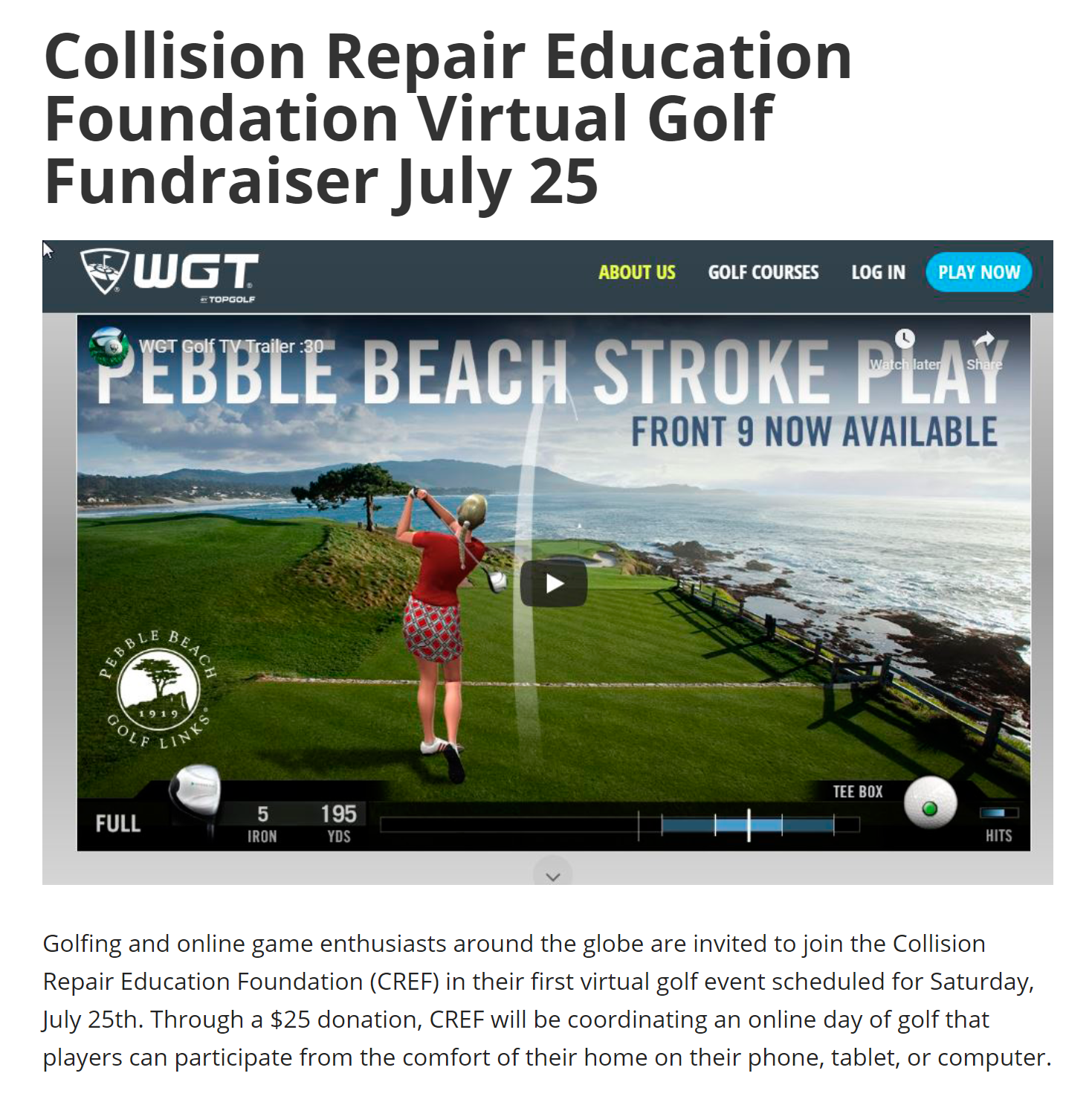 Collision Cup Virtual Fundraiser:
The Collision Cup Virtual Fundraiser will kick off on November 20, 2020 and supporters will have thirty days to play.
This time, the tournament will be open to sponsors who can sponsor their own mini golf event which will last for 30 days. Their sponsorship allows them to to create their own branded tournament with hole signage and other opportunities for visibility in the tournament experience.
Their current sponsorship opportunities include:
The event is open to everyone, everywhere and sponsors and participants can also choose to have their donations stay local and support a nearby collision repair education program.
Virtual golf tournaments are innovative and create a way to engage supporters when an in person event is not feasible. They also tend to be cheaper as there's not need to pay for food and beverage, club fees, signage and so much more.
The Collision Repair Education Foundation has a unique and creative approach to helping young people get the training they need to attain gainful employment. CREF is using this same creativity to build a comprehensive virtual fundraising program that includes virtual auctions and virtual golf tournaments. In a time when the unemployment rate in the United States has seen the largest spike in decades, CREF's services are especially vital for young people looking to enter the workforce.
More about:

The Collision Repair Education Foundation (CREF) is a national 501(c)3 nonprofit that supports high school and college automotive collision repair programs, students, and instructors across the United States. CREF's work includes attracting students to these local technical school programs, supporting them while in school, and then connecting them with local/national automotive collision industry employers. CREF returns on average 90 cents of every dollar donated back to the schools/students and are a Charity Navigator rated 4 (out of 4) Star charity.
More about:
FrontStream is a leader in the nonprofit fundraising industry and makers of the Panorama by FrontStream- your all -in-one digital fundraising platform.With over 20 years of experience in the fundraising software industry, our FrontStream team is mission-focused on helping nonprofits and socially responsible corporations raise more funds to do more good. Through our innovative and secure fundraising solutions, we help organizations reach their goals and effect positive change in the world.

Additional resources
Blog Post: Nonprofit Fundraising for the Digital Age
Case Study: Shriners Virtual Lemonade Stand
Auctions with Panorama by FrontStream
Panorama: Online Only Auction Tips
Case Study: Jacksonville Humane Society