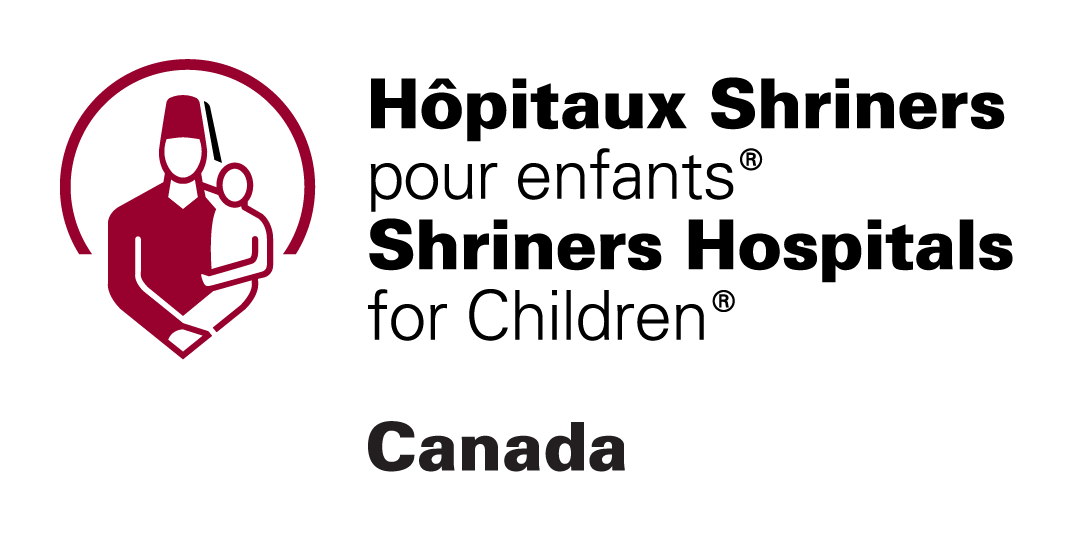 Shriners Hospitals for Children- Canada has faced its share of challenges with the spread of COVID-19. They made the difficult decision to postpone all of their 2020 fundraising flagship in-person events in order to protect the health and well-being of their patients, families, and the community at large. This included cancelling their 10th annual Canada Shriners Hospital Invitational golf tournament fundraiser. The current environment inspired organizers and fundraisers to be creative and unite supporters through a virtual event.
In past years two of their young patient ambassadors have hosted a lemonade stand at the event in order to raise extra funds. The kids were saddened by the news of the events cancellation, but Kaleb and Alab decided to generate a "buzz" by creating a virtual lemonade stand.
"Every year, our hospital treats thousands of children, many of who are battling rare illnesses. We both have Osteogenesis imperfecta (OI), which means that our bones are very fragile and break easily. To date, we have broken more bones than we can count but, thanks to the amazing team at Shriners, we are getting stronger and stronger! " explain Kaleb and Alab.
Shriners already used Panorama by FrontStream™, so setting up a virtual fundraising page was easy for staff. And the kids took it from there!
To kick things off, they created a video that laid out the premise. Including how people would get the lemonade. (Hint: it's a metaphor).
Kick off video:
Since this event wouldn't feature a chance for in person interaction, the staff knew they needed to be more engaged on social media and in email communications. They came up with a communication plan that included weekly social media posts and video content.
The campaign started on July 6th and the team kicked things off by embedding the video on their fundraising page, posting to Facebook and by sending an email to all supporters about the virtual lemonade stand.
| | |
| --- | --- |
| Kick off Facebook Post | Kickoff Email |
Virtual Event Communication Plan
The rest of their communication plan looked like this:

Create engaging video content with Kaleb and Alab and the hospital's supporters
This turned out to be the easy part. Kaleb and Alab are natural performers (and business men) and were able to film segments from home. The staff took all the footage and edited it together to share on social media and via email.

Create a timeline for the event to build momentum
The staff chose to set defined dates for the campaign . This helped to create a traditional campaign experience with a beginning, middle and end. Their emails and social media posts reminded donors of key dates and counted down until the end of the campaign.
| | |
| --- | --- |
| | |
| Final day video | Two days left Facebook post |

Post weekly updates on social media with updated fundraising totals
They created weekly update videos to check on campaign progress and goal achievements and posted to social media. This helped to keep the campaign top of mind, share successes and thank donors.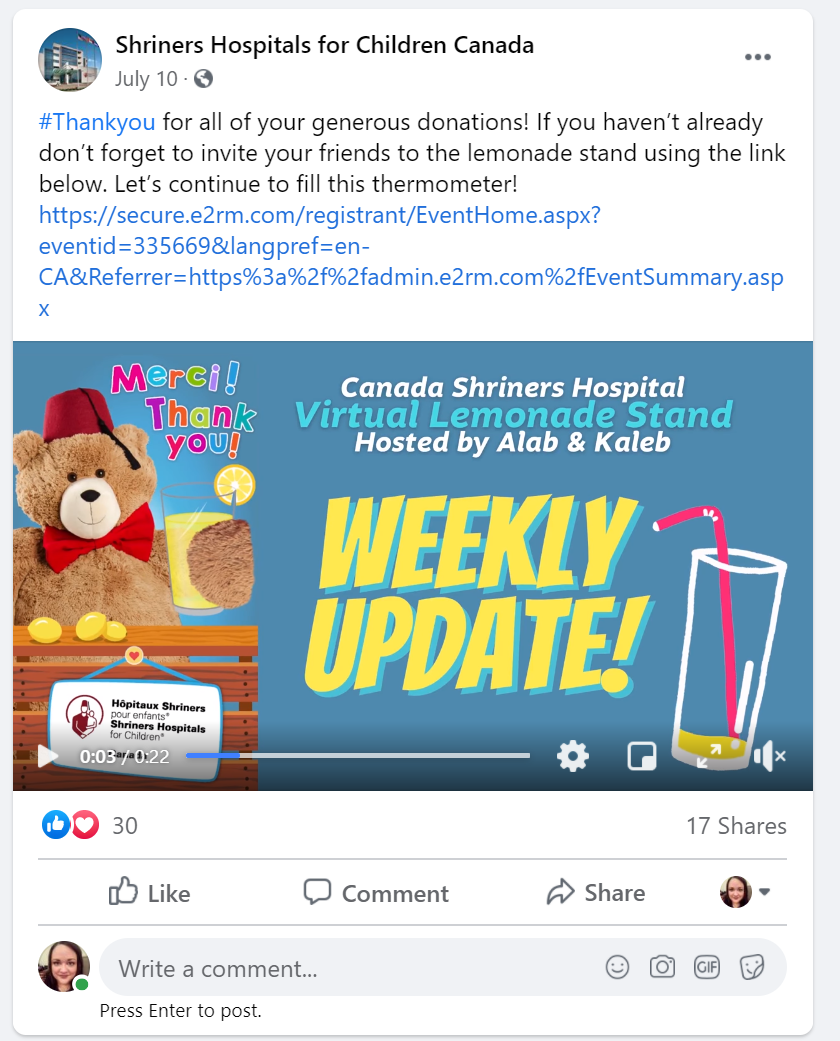 Secure a matching gift donor and publicize it
Shriners was able to secure a matching donation of $30,000 from Joe Caprera, founder of Joe Caprera Inc. Mr Caprera is the father of young two boys and has sponsored the cocktail hour at the golf tournament in 2019. Kaleb reached out and asked him to match each dollar raised, up to $30,000, through the virtual lemonade stand.
A matching donor not only infuses additional funds into a campaign, but also shows potential donors that their donation will go ever further.
Kaleb and Mr. Caprera celebrated the gift at the hospital (while social distancing) and shared the exciting news on their Facebook page and through an email update.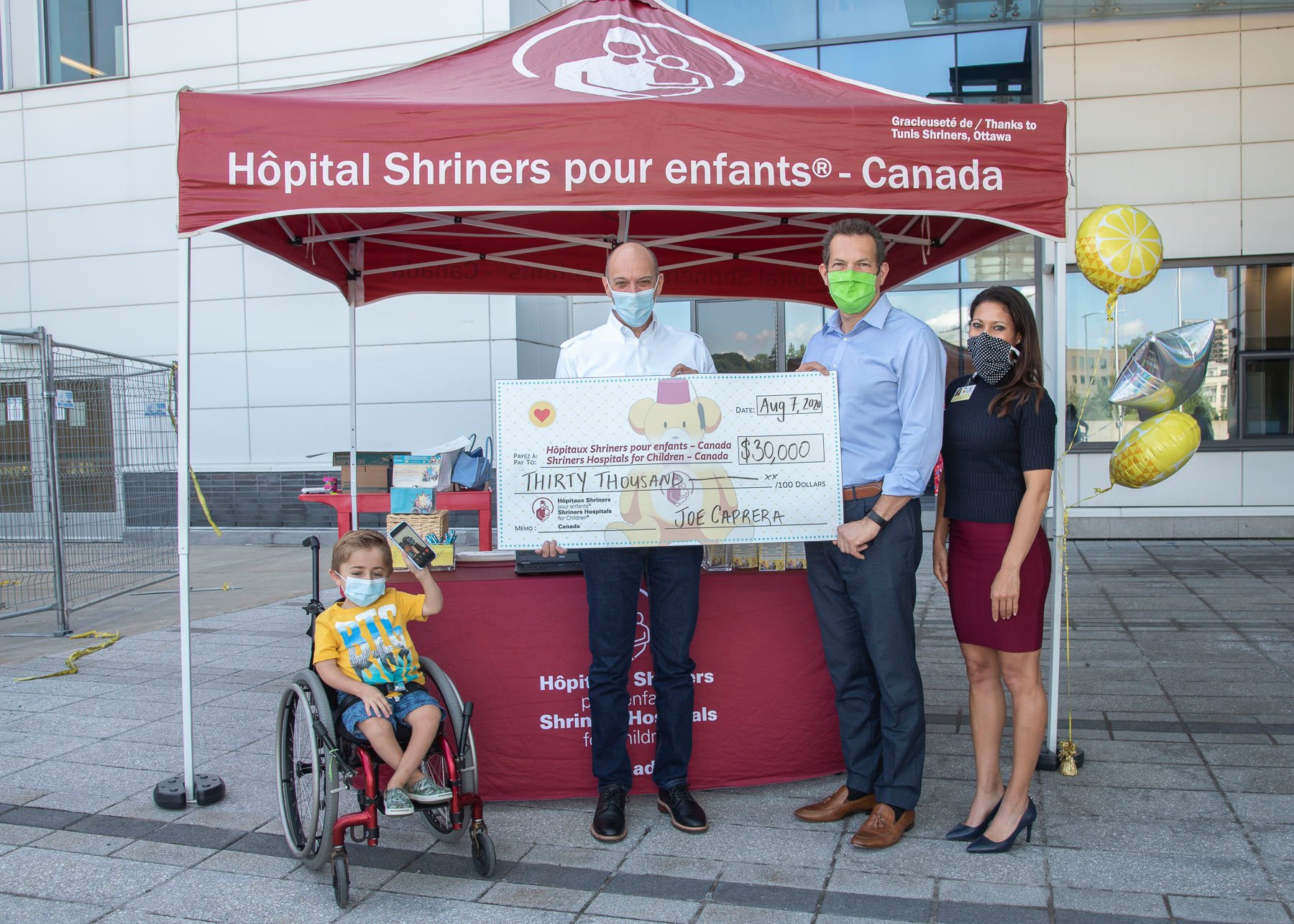 Matching Gift Presentation
| | |
| --- | --- |
| | |
| Matching Donor Facebook post | Matching Gift Email |

Create targeted Facebook ads to generate new donors
The staff decided to invest in targeted Facebook ads for this campaign to engage some new donors. Boosting the post with the kickoff video helped to bring new attention and eyes to the campaign. Choosing engaging content, like the kickoff video, helps to ensure that individuals that notice the post and consider making a donation.

Engage all donors (not just past event attendees)
In the past, the golf tournament was limited to the people that could afford to purchase spots at the event. The virtual lemonade stand was open to all supporters and the staff publicized it to previous event attendees, their entire past donor database, and new donors. The response from new donors was overwhelming- accounting for nearly half of the total donations. A record 47% of donations came from new donors that hadn't previously donated to the hospital before.

Thank donors multiple ways
Panorama by FrontStream sends immediate, automated donation acknowledgements to donors. Donors can use the email acknowledgement for tax purposes, but many donors still like to receive a more personalized touch with their thank you. The staff at Shriners sent thank you notes to all donors that included a thank you magnet. They sent the notes as donors came in, instead of waiting until the end of the campaign so that donors were thanked very quickly.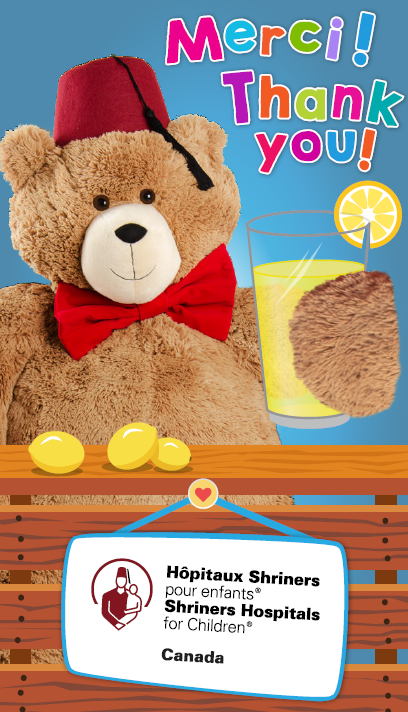 Thank you magnets sent to donors
Measurable Success
In 2019, the lemonade stand at the golf invitational event raised an impressive $25,000. The kids were thrilled with these results and everyone was curious to see how a virtual fundraiser would compare. Still striving to raise more, the boys set a higher fundraising goal for 2020 at $30,000. When the donations were tallied at the end of the 2020 campaign and combined with the matching $30,000, they raised a total of $77,154- 158% of their original goal. This represented an increase of more than 400%. Going virtual was a huge success and contribution!
As shown below, large spikes in donations correlate with social media posts resulting in either immediate increases in fundraising, or spikes seen the following day.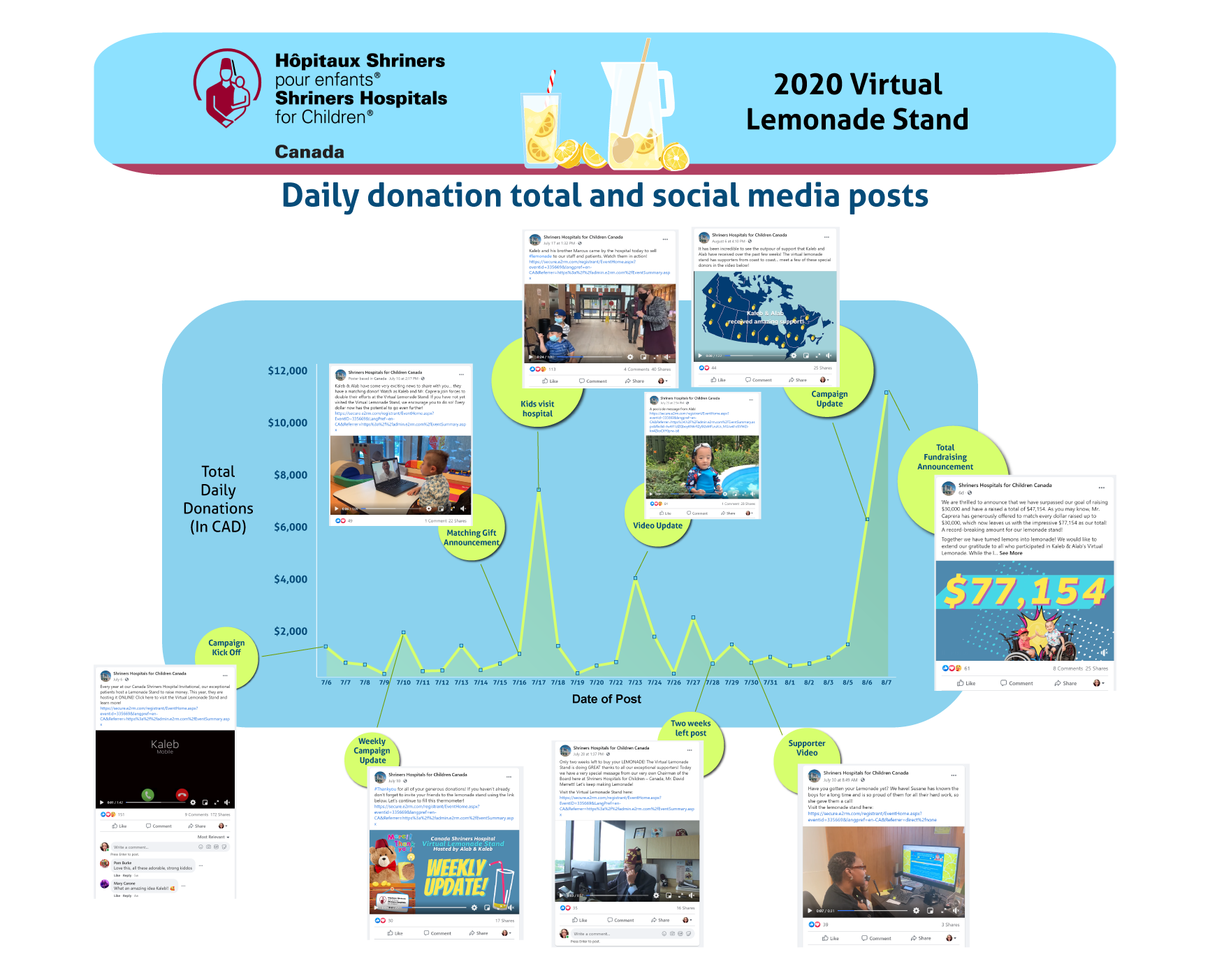 Keys to Success
In addition to creating a comprehensive communication plan, the staff attributes the event's success to several factors.

Increasing social media and donor communications
Shriners Hospitals for Children- Canada was already engaged on social media, especially on Facebook. Instead of weekly posts, they increased their postings to multiple times a week and shared real time updates on their fundraising progress. The staff also increased email communications and personal calls to donors to ensure a high level of engagement.

Engaging new donors
As previously mentioned, 47% of donors to this campaign had never donated to the hospital before. Engaging new donors , especially ones that wouldn't have traditionally attended a golf tournament, was another key to their success.

Staying connected with donors during pandemic
A global pandemic makes for a stressful time for everyone, but parents and children in need of surgical procedures are under a huge amount of pressure. The staff at Shriners made special efforts to reach out and check in with their constituents to make sure they are ok. These check ins were separate form donation solicitations and ensure parents and patients know the organization is there to support them. The hospital has also been able to offer free COVID-19 testing as part of pre-surgical testing in their pediatric orthopaedic unit which reduces the burden on patients and parents to secure outside testing.
The huge success of this campaign will be easy to replicate and the staff and Kaleb and Aleb plan to host a virtual lemonade stand again next year. Virtual events are the future of fundraising and Panorama by FrontStream makes hosting virtual events and campaigns like this one fun and easy.
More about: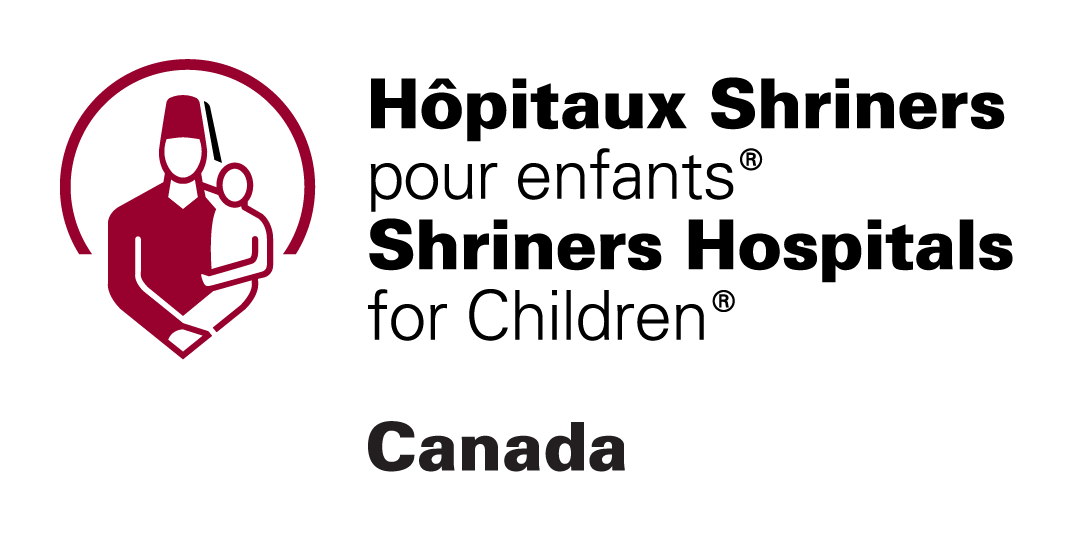 Shriners Hospitals for Children is a health care system that is world-renowned for pediatric specialty care, innovative research and outstanding teaching programs for medical professionals. Children up to age 21 with orthopaedic conditions, burns, spinal cord injuries and cleft lip and palate are eligible for care and receive all services in a family-centered environment, regardless of the families' ability to pay.
More about:

FrontStream is a leader in the nonprofit fundraising industry and makers of the Panorama by FrontStream- your all -in-one digital fundraising platform.With over 20 years of experience in the fundraising software industry, our FrontStream team is mission-focused on helping nonprofits and socially responsible corporations raise more funds to do more good. Through our innovative and secure fundraising solutions, we help organizations reach their goals and effect positive change in the world.
Additional resources:
Nonprofit Fundraising for the Digital Age
Case Study: Jacksonville Humane Society
Case Study: Misericordia Takes Candy Days Virtual
Auctions with Panorama by FrontStream
Virtual Fundraising Real -Time Demo