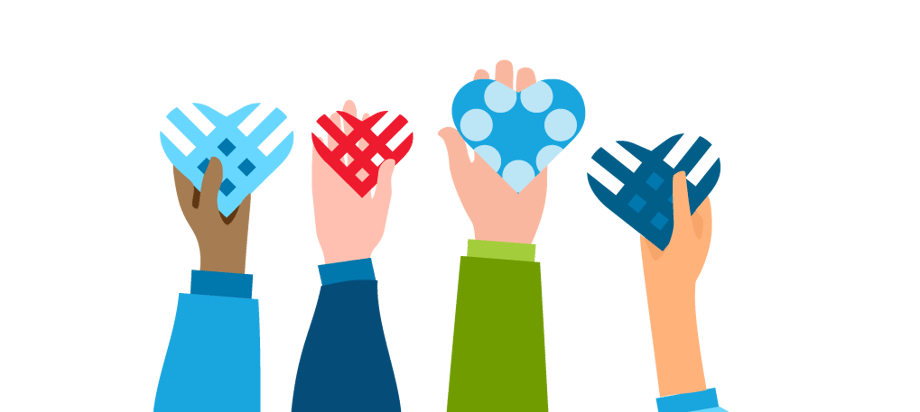 Temperatures are dropping, leaves are falling, and the days are getting shorter which can only mean one thing- giving season is here!
Research shows that donors are particularly generous this time of year with nearly one-third of annual giving occurring the last three months. It can be an especially busy time for nonprofits, add in a global pandemic that limits your organization's usual fundraising activities and it can be downright stressful. Running a virtual giving campaign is a great way to streamline your year-end giving, letting you focus on your mission, and raise more!
Organizing and launching an online giving campaign may seem overwhelming, but you still have plenty of time to get started. With FrontStream's all-in-one digital fundraising platform Panorama, you can easily and quickly create beautifully branded, mobile friendly, virtual fundraising appeals in minutes. Below are 5 proven ways your charity can raise more with a Panorama Virtual Campaign this giving season.
Communication is Key
According to Nonprofit Source, fundraising campaigns raise 3 times more if they update supporters every 5 days. This may sound overwhelming and time intensive, but with Panorama's powerful digital engagement tools, in-product technology lets you create targeted, triggered e-communications to your past donors and current registrants based on their profiles and actions. This can help increase awareness of your mission, helping your donors promote your event, and recruit new participants and supporters.
How can you develop an effective communication plan and deliver added value for your supporters?
Create customized asks based on individual donor profiles, providing a unique and targeted connection with your supporters




Create branded thank you messages to provide a cohesive experience for your donor and reinforce a sense of trust with your donors when they see and recognize your brand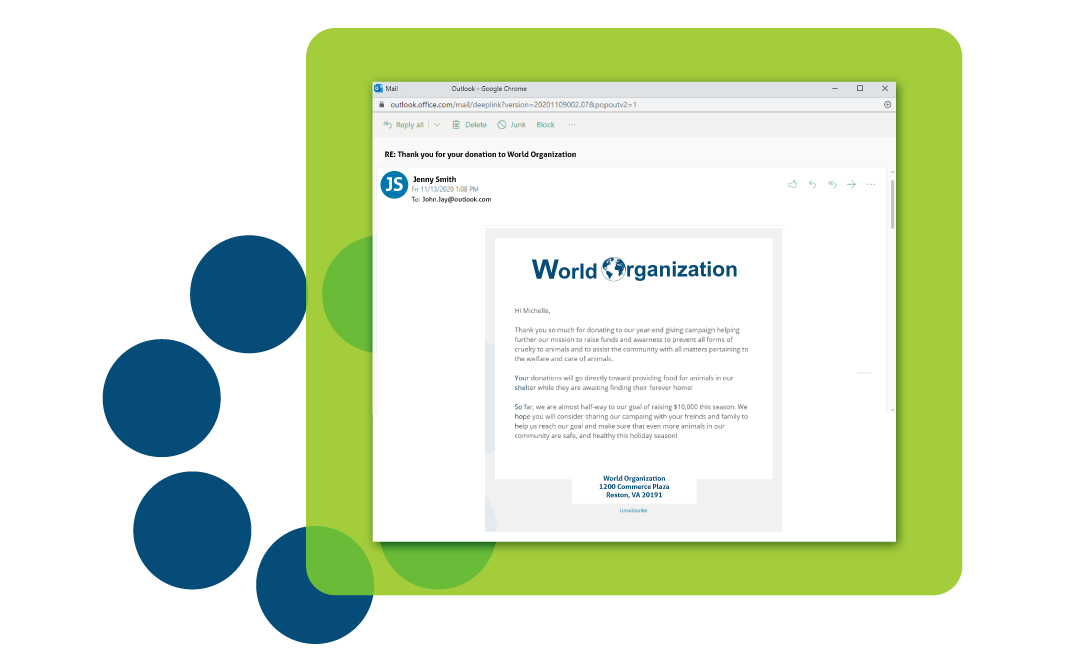 Preview, test and pre-schedule email sends, reaching supporters at appropriate times and avoid duplication of messages to your givers




Track email stats like opens, clicks, bounces, and unsubscribes, so you can better target and send messages to an engaged donor base- Use data to evaluate effectiveness, engagement, and the success of your online giving campaign. Data analysis is important to streamline fundraising processes, refine fundraising strategies and report on campaign success to increase donor retention. Tracking data can provide a better understanding of your supporter interaction and with better insight into donors and their fundraising preferences, your campaign can be more effective
Best of all, with Panorama it's all automated, allowing you to communicate as often as you like to ultimately expand your donor base and raise more funds.
The Gift that Keeps on Giving
Many nonprofits rely on recurring giving programs as a major source of revenue. According to a report from the NonProfit Times, GivingTuesday and year-end donors are apt to sign up for recurring donations if given the opportunity. With Panorama, when you create a time-bound Campaign you can easily add in the option for donors to sign up for recurring donations either monthly, quarterly, or annually. Research also shows that donors that set up recurring donations give 42% more annually, compared to one-time donations. Therefore, the simple act of turning this option on for donors increases your potential to raise more for your cause. Not only do recurring gifts assure nonprofits have more stability, it is sometimes more convenient for donors to have the funds automatically come out of their accounts and budget their own philanthropy. It's a win-win opportunity that can help your organization raise more and inspire and satisfy your supporters!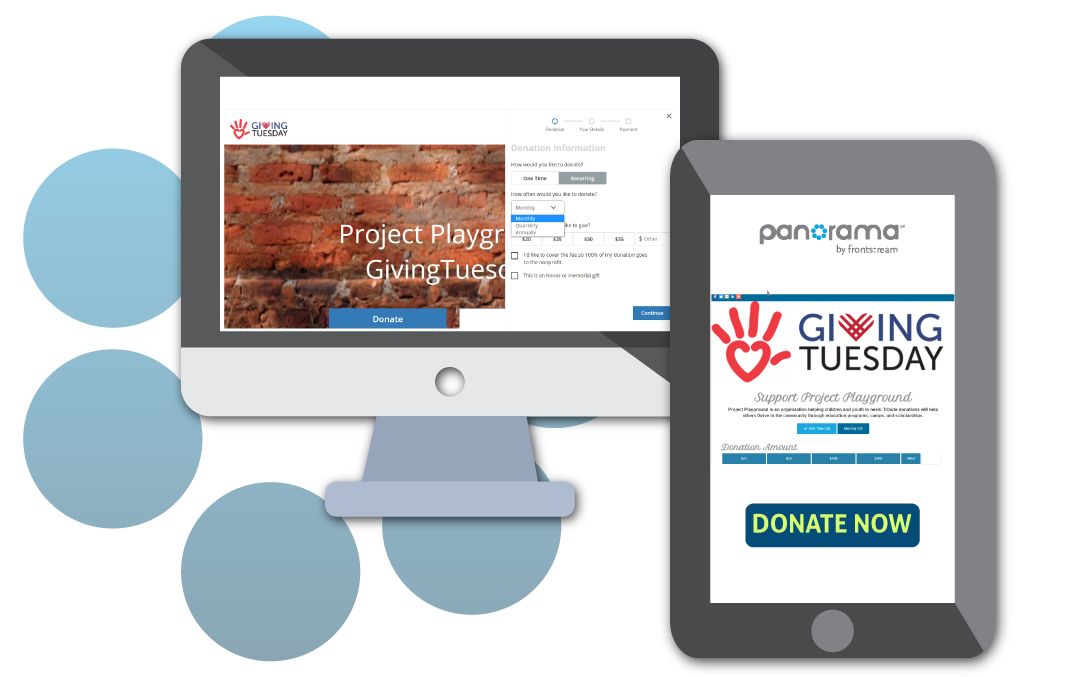 Progress Makes Perfect
What's more exciting than knowing how long and how much has been contributed to your favorite nonprofit! Fundraising campaigns that have a real-time thermometer have the ability to visually show each donor's impact and communicate a common goal that can motivate and engage your supporters right up until the end of your campaign. In fact, industry research suggests adding a thermometer can boost fundraising by an average of 35%.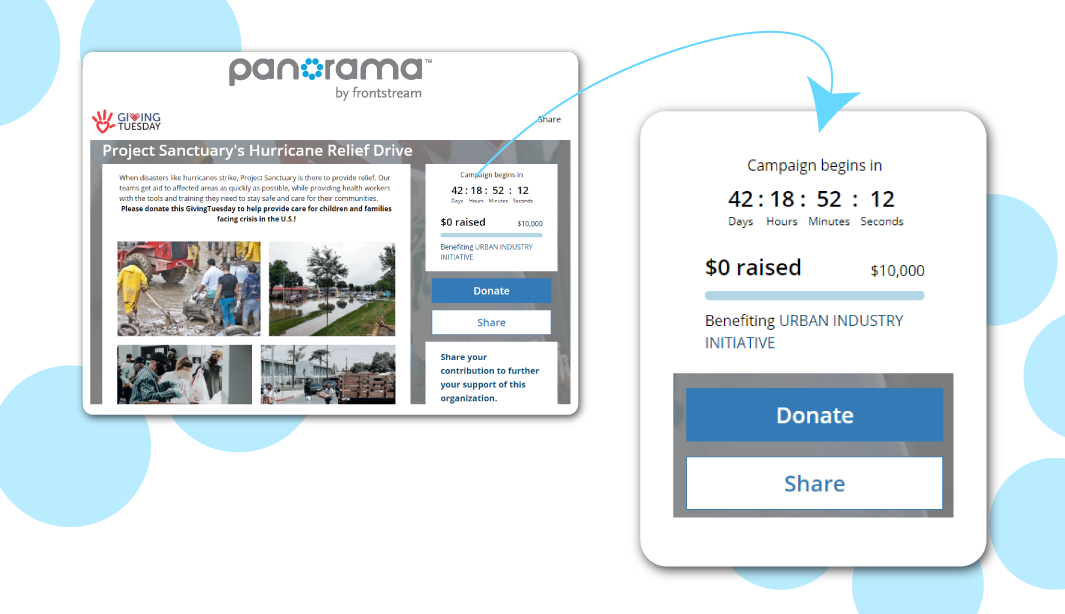 With Panorama Campaigns you can create an interactive, engaging experience with an integrated thermometer that instantly displays fundraising campaign progress when a donation is made. With Panorama's Campaigns set up, your progress bar can be displayed in several places throughout your campaign page including front and center in your banner, beside your real-time countdown display, or in your donor thank you message so your supporters can see their impact immediately!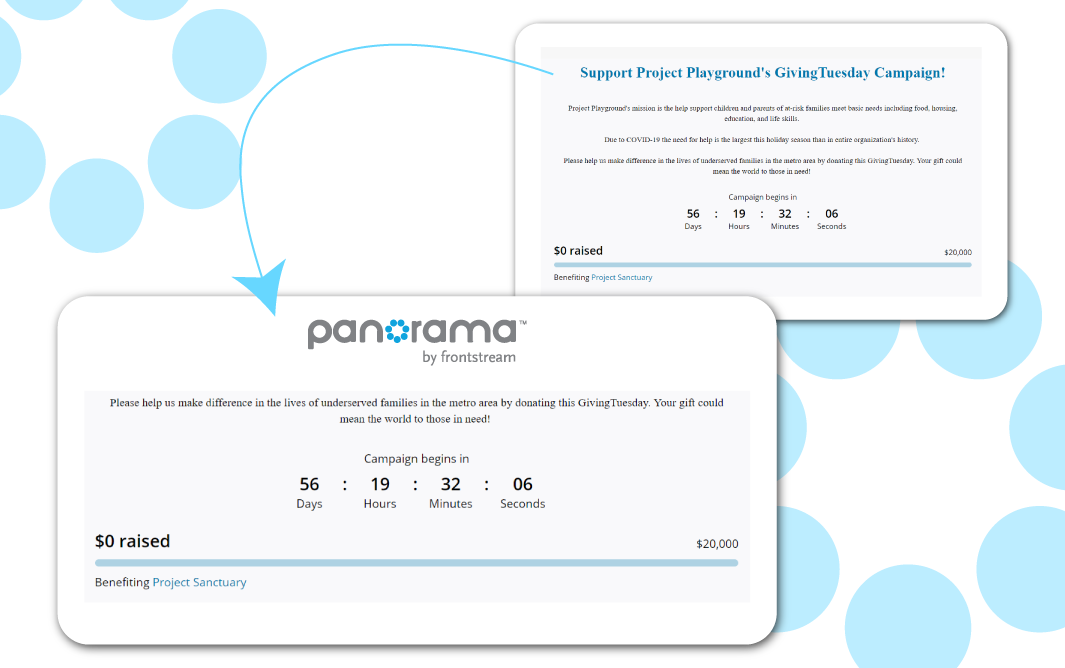 Get Social
GivingTuesday and Year-End Campaigns are also a great opportunity to turn your nonprofit's social followers into donors.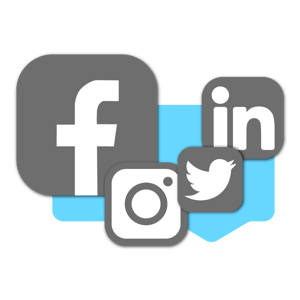 Nearly 55% of people who engage with nonprofits on social media end up taking some sort of action and The Nonprofit Times reports that just over half of GivingTuesday donors indicated Facebook mentions spurred their activity. That's why it's crucial to choose a platform that allows you and your supporters to easily share your campaign on social media. Built-in social sharing tools in Panorama let you and your supporters promote and share your campaign through Facebook, and Twitter in just a few clicks, making it easier for you to leverage and grow the power of your presence on social media and raise more for your cause.
Go Beyond #GivingTuesday
While GivingTuesday is an ideal time to host a virtual campaign, studies show that
10% of annual giving actually occurs on the last 3 days of the year. You can capitalize on this momentum by extending your Campaign beyond GivingTuesday. Panorama gives you the flexibility to configure your GivingTuesday campaign to run all the way through December 31st or longer if you decide. Additionally, you have access to unlimited, branded campaigns so you can host a GivingTuesday campaign as well as a year-end giving initiative, or a holiday appeal. By selecting a platform that allows you flexible, virtual fundraising options and unlimited campaigns, you can choose how and when you want to raise funds for your mission and help donors feel good about their gift and prompt them to give more.
Whether you're gearing up for GivingTuesday, an annual holiday campaign, or year-end giving appeal now is the time to start. These five simple tips will help you break through the clutter of year-end campaigns with virtual fundraising appeals that stand out and help you raise more to do more good!
To learn more about how you can do all this and more with Panorama's all-in-one digital fundraising platform, view the on-demand demo video below.