We all know 2020 was crazy. But what is fascinating, and may speak to the nature of the human spirit, is that despite the wild ride of 2020, it only amplified the impact of #GivingTuesday. People from all walks of life and from every corner of the earth rallied and astoundingly gave more than ever before despite the uncertainty from a worldwide crisis of epic proportions. It's amazing to see that people were actually inspired to make the world a better place and support the nonprofits that drive those missions. #GivingTuesday 2021 is sure to be an even bigger blockbuster, so now is the time to get your organization involved and tap into this movement.
The overwhelming generosity that fuels #GivingTuesday every year is proven by powerful statistics which reveal that it's by far and away the best time of year for your organization to initiate an online giving campaign.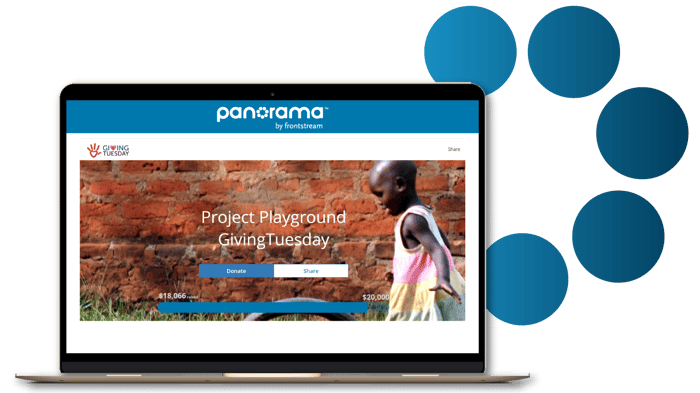 The Statistics of Giving Tuesday
Did you know that:
30% of annual giving happens in the month of December alone?
10% happens just in the last three days of December?
$2.47B was donated within 24 hours of #GivingTuesday in 2020 in the U.S.?
$503M was raised online with #GivingTuesdayNow?
There's participation in over 300+ community campaigns across the United States?
And in national movements in more than 70 countries?


Source: GivingTuesday

Source: Nonprofit Resource
When Is Giving Tuesday 2021?
Fresh off of Thanksgiving, Black Friday and Cyber Monday, #GivingTuesday will take place on Tuesday, November 30, 2021. Since 2012, Giving Tuesday has been a movement to give back to charities after such a consumer-driven mentality of Black Friday and Cyber Monday. This global charitable movement continues to explode with growth year after year, having raised almost $2.5 billion last year in the U.S. The trajectory of this online and social media movement will only continue to proliferate, with 34.8 million people participating in Giving Tuesday 2020 — a 29% increase over 2019.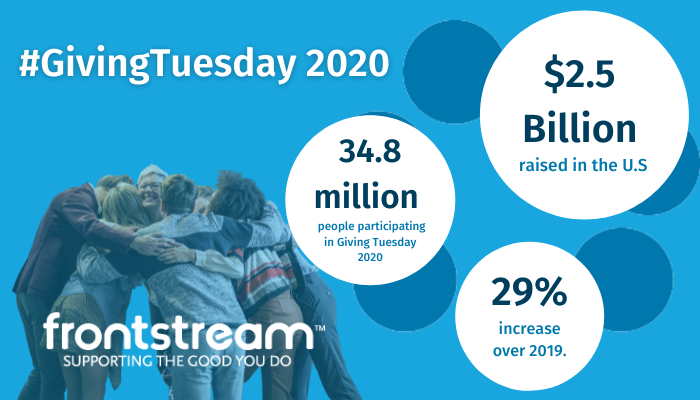 Get Your Nonprofit Involved With Giving Tuesday 2021
With these impressively growing numbers, shouldn't your organization make sure it's doing everything in its power to be ready to participate in #GivingTuesday in 2021?
At FrontStream, our mission is to help organizations like yours raise more to do more good in the world. That's why we've curated this really helpful and free checklist so you can take advantage of this special day!
This step-by-step checklist to help you strategize, plan, promote and execute a successful 2021 #GivingTuesday campaign including:
Advice on planning a successful giving day
Best practices for branding and designing your campaign page
Connecting and engaging your supporters
Setting goals and measuring success
And more…
In addition, online auctions are a fantastic way to generate more donations during #GivingTuesday. Since most donors participate online, hosting a virtual auction can really bring in more participants, especially since many are shopping for holiday gifts. And, with FrontStream, you can reach up to 1.7 million cause-minded bidders who are using BiddingForGood!
With Giving Tuesday just around the corner, you still have time to leverage this day of generosity, and maximize year-end giving for your organization by using FrontStream's all-in-one digital fundraising platform, Panorama. Panorama allows you to plan, manage and promote your campaign in on easy platform.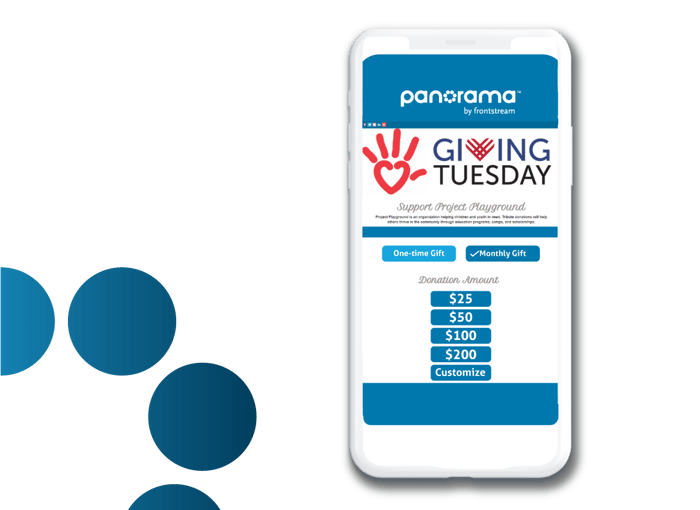 In the meantime, get started by downloading the free checklist and get your #GivingTuesday campaign started today and take part in this global day of generosity!