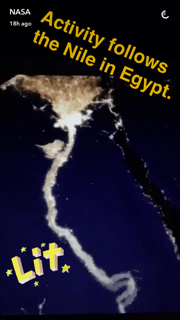 Snapchat is on the rise in a big way. The popular photo-sharing and messaging app is becoming so big that even other social networks - like Facebook and Instagram - are beginning to incorporate their own versions of Snapchat's unique features.
Check out some of these statistics: 158 million active users creating 2.5 billion Snaps per day, with 9,000 Snaps every second. That's a huge user base that you can leverage into potential supporters!
But first things first: How can you use a photo app to communicate your nonprofit's story to the masses? Organizations such as Ocean Conservancy, Human Rights Campaign, and Girl Guides of Canada are all embracing this social network, and setting it up is more simple than you might think.
Snap to it
Snapchat's two most famous functions are "Snaps" and "Stories". The former is a quick photo you can take with the app that gets sent via messaging to friends, but then it deletes itself after 10 seconds. When it comes to Snaps, you can still save good ones before they disappear forever by saving them to your Memories tab - that way, anyone can view your curated collection of individual Snaps.
And then there are Stories - a feature which, as we mentioned, is rapidly spreading across other social networks as well. Stories are little video collections of your Snaps that you can put together which only last for 24 hours. Stories don't have to be sent directly to your friends - instead, they can be visible for everyone to watch.
How nonprofits can use Snapchat
On the surface, these two functions seem pretty Millennial-focused and probably more used by teens sending each other selfies. But your nonprofit can leverage Snapchat to give a creative spin on visual storytelling - something that's super important in terms of inspiring people.
For example, if you've got a peer-to-peer event happening, why not collect a few Snaps to Stories or Memories that show off how much fun everyone's having and what a big impact the event is having on the community?
If it's new donors and participants you're looking for, try putting together some Snaps that tell a cohesive narrative when you put them into Stories. For example, if you work at an animal shelter, you could assemble Snaps of cute animals that are up for adoption. If you have a charity that works with impoverished people, put together some before-and-after Stories that show how your company is helping change lives for the better.
Geofilters!
Geofilters are another clever way to use Snapchat to promote your nonprofit. To understand geofilters and how they work with Snapchat, let's break the word down: filters and geofencing.
First, filters in Snapchat are one of its defining - and super dynamic - features. They allow you to overlay fun animations or special effects on top of the photo you've snapped. (There are also lenses, which put the effects overtop of the photo while you're snapping it.)
A geofence refers to the GPS coverage of geographical area, putting boundaries around it like a virtual fence. It's perfect if you're looking to restrict usage of a filter to only a specific region or venune.
Combining geofencing with an exclusive Snapchat filter for an event - also known as a geofilter - is a prime way to get supporter-created content online. Geofilters have a few restrictions: namely, you can't put your nonprofit's email, phone number, or hashtag on it, and you can't use more than two lines of text. But what you can do is make it look pretty, exclusive, and fun, so even people who aren't familiar with your nonprofit will want to use it!
For example, at FrontStream, we put together a geofilter for P2P Forum back in March. Here's what it looked like:
Atlanta themed Snapchat filter for #P2PForum17 @P2PForum ! Swiiiiiipe right or ask us how to find it ♥️ pic.twitter.com/4O3vYSf5HB

— FrontStream (@FrontStream) February 28, 2017
People located within the radius of the P2P Forum venue were able to have access to this geofilter through Snapchat, and we encouraged everyone to try it out.
There are two options for geofilters. A community filter is free, so if there's something happening in your town, like a parade or a run or an awareness day, you can submit your artwork for free as long as you don't have a brand or organizational logo in there. The Snapchat team will decide whether or not to approve your filter based your content and what other filters are already available in the area.
The second option is a paid one, and it lets you include your NPO or charity's logo. As an advertiser, you are more likely to be approved. Our Snapchat filter was created under this option, and coverage of 36,000 square feet for three days only cost $60 USD, so it can be very affordable for your nonprofit!
If you're looking for additional ways for your nonprofit to use geofilters, check out this informative list of tips. Some suggestions include using a geofilter to make a virtual prop for people, to promote an international "day", or simply foster a sense of inclusiveness when you use the geofilter.
Get promoting
Once you've set up your nonprofit's Snapchat account, it's important to get the word out and start building your friends list! Take this example from the Animal Humane Society – they use the "ghost" code image for easy access to their adorable feed of animal photos. Be sure to set up your own ghost code and start showing it off on all your nonprofit's social networks!
There's no reason to be wary of trying out new social media for your nonprofit - in fact, something like Snapchat could be just the thing to get new prospects interested as well as engage your current donor base. Give it a try and see what creative fundraising promotions you can come up with!
Get the latest trends and topics delivered to your inbox!
Subscribe to FrontStream's Blog