"Does our nonprofit need to add digital or virtual aspects to expand our fundraising efforts?"
The short answer is, yes!
As digital fundraising trends change, nonprofits need to adapt and learn what tools are important for their fundraising success. Using virtual fundraising tools empowers you to shift your demographic and grow your audience.
How can Live Stream Grow Your Audience?
It is difficult to overstate the power of virtual fundraising. It reaches wider audiences, generates excitement, and can bring your supporters together from all over the world. For example, more than 63% of people aged 18-34 watch live-streaming content regularly. Incorporating live stream with your in-person fundraising events or auctions enables you to reach new demographics of donors from across the globe!
How Live Stream Increases Donor Engagement
The benefits of live streaming don't end with audience growth. It also helps you increase engagement with your donors. Live streaming allows you to chat with donors and registrants, answer any of their questions in real-time and see how people react to your event as it occurs. Studies have shown that 67% of audiences who watched a live stream purchased a ticket to a similar event the next time it occurred. Audiences enjoy live stream events that are interactive and engaging. By broadcasting your fundraiser, your donors will be able to experience the event anytime, anywhere.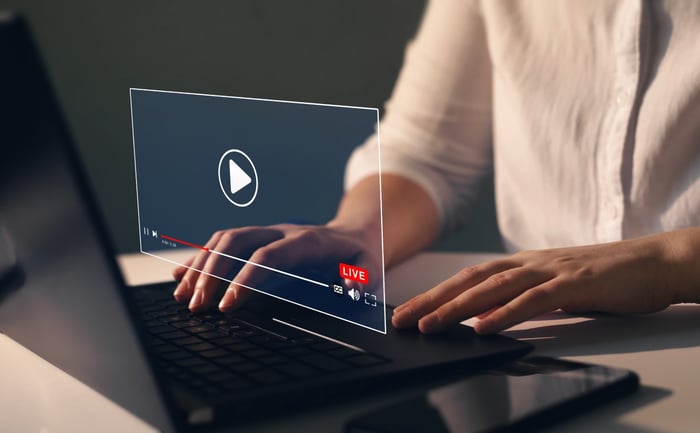 As technology progresses, so should your fundraising efforts. That is why FrontStream is releasing live stream! We are excited to announce this new feature that you will be able to incorporate with your next fundraising campaign or auction.
Why Using FrontStream's Live streaming Feature Can Help Your Nonprofit

Hybrid Event Options
Allow our nonprofit customers to grow their online audience through a real-time, compelling, in-person, and virtual fundraising experience.

Expand Reach
Adding the live stream option to an auction or campaign allows donors and bidders to bid, donate, and participate in the organization's fundraising events from anywhere.

Gamified Experience
A Real-time fundraising thermometer to track donation progress towards fundraising goals adds a gamified experience for bidders and donors.

Increased Participation
Empower Donors from around the globe to give and give generously with live streaming video that helps you extend auction items and fundraising opportunities onto the web and expand your fundraising event to increase participation from all donor and participant types including virtual.

Simple to Use
Our Live stream studio is built right into our Panorama Event Builder so it's easy to customize engaging, real-time live stream events that help you tell your fundraising story and are consistent with all your online fundraising pages.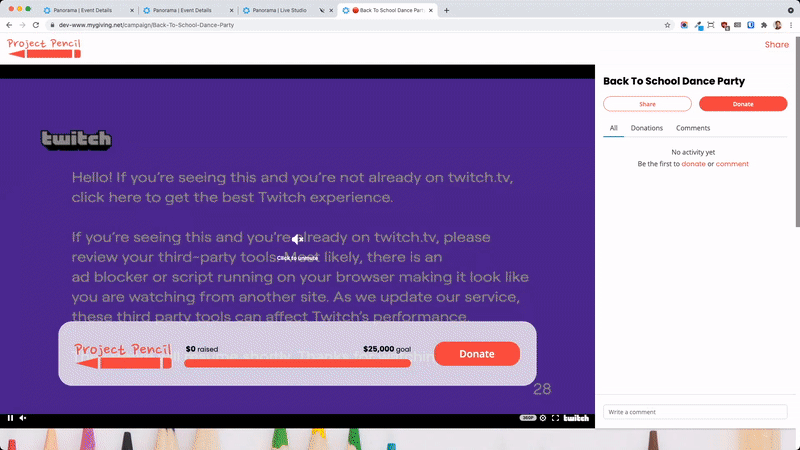 Adding live stream to your next event can help your organization increase your exposure, expand your reach, and grow your online audience through a real-time, compelling, in-person, and virtual fundraising experience.

With FrontStream's live streaming feature, you will be able to customize and brand your page for your registrants to see and donors will be able to donate to your cause with a click of a button. FrontStream has made live streaming simple. The feature will allow you to embed live video links from YouTube, Facebook and Twitch, and record your stream so you can showcase the event elsewhere.

Be the first to try live stream with FrontStream,