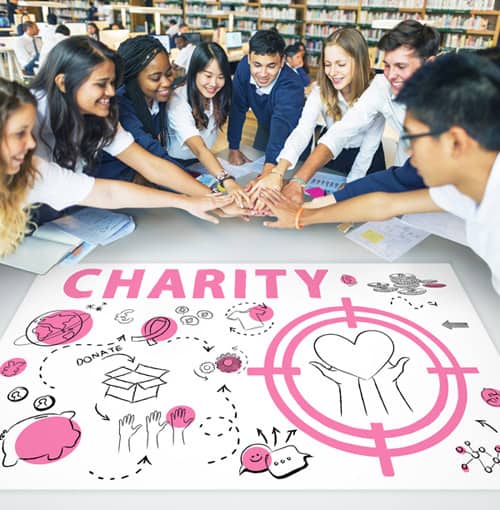 It may be the summertime, but many are already thinking ahead to the back-to-school season – and that includes school fundraisers! Whether it's students raising money for a trip or parent-teacher committees fundraising to hold an event, there are a ton of ways that students, teachers and parents alike can raise money for a good cause. There's no better way to instill a passion for charity than by giving students fundraising ideas – and that goes for students of all ages.
We've got 71 - yes, count 'em - quick and creative ways for schools to raise money and have fun at the same time:
1. Bike-a-thon: Your participants join teams and ride to a common goal. A cycle event is a classic for a reason: So many of your passionate supporters already have bikes! Parents can ride with their kids, teachers could ride with their classes ... What about a team made up entirely of principals or coaches? Not to mention, bike-a-thons are great exercise and support your physical education goals.
2. Read-a-thon: Inspire a love of reading in students and have them pledge to read a certain number of books (or pages). Kids who complete the challenge can get a fancy certificate to put up on the fridge. Parents LOVE this one, as it's all about improving student reading comprehension. Adults can join in too! (Think about setting up a companion PTA Book Club read-a-thon for your school or district!)
3. Chess-a-thon: There's no sweating required when it's a tournament of strategy and skill! A chess-a-thon is a fun, retro way to introduce students to a classic game. And when it's as easy to set up as booking space in a gym or a library, you won't have to worry about the weather. Check out how Bateman Elementary used a tournament to raise money for their chess team!
4. Sing-a-thon: Everybody has at least ONE tune they love to belt out! Why keep your warbles confined to the shower? Bring the school together in a cafeteria or auditorium for a karaoke challenge. Fundraising ideas include allowing people to donate a small amount to hear their favorite teacher sing…or NOT sing, as the case may be! Consider putting together a panel of judges from different classes to vote for winners. You could have awards for "Best Impersonation" or "Most Enthusiasm". Be creative!
5. Dance-a-thon: Kick off your Sunday shoes and get footloose! In a dance-a-thon fundraiser, participants see how long they can stay on their feet on the dance floor. Students can register to dance in timed shifts, while friends and family members pledge small donations to encourage their success. You might even consider a prize for the winning individual or couple like in this Theatre Festival example.
6. Plane pulls: This one is an epic challenge and a memorable experience especially suited for college students or parent-teacher teams. Gather a team and flex your muscles to see how far a plane can be pulled for charity! It's a tug-of-war no one will be able to forget. Orbis charity includes a free "Kids Plane Pull" after the adult pull so that the little ones can test their strength too!
7. Dog walk: A favorite of pet lovers, dog walks are oodles (poodles!) of fun. Students can bring their own dogs or borrow one to walk a set distance while raising money for your organization. Everyone will love the opportunity to bring Fido to school! Pair up with a local animal rescue organization to add an on-site adoption opportunity. And of course, you don't have to restrict yourself to dogs. Turtles, ferrets, mini horses? Why not?
8. Board walk: Put your board members to use like never before! In a board walk, your senior executives compete to raise the most money online before walking around your school. Make it lighthearted and fun by encouraging members to wear costumes or carry silly signs. Board walks are a great way to nudge corporate members of your community to give generously. Your board members have extensive social networks, particularly in the business world, a board walk is a great way to reach those donors.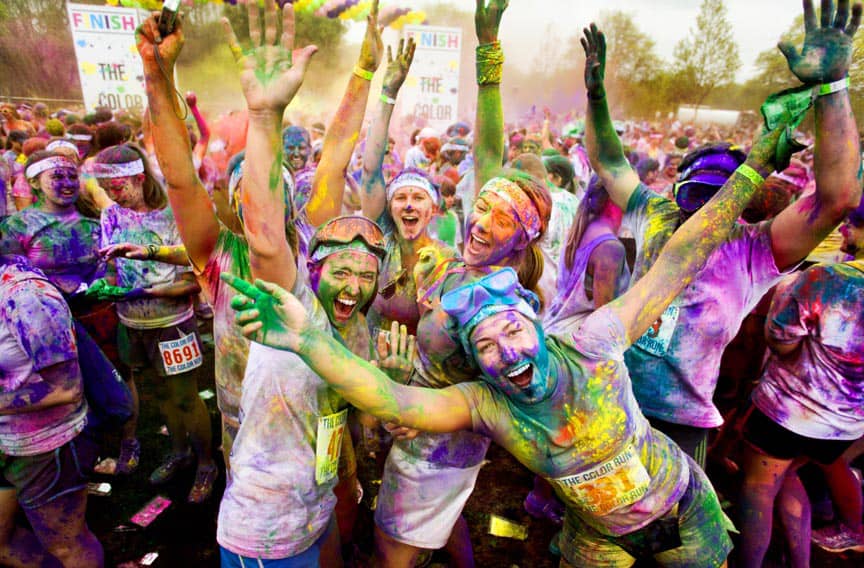 9. Color run: You've seen the cool pictures on Instagram, so why not host your own at your school? Kids from kindergarten to college will love the idea of racing a distance wearing white t-shirts, getting splattered with colored powder at set intervals. A fun idea is to offer "upgrade" options for a small donation – for instance, goggles or white sweatbands! Color runs take a typical 5K to a trendier next level, and the low cost of chalk makes the transition effortless.
10. Neon run: And speaking of "next levels", neon nighttime run, walks or bike-a-thons have never been more popular. If you've ever felt the irresistible pull of a glow stick, you know how much your students, faculty and alumni will love the idea of getting their 80's neon groove on while raising money for your school. Watch Katharine House Hospice's video, then hit up the dollar store for everything neon, everything glowing, including paint. Great idea: Provide glow-in-the-dark balloons for the little ones to carry while they walk!
11. Tough Mudder: Only the strong survive in this physical obstacle course that challenges people every year. See what teachers have got what it takes by teaming up for your local Tough Mudder, or organize teams of college students for this endurance run. You could even do a "kid's version" of a Tough Mudder for an elementary school – what kid doesn't enjoy obstacle courses or getting down and dirty in the mud?
12. Ragnar: A Ragnar Relay is a relay run that goes on for 24 hours – yes, seriously! Fortunately, they also require big teams – 10 or 12 people – so that's plenty of teamwork for a group of staff, a fraternity or a sorority. You could even pair together a bunch of strangers to relay for a good cause! Not only is this more unique than a typical charity 5K, it also creates a great bonding experience.
13. Zombie run: May be too spooky for young kids, but it's perfect for teens and college students, and even more so around Halloween. Recruit volunteers (maybe teachers?) to dress up as zombies who then chase the participants as they run the course. This makes for memorable photos – perhaps ones that could go viral, get it? – and is a real community-builder.
14. Beer run: Another charity run for the older crowd, a beer run or beer mile could be one of two takes: either participants run from brewery to brewery and stop briefly for samples, or runners swig a beer at specific points on the course. (Here's how the Canada Beer Run does it!) Costumes and hilarity combine with fundraising and friendly competition – what more could you ask for? Perfect for university and college students, but be sure to encourage moderation!
15. Superhero run: Encourage students and participants to dress up like their favorite superheroes! Runners don't need to go all out with an expensive outfit; you could make it a "low-budget" costume run and encourage people to put those funds towards donations instead. Again, this is a great themed run for photo ops that can help motivate more donations even after the event is done.
16. Underwear run: Strip it down even further and have participants run in their undies. While we might not recommend this one for the winter months, it's a favorite of the university-age crowd for a reason – it's silly, it's freeing, and it can raise a ton of money for charity while providing both exercise and a good time. If you want to lower the speed, check out the "Underwear Walk" that #nakedespy held!
17. Santa Speedo run: It's an underwear run with a festive twist – not only do participants wear Speedos, but they run while wearing Santa hats or beards (or both)! This one is actually held close to the winter months, since running in your underwear when it's cold out is half the fun of the event – and college students love it. Here's how Toronto's Hospital for Sick Children does it!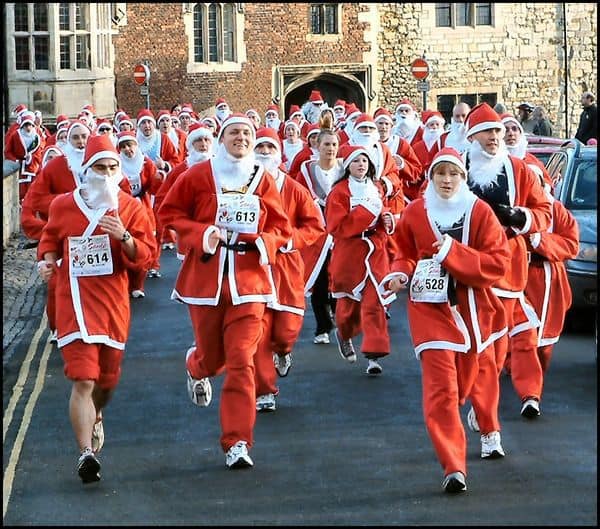 18. Jingle Bells 5K: Get the kids involved to help raise money for less fortunate towards the holidays! For a Jingle Bell run, organizers give sets of jingle bells to everyone who runs, which makes for both a festive sound and a memorable event. Be sure to include a walk option (or maybe even a toboggan pull?) for the younger students. Also, it doesn't need to be a 5K – even doing a number of laps around the school property while shaking jingle bells can still raise money for a good cause!
19. Bake sales: A standard for a good reason! Bake sales are easy, fun, and have very little overhead costs – plus who doesn't love eating sweet treats, especially when it's for a worthy cause? You can also get creative with a bake sale in a ton of different ways: think seasonal or holiday-themed, or even an interactive bake sale where kids can create their own delicious masterpieces.
20. Chocolate bar sales: Raising funds by selling chocolate bars or candy is common for a simple reason: Because it works. However, since it's so frequent during the school year, encourage students to get creative with their sales pitches. Suggest doing it in costume, or finding an interesting location to sell from (with parent or staff supervision, of course). It's all about finding a new and fun angle.
21. 50/50 draws: Low effort to set up with maximum impact! A 50/50 draw is a simple lottery system (the monetary prize is 50% of how much money is raised) that can work as a standalone fundraiser or as something supplementary to another event. The more people that participate, the more money that gets raised for charity – plus the jackpot becomes even higher.
22. Teddy Bear Picnic: Here's one for the young and the young at heart – a picnic that raises money through entry fees and specially made baskets of food, with the caveat that attendees get to bring a favorite stuffed animal. You could also make it a tea party of sorts with different baked goods for sale. Be sure to set up a little photo booth for extra adorable pictures!
23. Recycling for a cause: Raise money (and help the environment) based on how many pieces of recycling that students contribute. Not only does this help raise money for a worthy cause, but it also teaches kids about the value of recycling and environmental preservation. Teachers can use this as a learning experience to show students how to properly recycle items as well as what items can have a longer lifespan (recycling containers as flower pots to sell seedlings, maybe?).
24. Spelling bee: Brain-training fun for students of all ages. Spelling bees are quite common, so put a fundraising spin on it and have students get sponsors to help them participate. The difficulty of the words can be scaled by the ages of the participants, and you could even sell tickets to attend the finals. Here are some tips for putting together charity spelling bees for all ages!
25. Sleepover at the school: Part of the fun of being a student is getting to experience school outside of regular "school times", so why not have a fundraiser that allows kids to stay overnight? Students can raise funds to spend the night in the school with their friends – just be sure to mark which rooms are designated sleeping areas (cafeterias, gymnasiums and libraries work great for this)!
26. Book fairs: Foster a love of reading and a sense of charity by holding a book fair where all the proceeds go to a worthy cause. Poll students ahead of time about what kinds of books they'd be interested in, as well as which charity ought to receive the donations. You could even send out a list ahead of time and take advance orders to make sure everyone gets the books they want.
27. Formal Day: Get fancy with a Formal Day where students can raise money to be allowed to wear formal clothes to school for the day. Elaborate gowns and nice tuxes should be part of the dress code, and encourage kids to dress like it's prom night. Make sure teachers and staff get in on the fun as well!
28. Pajama Day: Don't feel like going the super-fancy route? Make it uber-causal instead with a Pajama Day fundraiser. Students donate to a good cause for the excuse to show up at school in their jammies – especially fun during the colder months when you just want to be warm and cozy! (Don't forget that teachers showing up in footie pajamas = instant social media gold)
29. Special meals: Whether your school is equipped with a cafeteria or not, students will rejoice at the chance to get a special lunch rather than the usual brown bag options. A preset donation to a chosen charity will allow students (and staff) to partake in special or fancy prepared meals for the day. Bring in local chefs and make it an occasion to savor.
30. Hot dog/pizza/burger day: It doesn't have to be fancy – give kids a "junk food" treat day. Sell coupons for amounts from $1 to $5 to be exchanged for different types of snacks. You don't even need a kitchen if you have a community BBQ at hand! Recruit parents and teachers to work the grill. And, if it's too cold to be outside, consider a "S'mores Day" or "Hot Chocolate Break"!
31. Trivia competition: Think of the fun you'll have coming up with challenging questions – they can even be related to your school and its history! For universities and colleges, get your alumni involved so they can show off their love for their school, faculty, and department. For elementary and high schools, separate your list of questions by grade and difficulty level. As teams fundraise, they can earn "phone a friend" privileges at certain incentive levels.
32. Debate competition: This is an idea to get folks talking – literally! Think of it like the trivia competition idea, but in this variation, teams are sponsored to debate various topics. The teams or individuals that raise the most money can earn interesting perks, like, choosing a debate question from a list of topics, or choosing who gets to debate first. The top fundraising team can even decide which side of the debate they want to be on.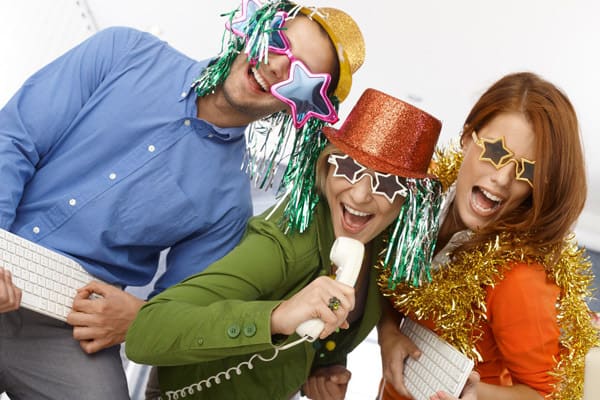 33. Talent show: Take the annual talent show and give it a fresh twist by adding a fundraising component. Allow students and faculty to donate towards the goal of revealing a hidden talent from someone special. Be as intriguing as possible to raise as much money as possible! For instance, if your Principal or Dean can ride a unicycle while juggling, tease out that information while you're fundraising. The more secret talents you have on your roster the better!
34. Clothing drive: Get students and teachers to donate new or gently used clothing and curate your own "vintage collections" for sale to the public. Invite your community to attend and upgrade their wardrobes. Everybody loves to snag a rare find! Get creative when sorting through donations. Encourage your students to bundle clothes by theme (Athleisure, Prom, Outdoor Fun, Date Night, etc.). Ask local retailers to donate dress forms or mannequins, and show off some stylish outfits designed by your school. You can also charge a small entry fee to boost your overall amount raised.
35. "Iron Chef" cooking competition: Cooking has never been hotter, pun intended! You could pit individuals against each other in a classic showdown or allow "Kitchen Teams" from different departments to make up a cooking crew. The teams that fundraise the most can earn special ingredients – or better yet, force rival teams to use undesirable ingredients. Finally, make sure to sell tickets on competition day to let attendees try the finished dishes.
36. School breakfast: Ready to get up at the crack of dawn and sell pancakes and bacon to early risers? It might be easier than it sounds! It doesn't have to occur during the weekdays – some schools and universities plan weekend "backyard brunch" picnics to raise money and bring students together. Boost the viral potential of your event by planning one "Instagrammable" moment; for instance, create the largest pancake ever seen in your city, or offer rainbow-colored (unicorn?) waffles!
37. Bingo night: The best part of bingo is that everyone already knows how to play it. You can sneak bingo sessions in during lunch hour, before or after school – any time that you have space and willing participants. So much of the fun of bingo is listening to the bingo caller, so find your most outgoing and personable students and give them a shot at reading the numbers: Winner winner, chicken dinner!
38. Car wash: A car wash is a traditional fundraiser for a reason: As long as your community has vehicles, they'll need to be washed! Take a car wash to the next level by planning it around a theme; for instance, superheroes or your local sports team. Your students can even wear costumes. Teams can participate in shifts, competing to see which group can raise the most money, turn around the most cars, or have the best sidewalk hustle. Don't forget the creative signs – you'll need to lure in customers.
39. Haunted house: What a perfectly ghastly activity to plan when students have just headed back to school! Folks will be dying to buy tickets to your spooky Halloween house in the month of October. Consider adding extra fundraising components like $1 tickets to "bob for apples" or mystery "grab bags" of candy for $5.
40. Halloween costume contest: You already know how "Jeans Day" (or "Civvies Day") works – this concept is the same, but SCARIER! Students can pay to participate in a day of costumed fun at Halloween, or fundraise as a class for the honor of outfitting the cafeteria or library with ghoulish décor. Set a great incentive for classroom or faculty fundraising: If your group raises the most money, your teacher or professor will have put on a costume of your choosing. Now that's scary!
41. Pumpkin run: Sure, you can organize a charity run – but one where participants have to run the course while carrying a pumpkin? Now that's something truly original – and definitely in the fall spirit. Here's how The Great Pumpkin Run does it, including mugs of apple cider, extra medals for different levels of pumpkin-carrying protection, and even more unique twists on the traditional charity run.
42. Movie night: Who needs to go to the theatre when you can host a movie night on school property or on campus? Better yet, all the proceeds can go to a good cause. Pick a popular movie – make sure to keep it age-appropriate depending on your audience! – and sell tickets to students and staff. Set up a concessions stand (or maybe incorporate a bake sale?) and raise extra money by selling popcorn, drinks and delicious snacks.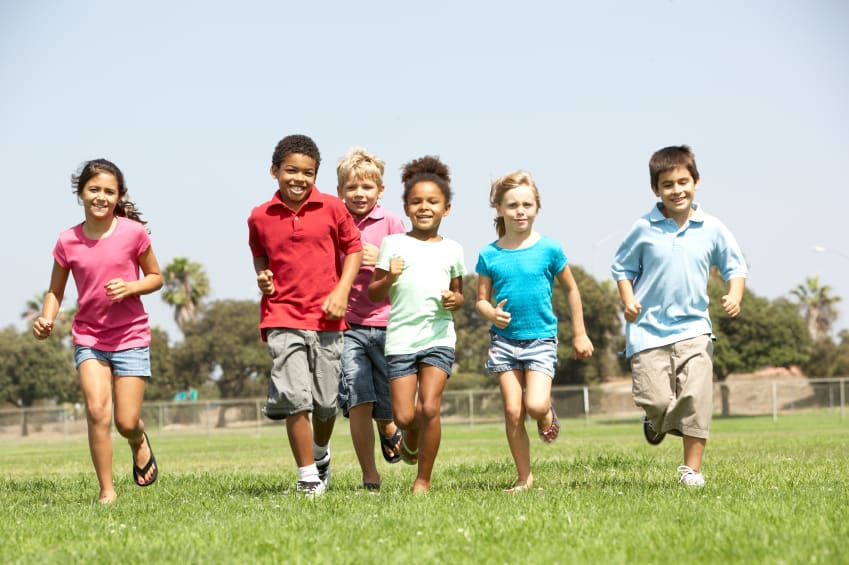 43. Babysitting for the parents: For those who work at elementary schools, play to the parental appeal by offering babysitting services at the school after hours. Raise funds by having parents pay for a few hours of child-minding while they go out in the evening and have a night to themselves. Be sure to have your babysitting teachers or students well stocked with games and snacks for the kids!
44. Candy jar count: Another example of a quick and easy fundraiser with low overhead but fun results. All you need is a large jar that you can fill up with candy (M&Ms or Skittles are a prime choice) and tickets you can sell for staff and students to take a guess at how many candies are in the jar. You can either offer the candy as the prize, or have different prizes depending on how close the guesses are! (Dentist visit optional.)
45. Winter carnival: Even if you don't have snow or cold weather in your area – it might even be fun to do in the summer! – get teams together to put on a winter carnival in the name of charity. Students and staff can sell tickets to attend the event, which could include fun things like a winter bazaar and midway games. Take a look at how Ronald McDonald House of Montreal does it – dog-sledding, a hockey tournament, a dance for adults, and much more.
46. Dunk tank: Perfect for students wanting to get some revenge on teachers! A dunk tank is a staple of school fun fairs, and it's a wonderfully wet time to raise money for charity. Different donation amounts can buy multiple tries to hit the bullseye, or participants can even donate a fixed amount to dunk the teacher without throwing. Make sure there are plenty of towels handy.
47. Scavenger hunt: Kids love scavenger hunts, but they're also great fun for people of all ages. Participants can either donate to sign up or collect sponsors (perfect as a team activity too – think team costumes or themes!), then race around school property looking for various items on a list. Have prizes at the end for whoever finds all the items, whoever finds specific items, or which participants had the best costumes.
48. Raffle off items: Either as a standalone fundraiser or as a supplement to another event, raffles are a perennial favorite – they're cheap and cheerful and everyone is a winner! Be sure to ask local businesses for donated items that can be raffled off – this is great for community-building as well. Team up with different companies and offer free advertising in exchange for raffle items. Get a student or staff member who's great at hustling to drum up excitement around the prizes that are available to be won!
49. Auction off items: If you're looking to stoke the competitive fires, make it a charity auction rather than a raffle. You could get particularly talkative teachers or students to act as the auctioneer, and include the auction as part of a larger event. Get the community involved by seeing if local companies would be interested in taking part. (P.S. Take your auction online for even better results!)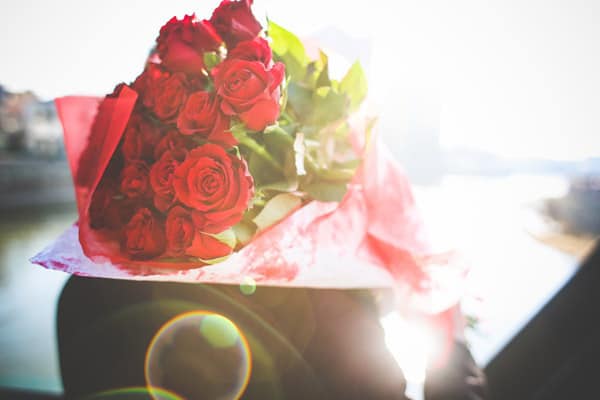 50. Sell flowers for Valentine's Day: There's nothing like fresh, beautiful flowers to celebrate the annual holiday of love, so consider having students sell flowers – anything from single roses to entire bouquets – in order to raise money. You don't have to limit this fundraiser to Valentine's Day, either – think of selling flowers for Mother's Day, or Father's Day! A longer-lasting alternative could be selling sweet potted plants, or flowering bulbs for the springtime.
51. Lemonade stand for charity: Remember how much fun you had setting up a lemonade stand as a kid? Pass on that entrepreneurial spirit to a school's students and have them put together a lemonade stand to serve beverages for charity. Offer up a selection of cold drinks and, if the students are university-age, include a few spirited options as well. This fundraiser is especially good when the weather is still hot from the summer, or when paired with another event like a fun fair or charity run.
52. Team lawn bowling: Speaking of summer events, have you considered lawn bowling? Now have you considered doing it in teams? Not only is this underrated summer sport a fun, laid-back way to spend an afternoon or evening, but it could make for a super original fundraiser. Check out how Lawn Summer Nights does it for some inspiration (hint: themed outfits!).
53. Jello wrestling: Ready to get down and dirty in the name of charity? Setting up a Jello wrestling match – where participants compete in a slippery pool of Jello, or sometimes pudding – is a squishy and delightful way to raise money for a worthy cause. Get staff or student council involved in the setup, and then sell tickets for people to attend – this would be a fun event for a university or college frosh week!
54. Video games: While we don't recommend holding a video game tournament during school hours, tapping into students' love of games could pay off big time for charity. Hold either a tournament or a marathon (see if students can play for 12 hours straight) and have participants pay to get in, or else collect sponsors to keep them going. Pick a specific genre of video game – puzzle games or multi-player co-op games work well – and see how far everyone gets. This is a great fundraiser to tap into students' competitive nature, especially if teachers want to join in as well.
55. Polar plunge: Welcome students back to campus after Christmas with a polar plunge to raise money for charity! Think of this as a particularly bracing challenge that may require a few deep breaths before taking the plunge. Costumes are encouraged, but nothing too insulated – the point is to get chilly, after all. (Have towels and warm drinks ready afterward!)
56. Oscars watching night: It's the glitziest night of the year in Hollywood, so bring some of that Tinseltown flavor to school or campus with an Oscars viewing party. Raise money by charging an entrance fee and selling typical (or maybe not so typical) movie snacks to eat while watching. Formal dress code should be required, or pick a specific movie theme to dress up as!
57. American Idol: The original king of the TV talent shows is easy to replicate as a fundraiser, and it's especially fun for students of all ages (and teachers too!). United Way suggests a singing contest held at recess, with students donating to their candidate as a "vote". This could also be a fun lunchtime activity, especially if you've got a large gymnasium or auditorium handy. Invite parents and members of the community to attend (and donate) too!
58. School garage sale: Need to get rid of a few things around the house? Whether it's spring cleaning or just an annual cleanup, having a garage sale – but at school or on campus – is a fun way to earn money while jettisoning various items. Have students (and especially teachers or parents) bring in unwanted goods to sell, with all the proceeds going to charity. Open the sale up to the community as well – you could raise even more money and make even stronger connections.
59. Christmas cards: Here's a festive fundraiser that appeals to the creative side of students, especially the little ones – make it a project for students to create Christmas card designs that can then be sold to raise money. There's nothing cuter than seeing art done by kids, and it makes for some incredibly unique Christmas cards that can be sent around to family members. Knowing that the money goes to a worthy cause makes it an even better purchase!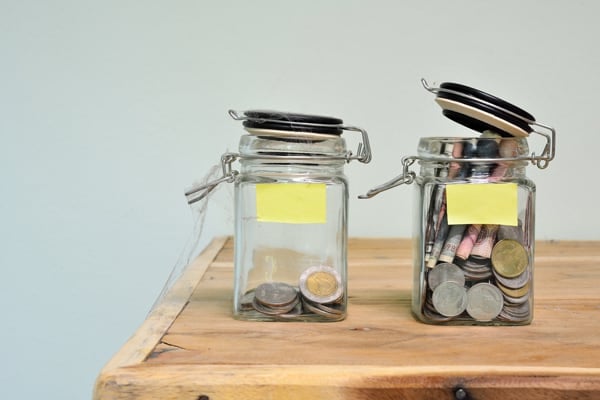 60. Penny Wars: "The battle of the spare change" has got a particularly fun setup: Each classroom gets a jar, and teams compete to fill it with pennies. However, the twist is that other teams can "sabotage" by adding other coins to wipe out the total value (a dime wipes out 10 pennies, and so on). The winner is the jar with the largest amount, and all proceeds go to charity! Not only is this a fun brain game, it also inspires some healthy competition between classrooms.
61. Create a cookbook: A cookbook is a great opportunity to get everyone involved in your fundraiser, no matter their age! Ask students, staff, and parents to contribute recipes to your community cookbook. You could create chapters for types of food, or build sections by difficulty level. Think of all the great no-bake recipes that would be perfect for the little ones in the kitchen. There are a variety of low-cost online publishers that will take your digital document and turn it into a beautiful bound book that you can sell at a profit.
62. Track & field day: Track and field can be about more than just fitness. Students can form teams and ask friends and family to sponsor them online. Track and field days are also a great opportunity to fundraise from spectators and families. Try adding a bake sale, a lemonade stand, or hold a 50/50 raffle in-between different activities.
63. Cupcake decorating: Another great activity for young kids (and the young at heart). Cupcakes are inexpensive to bake and you can maximize the amount you have to sell by reaching out to multiple families (or classes) to bring in their favorite flavors. Buy toppings in bulk - think beyond just icing to tasty treats like chocolate chips, gummie bears, or coconut flakes. Charge customers a small amount for a cupcake and let them decorate their own cake. This is always a popular idea on college campuses to tempt students on their way to morning classes!
64. Jump rope competition: Got two left feet? Forget the traditional dance-a-thon and boost your cardio gains with a school-wide jump rope competition! Students can pay a registration fee and/or ask for individual pledges from family and friends. You can give out prizes for different types of achievements: Fastest jumping sprint, longest consecutive jump, best Double Dutch… There are so many different ways to have fun skipping!
65. Head-shaving: It's not just an idea for cancer-related charities, but it's a great way to benefit them, too! Many fundraisers now have the "shave your head or color your hair" option, maximizing participation. After all, rainbow hair (unicorn style!) is really trendy right now. A fun option is to pick an individual at your school, for instance, a principal or a favorite teacher, to be on the "hot seat" and agree to have their head shaved or colored by students if a certain fundraising goal is met!
66. Valentine's Day banquet: This romantic time of the year has a lot of different opportunities to raise money for your school. At the more involved end of the scale you could host a special Valentine's Day dinner and sell tickets to attendees. At the easy end you could sell cards or candygrams to students and have them delivered to their sweethearts during class.
67. Song marathon: This idea is sure to get a strong reaction! In a song marathon, participants get pledges to see how many times they can listen to one song on a loop ("Never Gonna Give You Up", anyone?), or even, sing along to the song. Let your students vote on the song and you are sure to get some stinkers! Hey, fundraising is supposed to be a challenge, right?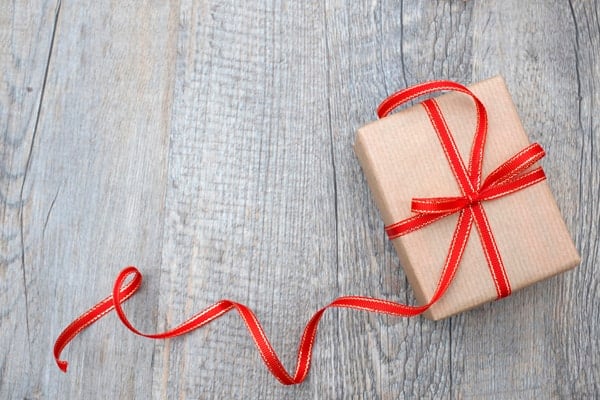 68. Gift wrapping: Students can offer to wrap gifts around the holidays in return for a charitable donation. You can offer this at your school, or partner with local malls to have a gift wrapping kiosk on site while folks are shopping! With the variety of wrapping paper, tape, bows, and colored tissue available at dollar stores, you'll get a high return on your initial investment.
69. Restaurant proceeds night: Find a local restaurant that will give back a certain percentage of its proceeds on a particular date. Your school can help promote the night by deploying your students to spread the word with pictures and video on Instagram, Snapchat, Facebook and Twitter! The restaurants will appreciate the social boost, and others in your community will want to put together their own night to benefit your school.
70. Naming rights: Students can donate towards the right to name a campus landmark or new building. Would naming an entire library seem a little steep for most of your community? No problem! Sell naming rights for individual bricks in a wall, seats at a stadium, or in a lecture hall. Have fun with it! Every school has iconic features that students and alumni would like to put their mark on.
71. Fashion show: Get ready to strut your stuff on the catwalk! Any gym or field can be turned into a fantastic runway with a little bit of creative effort. Sell tickets for friends and family to come see students and teachers model student creations. Put a fun twist on it by having the football team model formal wear, put teachers in sporty clothes, or send your gymnastics team out doing back flips!
Need a fast and easy way to set up online fundraising pages for your school? You can get started with peer-to-peer fundraising in under 30 minutes! No matter which of these ideas you choose, you're bound to have a creative and fun fundraising event that brings your school and its community together.
Get the latest trends and topics delivered to your inbox!
Subscribe to FrontStream's Blog