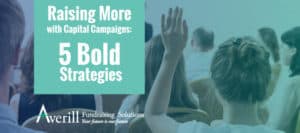 Guest post by Chad Peddicord from Averill Solutions
Capital campaigns are an ambitious undertaking for any nonprofit, regardless of their level of experience with them. It requires a long-term fundraising plan,¹ a lot of preparatory work, and a huge bond of trust between a nonprofit and the community.
With the right plan in place and with some smart tools, your nonprofit can achieve your fundraising goals for your capital campaign. This success will allow your nonprofit to continue to sustainably grow its capacity into the future.
No matter the end goal of your capital campaign, we've got 5 innovative tips to help you make the most of this fundraising effort. Here's a quick overview of what we'll talk about:
Conduct a feasibility study.
Plan your communication strategy.
Choose your team and involve them at every step.
Bring in a new perspective.
Keep up the momentum.
Capital campaigns are vital to the ongoing growth of any nonprofit, so don't be afraid to tackle one yourself. Let's dive into these tips.

Conduct a feasibility study.
If you're committed to conducting your capital campaign, then you're ready to kick off your planning phase and conduct a feasibility study.
The feasibility study is the foundation of the planning phase, and the planning phase is the foundation of the capital campaign.
A feasibility study is a survey of important members of your nonprofit and local community to determine whether or not your extended network will be willing to support your capital campaign, and if your members have faith that your campaign with succeed.
The people interviewed during a capital campaign can include:
Your nonprofit's senior executive team.
Your nonprofit's board members.
Community leaders like elected officials or civil servants.
Heavily involved supporters, like major donors.
These people are all vital to the success of your campaign, so their understanding of your nonprofit's capabilities and odds of achieving your goals are important.2
This is the time when a board member or senior executive would air their doubts about the nonprofit's fundraising capabilities, so that everyone can be on the same page moving forward in the rest of the planning phase.
By using a feasibility study to determine where your nonprofit stands, your organization will have a powerful base upon which to build the rest of your strategy during the planning phase.

Plan your communication strategy.
Another important aspect of the planning phase is mapping out your nonprofit's communication strategy.
A capital campaign should have an overarching theme that ties together its purpose and the mission of your nonprofit.
This theme should influence your social media and any marketing materials that your nonprofit produces to explain your capital campaign to potential major gift donors.3
It's important that everyone involved with the campaign is well aware of the communication strategy, so that everyone is speaking from the same script. When all team members are on the same page, they don't have to rely on marketing materials to communicate with donors.
Personal interactions are vital to a capital campaign, because personal stewardship is necessary for cultivating and securing major gifts. Having a unified script allows your campaign team to have more successful conversations when they interact one-on-one with potential donors.
There is still a need for dedicated publications, however. The most important type of marketing material that your nonprofit will produce is called a case for support.
A case for support outlines and details what your nonprofit wants to do, what it will do to fundraise for this goal, and then how it plans to use the money raised to complete that goal.
Next, your nonprofit should prepare a gift range chart. This document isn't for distribution, but influences who your nonprofit approaches for different levels of gift-giving. A gift range chart breaks down how many gifts at which levels need to be given to reach your goals.
This chart helps you plan your prospect research and gift solicitation strategies, as well as keeps your team on the same page regarding your overall fundraising strategy.
After you determine your case for support and create your gift range chart, your team should determine hashtags, slogans, and topics of emphasis for your nonprofit. After segmenting your community list by different attributes, target your supporters by what you know is most important to them.
Ways to reach out to your community can include:
Direct mail campaigns.
Email campaigns.
Social media outreach and engagement.
In-person stewardship and solicitation.
By combining your online and offline fundraising strategies, your team will have a cohesive and recognizable brand for your capital campaign.4 This unification engages supporters across many methods of communication and giving levels, creating a common goal across your entire community.

Choose your team and involve them at every step.
To help ensure the success of your capital campaign, you'll need all hands on deck, all the time. A capital campaign is a long and difficult effort that requires many areas of expertise.5 But who should you be relying on during this campaign, and how can you keep them in the loop?
Your board members will be vital: they are an important part of any big-picture discussions that your nonprofit has. They also have to be on board with any spending of money or resources, since you need board approval.
Your loyal staff and volunteers6 will be important through every stage of your capital campaign, as they'll be the ones who are doing the day-to-day work for your organization and making your big ideas come to life.
Individuals on your board or donors will likely become your:
Campaign chair. This person oversees your committees and is the emissary between your nonprofit and the community during the campaign.
Planning committee. This group gets things started and creates direction and momentum.
Steering committee. This group provides maintenance once the campaigns gets moving. People from the planning committee, as well as other places, will make up the body of the group.
This seems like a lot of members, but you'll find that everything runs more smoothly if everyone has open lines of communication. This means that everyone knows what's going on with the campaign as it happens, so you can adapt and overcome problems as a group.

Bring in a new perspective.
It may seem counterintuitive to bring in an outsider for a fundraising campaign that is so centric to the mission of your nonprofit, but having a new set of eyes can really take your efforts to the next level if your nonprofit is ready to try something new.
A nonprofit consultant, whether a fundraising consultant in general or one focused specifically on capital campaigns, can be a boon to your organization. That's because they'll help you move past old habits and learn from previous mistakes.7
You and your team should consider bringing on a consultant for your capital campaign because:
They can help you look at your previous campaigns and determine what worked well and what can be fine-tuned or eliminated.
They can help you revitalize good habits your team might've lost over the years since they're not used to "the way things are here."
They can offer you new insights because of their experiences with other nonprofits, and can use that experience to overcome any challenges.
They can offer or provide the staffing resources required to complete the work involved in a successful capital campaign.
With a fundraising expert by your side all the way through your capital campaign, your nonprofit will be sure to stay on track and achieve its goals.
Capital campaigns rely on major gifts, and your campaign consultant can use their experience from previous successful campaigns to help your nonprofit cultivate and secure transformational gifts.

Keep up the momentum.
The key to long-term capital campaign success is maintaining momentum. Your capital campaign has to have:
Social trust that your nonprofit will reach the goal.
A visible and dedicated end goal that your community can help you reach.
Full board support and participation.
A variety of levels of givers
By prioritizing these things and communicating with your supporters, you can maintain the social force you need to reach your goals.
Keeping up momentum is all about communication and drive. Your community has to feel like the work that they've put in has contributed to something, so that they are motivated to see your campaign through to the end. Here are examples of ways to keep the momentum going:
A pledge drive to reach a certain goal.
Setting activity benchmarks.
Asking donors for recommendations for other prospects.
Utilize "groundbreaking" events or openings as cultivation opportunities.
These strategies keep team members engaged and the broader community interested. Plus, it allows you the chance to reach brand-new donors while keeping existing supporters updated on the progress of the campaign.
Another important way to maintain momentum is to stay in constant communication with your community, especially those that gave early in the campaign. A capital campaign is long enough that you can consider asking the same people for larger gifts twice or more.
However, this strategy only works if you've been careful and cognizant of your stewardship efforts and have kept the person involved in the capital campaign in whatever way they're interested in. Saying "thank you" frequently is a good way to start.8
Finally, don't forget to conduct ongoing prospect research outside of networking. Your nonprofit is constantly taking in new contact information because of your continued engagement with the community.
Whenever you meet new people, take the time to learn a little bit about them.
Finding new prospects, especially ones that might consider making a major gift, might be the difference between reaching your goals and falling short. Don't allow your supporter or volunteer data to gather dust during your capital campaign—make it work for you!9
Your fundraising consultant will be a valuable member of the team throughout the whole experience. They can help you grapple with any challenges that come up, as well as keep your campaign on track and guide your team throughout the entire process.
-----------------------------------------------------------------------------------------------------------------------------------------------
A capital campaign is an ambitious undertaking, but one that your nonprofit can definitely succeed at if you follow some simple best practices. Communication with both your supporters and your team is key, as well as keeping the broader community informed and engaged.
For more information on different aspects of running a capital campaign, check out some resources that we've compiled for you.
Get the latest trends and topics delivered to your inbox!
Subscribe to FrontStream's Blog