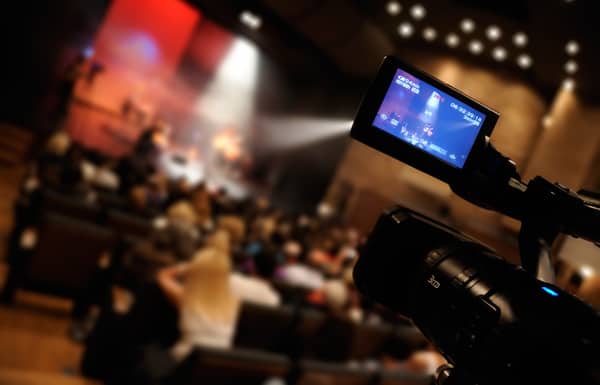 This piece originally appeared on NonProfit PRO.
You are a marketer, so you've seen the stats about video as the killer app for 2018 and beyond.
Storytelling is vital in today's attention economy. For instance, 72% of consumers would rather use video than text to learn about a product or service.
But which types of video content are most impactful, delivering a positive brand experience and greater conversion? If you had the choice to watch a tutorial or a human-interest story, which would you take the time to watch?
If you have a video marketing strategy but are not taking advantage of storytelling, you're missing a huge opportunity to share content that has a real impact on your audience. Telling a good story can be the biggest competitive differentiator. Smart storytelling can help position your nonprofit or socially responsible company as being both sympathetic and dynamic; it can bring in new donors or customers while retaining current ones; and it can expand your reach and establish your brand digitally.
Here are four ways you can strengthen your storytelling skills for marketing impact:
1. Weave emotion into your strategy
One of the best ways to reaffirm your organization's vision is by creating a solid emotional touchpoint with potential donors or customers. Appeal to their soft side by planning stories that explain how your organization provides help or addresses an important issue.
Think about universal human experiences that help your audience relate to your subject matter. For example, SickKids Foundation's "For All The Moms Who Ask For Something" instantly transports you to all those times you've heard someone say she doesn't want anything special for Mother's Day.
The connection is immediate when you hear: "No chocolates. No spa day ... Nothing ... But for my baby to get better."
SickKids Foundation invites viewers to take action after viewing, directing them to pledge to be a monthly donor, or check out alternative gift options at SickKids Get Better Gifts.
When you tell your own emotional tale, be sure to keep the story going by updating your audience with follow-up communications to show how their contributions are helping you to help others.
2. Get a little silly
Storytelling doesn't have to tug at the heartstrings; don't hesitate to tell a funny story if that's what will help you reach your supporters.
BuzzSumo's research into 100 million Facebook videos rated "humor" as one of the most engaging content types! It's heartening to hear their assessment that "the most dominant emotional reactions to videos were laughter and love."
Here's an example that combines the two of them ...
ASPCA's "Kitty Kiss" video features friendly human faces blinking slowly at the camera. It's silly and irresistible.
Why all the winks? If a cat blinks slowly at you, it means she likes you, so you had better practice your feline smooches ... And sign the ASPCA pledge to help homeless pets too, while you're at it!
While kitties do feature in this video, the humans are the initial stars. Don't be frightened to use video to capture the silly side of your staff members, volunteers, or donors. Your viewers want to know that you are real people with a great sense of humor at the end of the day.
3. Try being interactive
Your storytelling efforts don't need to be static; in fact, if they're happening in the moment, they're more likely to engage more people. So many platforms you already use now offer built-in livestreaming, including Facebook, Instagram, Snapchat and YouTube. You've basically got a studio inside the phone in your pocket!
Just as telethons and radiothons offered the public an opportunity to participate by calling into your phone banks, livestreaming delivers real-time participation that connects your audience to your cause wherever they are watching.
Since cats appear to be the Internet's official "animal", here's another great example involving our furry friends: The Keeping Up With The Kattarshians live stream video from Iceland! The live webcam broadcasts the antics of some very cute kittens (who are all available for adoption through The Icelandic Cat Protection Society).
You don't always have to commit your own resources to streaming – here's where you can lean on your online advocates.
One of YouTube's top content creators, Markiplier, raised $500,000 in 48 hours for the Cancer Research Institute by offering a limited edition calendar for sale to viewers. His previous livestreaming charity efforts included dyeing his hair pink and collecting pledges to benefit Depression and Bipolar Association, and raising money for Save the Children before his European tour. His audience reaches over 20 million people!
Have you built a relationship with influential supporters of your cause? Have you given them the tools they need to spread the word about your organization?
Think of ways you can help all your followers better advocate for you online. It should be easy for anyone who cares about your cause to ask their friends to donate to support you.
4. Elevate Instagram in your content calendar
While there are many popular platforms for hosting your videos, we wanted to give a special shout-out to Instagram. After all, the New York Times described it as "the healthier Facebook"!
Its growing influence and reach is undeniable. Our recent research proved that Instagram was the second most popular social network after Facebook for donors on #GivingTuesday this past December. Instagram sent more individual donors to donation forms than Twitter, had a higher donation conversion rate, and the resulting gifts were of a higher average value.
Instagram isn't just for photo-sharing anymore. The channel's video chat function, Instagram Live Video, lets users invite others to join them in a live video broadcast. Followers can watch along and interact with their friends, celebrities, and brands.
And when it comes to testing social advertisements, Facebook and Instagram's integrated tools make it easy to plan one campaign on both channels. Instagram allows you to pay for sponsored postings and add a strong call-to-action like "Shop" or "Donate". You can start with as little as $5 a day.
Pair this with Instagram's options for adding videos to an ad, and you've got the ability to create a truly impactful and convincing message that goes beyond a simple in-feed advertisement.
A great example is Plan Canada's current social advertising campaign. Their Instagram video ad appeals to donors by featuring Cheryl Hickey, a Canadian TV personality, and a very adorable basket of baby chicks! It's all in support of their Gifts of Hope online catalogue.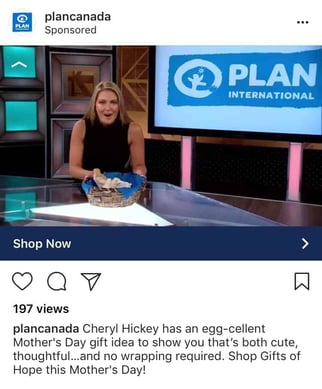 These tips just scratch the surface of the many ways marketers can make use of video reach the right audiences. For more great ideas, check out expert storyteller Julia C. Campbell's guest appearance on our Asking For More podcast. In Episode 8: "Stories are the #1 way to cut through the noise", we dive into how to use great stories to motivate people to take action for good causes.
Get the latest trends and topics delivered to your inbox!
Subscribe to FrontStream's Blog