Happy Pride Month!
Pride Month is a time to celebrate and recognize the influence the LGBTQ+ community has around the world. It's also a time to reflect and raise awareness about the hardships LGBTQ+ individuals have and still face today. As a collective, we need to recognize our behaviors surrounding the LGBTQ+ community and work on promoting allyship and support.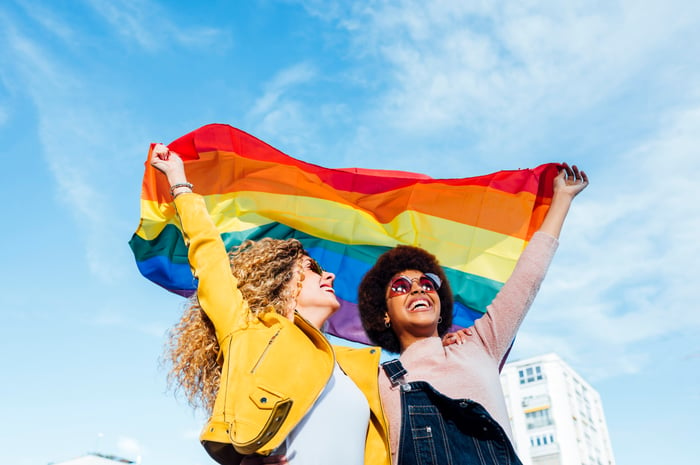 We expect a wave of in-person Pride festivities now that the warm weather is here and COVID restrictions are lifted. Cities and organizations are planning a monthlong of interactive activities that the whole family can attend and that provide safe spaces for LGBTQ+ individuals. Pride 2022 is sure to be a fun and exciting celebration across the globe.
In honor of Pride Month, FrontStream has put together a list of national and local LGBTQ+ charity organizations that you can support and donate to:
7 LQBTQ+ Charities You Can Support This Pride Month:
1. GLAAD
GLAAD's mission is to shape the narrative and change the culture around the LGBTQ+ community and promotes acceptance. Since 1985, GLAAD has been working to share facts, resources, and stories by and for the LGBTQ+ community and for the public to learn and understand the culture of the LGBTQ+ community. Learn more about GLAAD's mission and community involvement.
2. Kidsbridge Cente
r
The Kidsbridge Center's mission is to provide young people with a foundation to grow as empathetic individuals who become positive advocates for themselves and others. Kidsbridge Center works to educate young people through books, songs, and videos on subjects like empathy, empowerment, and mindfulness towardness marginalized groups such as the LQBTQ+ community. You can learn more and donate today.
3. The Network/La Red
The Network/La Red is a survivor-led, social justice organization that works to end partner abuse in LGBTQ+ communities. The organization provides services such as housing, 24 –hour hotlines, and support groups for survivors. Visit their website and donate today. You can also help the organization by bidding at their online auction.
4. Pawtucket Pride
Pawtucket Pride is a non-profit organization supporting queer identities, people, and businesses in Pawtucket, Rhode Island. You can learn more about the organization and its upcoming fundraising events.
5. LGBTQ Freedom Fund
The LGBTQ Freedom Fund fights the criminalization of LGBTQ individuals. LGBTQ individuals are more likely to be incarcerated in the United States. The LGBTQ Freedom Fund works to educate the public and policymakers on the disparity of LGBTQ individuals being incarcerated and provides case management and medical-legal-social service linkages. Learn more about the LGBTQ Freedom Fund.
6. The Trevor Project
The Trevor Project is the world's largest suicide prevention and crisis intervention organization for LGBTQ young people. Starting in 1994, The Trevor Project provides LGBTQ youth with crisis services with peer support and works to educate and advocate for the importance of mental health services. There is an estimate of over 1.8 million LGBTQ youth in the United States who consider suicide each year. Learn more about The Trevor Project.
7. SAGE
SAGE's
mission
is to advocate for LGBTQ+ elders on a federal, state, and local level. The organization works to mobilize LGBTQ+ people and allies when their rights are at stake, educate policymakers about LGBTQ+ aging issues, march and rally with LGBTQ+ older people and allies, and lead coalitions that integrate diverse elders into policy conversations. Visit their
website
to learn more.
Pride is a time for LGBTQ+ individuals and allies to come together, raise awareness and promote acceptance.
Show us how you celebrate #Pride2022 on Facebook, Twitter, or LinkedIn