Golf tournaments are a popular way for nonprofit organizations to raise funds for their cause during the spring and early summer. Not only do they get people outside and active, but they also provide an opportunity for supporters to connect with the organization and its mission. If you're considering planning a golf tournament fundraiser or are already in the process of doing so, this guide is for you.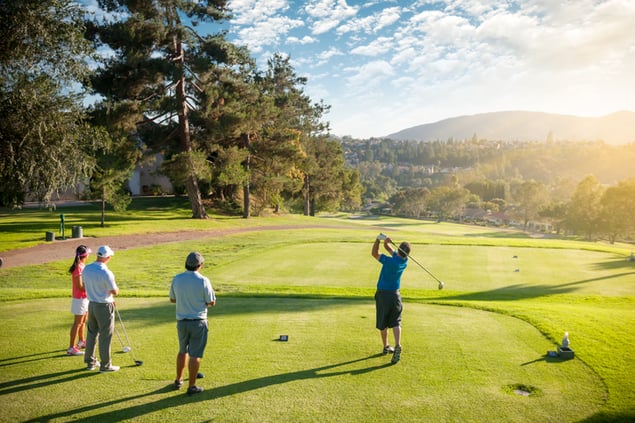 A successful golf tournament fundraiser requires careful planning and execution. Here are twelve steps you'll need to take to plan a successful event:
1. Define the Goal of the Fundraiser
To start planning a golf tournament fundraiser, you need to define the goal of the event. This includes determining who is going to benefit from the event, any specific outcomes besides fundraising you hope to achieve (such as awareness for a cause, engagement with a social media page, etc.), and finally, the size of your fundraising target.
2. Create a Budget
Before choosing a location, develop a budget that outlines the expenses involved in hosting the golf tournament fundraiser, including golf course fees, prizes, food and drinks, and marketing costs. You should also establish registration fee and sponsorship options, such as sponsoring a hole instead of an entire event, media sponsorships, or supplying refreshments, to cover expenses and maximize profits.
You can also consider giving registration packages and perks to registrants. Some examples of this strategy are a discount or a bundle pass for groups of 4+ participants, "perks" like golf-related merchandise, or "packages" that include everything from the entry fee to an exclusive post-event dinner and more.
3. Choose a Date and Location
The date and location of your golf tournament fundraiser are critical factors that can affect participation and success, as the worst thing you can do is to pick a date that will limit participation because of a holiday or other cultural event, or just plain bad weather. Consider the target audience for your event and their availability, and choose a date on the calendar that works for the majority of your audience. You should also choose a golf course that is suitable for the level of play of the participants and one that can accommodate the number of players you expect.
4. Recruit Sponsors
To make your golf tournament fundraiser a success, you need to attract sponsors for your event. You can reach out to potential sponsors through email, social media, and personal connections, or even better, through FrontStream's ApproveForGood. ApproveForGood offers excellent opportunities for fundraisers to connect with over 300 organizations that support in-kind donations and sponsorships for fundraising events. Fundraisers can search and filter potential sponsors with a wide range of criteria and quickly submit sponsorship requests to their chosen organizations directly from the ApproveForGood interface.
There are plenty of means sponsors can use to support your event and make an impact for a good cause, while getting recognized for their generosity along the way. Some creative and popular options include:
Sponsor a Hole
Name a Game After a Sponsor (E.g., "Acme Law's Longest Drive Competition)
Adding Sponsor Names to Golf Cards
Add Sponsor Names to a Beverage Cart
Have an Award Ceremony to Recognize Sponsors
Offer Branded Giveaway Items (Balls, towels, etc.): Give your participants some goodies for participating.
Auction Item Donations: Sponsors can either donate the item (an in-kind donation) or they can underwrite the item (e.g., a vacation package) by covering the cost with a consignment vendor, letting the charity keep all the auction funds raised.
Lastly, make sure you give all your sponsors the recognition and honors they deserve. In addition to putting their logo or branding on course signage, programs, and the event webpage, you could also announce their names in a kick-off and/or wrap-up speech, and offer them booths to display their services or sell food and branded merchandise. Anything you can do to get the word out about these wonderful brands that have helped you so much is a win-win for all!
5. Assemble On-Site Volunteers
Organize a set of volunteers to be on-site at the golf tournament. This group will act as supervisors, game masters, and observers during the tournament. They should be able to record scores and provide advice on how to run a golf tournament properly, so deep knowledge of golf is a must. Be sure to pick volunteers who can be active contributors to the committee—no "silent members" here!
The best place to source engaged volunteers is your own database, but if you are in need of more individuals with in-depth golf knowledge, try researching and contacting golf-related communities. Chances are you'll find at least a few enthusiastic souls who resonate with your cause and would be happy to be part of your event!
6. Plan the Tournament Logistics
Once you have participants and sponsors, you need to plan the logistics of the tournament. Develop a schedule of events that includes registration, tee times, and the award ceremony. You should also coordinate with the golf course staff to ensure a smooth flow of the tournament and determine any special requirements or restrictions, like the time allotted to use the course, any caps on number of participants, or rules about where and how you serve food and beverages.

7. Create a Marketing Strategy
To attract participants for your golf tournament fundraiser, you need to have a strong marketing strategy in place. Develop a marketing plan that includes social media, email, and other forms of digital marketing, such as creating QR codes and short-form video content.
You can pair this with traditional advertising like print brochures, infographics, or flyers for wider reach and better engagement. Leverage the network of the nonprofit organization to increase exposure, and consider partnering with local businesses or media outlets to expand your reach.
8. Create a Program for the Tournament
To keep your golf tournament fundraiser smooth and free of any mishaps, consider creating a simple program for all participants and volunteers. This can be a flyer, an email, or a poster-type document letting everyone know what time each event is to take place, where it is, and what participants need to do to join in. Fundraisers can create this in Panorama's Peer-to-Peer section, which lets organizations make their own on-brand flyers, donation pages, and more in one convenient program.
9. Plan the Post-Tournament Activities
Finally, you need to plan the post-tournament activities. By adding an auction after the fun on the greens wraps up, particularly one with mobile bidding, you could just make the after-tournament attractions the highlight of the day!
With mobile bidding features, for example, your participants can make good use of downtime on the course, such as waiting for a slow group ahead, by browsing and bidding on their favorite post-tournament auction items ahead of time. Participants who love the competition of an auction will love the optional text bid alert feature, which notifies them when they've been outbid so they can up the ante. In addition, bidders can also set a max bid that automatically outbids any close competitors, up to a set amount, helping them all but guarantee a win—and some extra golfing fun. After all, we all love a little shopping in idle moments—help your participants put that itchy buying finger to good use and give them a good cause to support along the way!
Of course, you also need to plan for the very end of your event, and even afterward, including the award ceremony and follow-up communications. Develop a strategy for the award ceremony that includes prizes and recognition for top performers and for your worthy sponsors alike. You should also have a plan for follow-up communications to keep supporters engaged and informed about the impact of the event.
10. Thank Participants and Sponsors
Showing appreciation for the support of participants and sponsors is essential to maintaining and strengthening relationships. After the event, send a thank-you note or email to all participants and sponsors. You can also recognize their contributions in the nonprofit organization's newsletter or website.
11. Evaluate the Success of the Event
After the event is over, it's crucial to evaluate its success. Collect feedback from participants and sponsors to identify areas for improvement, and determine whether and the level of engagement. You can do an evaluation by giving your participants a short physical survey during the event, or even do a casual focus group discussion to gather their opinions after the fact. A third option is to go the digital route by sending them a short survey form or poll through email or social media.
12. Leverage the Event to Cultivate Relationships
A golf tournament fundraiser is an excellent opportunity to cultivate relationships with participants and sponsors. Consider following up with participants and sponsors after the event, and invite them to future events or opportunities to get involved with the nonprofit organization. This can help maintain engagement and build long-term support for your cause.
Want a quick recap of the key points of these steps? Check out this quick video!
Tips For Creating An Outstanding Golf Tournament Fundraiser
While the steps outlined in the previous section are essential to planning a successful golf tournament fundraiser, there are additional tips and items to be aware of that can help make your event even more successful. In order to maximize the fundraising potential of your golf tournament fundraiser, here are a few key things to keep in mind:
Make the Event Fun and Engaging
While the golf tournament is the main attraction, you can make the event more engaging and enjoyable by incorporating additional games and challenges throughout. Some ideas to try are:
Format Ideas
Scramble Format: In this popular format, which doesn't require handicaps, everyone tees off, the best shot is chosen, and everyone plays from there, continuing until the ball goes in the hole.

Best Ball Competition: Each player plays their own ball, and the best score on each hole is counted as the team score.

Alternate Shot Competition: Each player in a group takes turns hitting the ball, with one player hitting the tee shot, the other hitting the second shot, and so on.
Player Activities & Competitions
Hole-In-One Contest: Pick a hole (with the help of the course pro) and see who can make the ever-elusive hole-in-one!
Longest Drive: Split men and women into separate contests on different holes, once again advised by the course pro, and see who can make that little white ball sail the farthest.
Buy a Mulligan: There are multiple options for this popular offering, including buying a certain number of Mulligans at check-in or offering them for Par 3's.
Gimme's: Also typically sold at check-in, this can either be a set number of gimmes with some rules around distance, or you can give participants lengths of string that have been cut at random lengths in envelopes. In the case of the string, participants can't find out how long their gimme is until they open their envelope to use it, adding to the surprise factor!

Putting Contest: A contest where players try to sink a long putt or series of putts in the fewest strokes possible. This can be a great activity for the turn (going from hole 9 to 10 or 18 to 1)

3 (of 5) Card Poker: For this golf twist, everyone gets 2 cards at registration, then on every Par 3, if they hit the green, they get to draw a card. If someone doesn't hit the card, they pay to draw one. The goal is to complete your hand for a prize!
Costumes: For even more golf fun, have golfers dress in a theme, such as "silly extras" or '80s Movies, or have groups come dressed in group costumes. Punch it up a notch by giving awards for the best (or worst) costume!
Provide a Smooth Registration Process
The registration process can be a significant factor in whether or not people sign up for your golf tournament fundraiser. Offer online registration and payment options to make it easy for participants to sign up. You can also use QR codes for participants to scan to register or donate funds. You should also assign a dedicated registration team to handle on-site check-in and ensure that the process is as smooth and efficient as possible.
Consider Using Fundraising Software
The right software can streamline and simplify the registration process, making it easier for participants to sign up and for organizers to manage the event. Platforms like FrontStream's Panorama, for example, often include features such as online registration, ticketing options, payment processing, and real-time leaderboards.
By using fundraising software like Panorama, you don't have to manually input your participants' information into a sheet or database—their details are already added to your CRM! This data can be used for your corresponding events, such as auctions and raffles, to make mobile bidding, winning an auction, and close-out absolutely painless. Your organization also instantly receives funds from auction bids and donations this way, with no need to chase down bidders and donors. You can even manage all your event volunteers in an all-in-one fundraising platform like Panorama!
Provide Sponsorship Recognition
Sponsorship is a critical aspect of a golf tournament fundraiser, and it's essential to show appreciation for the support you receive. You can provide recognition to sponsors in event marketing materials, on signage throughout the course, or during the award ceremony. You can also offer additional perks to top-level sponsors, such as VIP access or special shout-outs before and after the event.
Final Thoughts
At FrontStream, we understand the importance of a successful golf tournament fundraiser. That's why we offer a comprehensive suite of tools, such as Panorama by FrontStream, to help organizations plan, manage, and promote their events. Our tools help streamline the registration process, improve communication with volunteers and supporters, and manage event logistics. Request a demo today to learn more.