Why Use Mobile Bidding?
The giving season is upon us, which evokes memories of fun, social fundraising events where participants write their names down or raise a paddle to lay their money on the line and bid for their favorite items in support of their favorite charity. That classic, traditional, paper bidding format may never fully retire; they're a happy reminder of days gone by and simpler times. But if you're planning a fundraising auction event in our modern digital age, mobile bidding is not only beneficial to your organization but it's absolutely essential to ensuring that your auction is a success going forward.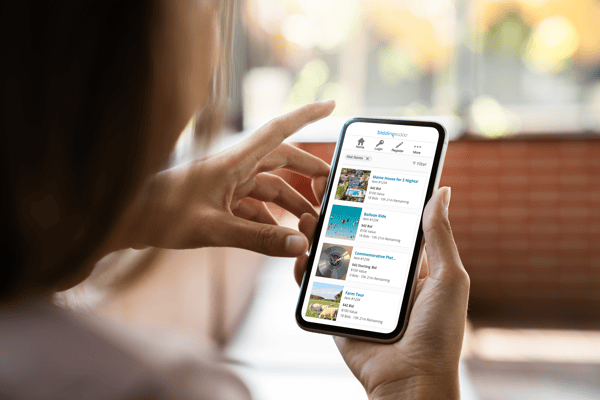 What is Mobile Bidding?
Mobile bidding is a paperless way for supporters of your event and organization to bid on auction items right from their smartphones. And who doesn't have a smartphone these days, anyway? Your supporters are on their smartphones for just about every aspect of their lives, from watching TV, ordering groceries and trading stocks to surfing the web or mapping their way to a new restaurant. Why not make it easy for them to bid on your auction items using their smartphone or tablet, too? Mobile bidding gives your auction supporters the ability to participate entirely right from their mobile device or smartphone — and from anywhere.
As the giving season ramps up, now is the time to make sure mobile bidding is in your plan as a way for people to participate in your auction from their mobile devices. It's a surefire way to get better engagement, create more awareness for your cause and, of course, get higher bids!
Using mobile bidding opens up your auction to a much wider range of participants, so it should be a no-brainer, but if you still need more reasons here are six that are very convincing.

Raise More
The whole point of an auction fundraiser is to raise funds for charitable organizations, and the use of mobile bidding reaches more people, so it's a win-win! When your auction reaches a greater virtual audience, your bids go up and you can raise even more and do more good in the world! Mobile bidding can attract bidders from all over the world to your auction no matter how big or small, and when you use FrontStream to host your auctions, you also get the power of BiddingForGood, the industry's largest online bidder community!

Connect with 1.7 Million Online Bidders with BiddingForGood's Philanthropic Community
Connecting your auction to 1.7 million online bidders worldwide seems like a huge opportunity, right? Unique to FrontStream is a gigantic supportive and philanthropic community of shoppers looking to bid online for items, all for a good cause! With FrontStream's all-in-one digital fundraising platform, Panorama, your nonprofit can connect with BiddingForGood, and join more than 10,000 charities and drive donations through online auctions. The great news is that FrontStream can connect your fundraising efforts directly to this powerful platform with a click of a button — gaining a new audience that is keen to support your cause from their mobile devices!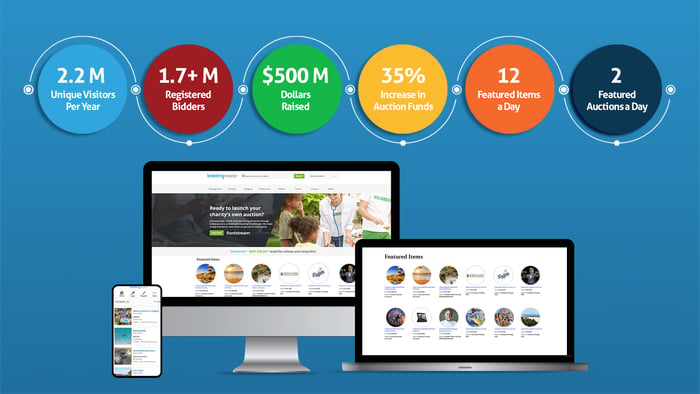 Mobile Bidding Encourages Even More Bidding
Organizations that activate mobile bidding at their events realize 10% - 50% more revenue from bidders. Infuse your auction with more fun and excitement and raise more money with mobile bidding at your in-person or online event.
Having the right mobile bidding and auction software can also help you track the status of an item you're procuring for the auction, customize starting bids for these items, automatically assign package numbers and group items together; all of which lend themselves to getting more for each item. Bidders can set maximum bid alerts and they can also choose to be alerted via text message if they have been outbid at any time. Use this kinetic momentum to your advantage! This instant alert makes it convenient for auction participants to bid from wherever they are — in line at the bar, mingling with other guests, enjoying dinner or even from the comfort of their couch. They don't have to interrupt their fun, or downtime, to check their bid status on a clipboard. Mobile bidding lets you have the best of both worlds — hosting an in-person auction that lets people still enjoy a social event or a remote, virtual one!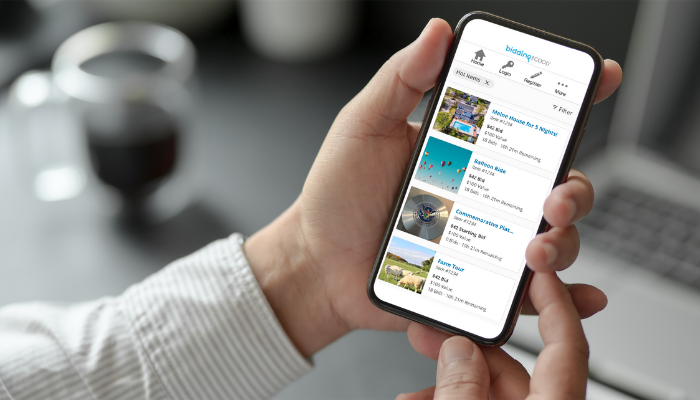 Streamline Registration For Bidders and You
Mobile bidding allows your bidders to register before they arrive at your event, so no one needs to wait in line and they can do it completely virtually if they can't make the event. They can get right to socializing or laying on the couch watching a movie while bidding from wherever they want to be. Your guests will have a hassle-free experience bidding on their favorite items, right from their smartphones or tablets.

"Donor Covers The Fee"
Why would a donor cover the fee for a charitable contribution they're giving? It's pretty simple. When a donor is in the mindset of giving, especially when on their mobile device, it's easy for them to say "yes" when prompted to ask if they'd be willing to cover the processing fee. In fact, market data shows that 50-60% of donors opt in to cover the fee when provided the opportunity to ensure 100% of their donation goes to your cause.
So, why not just ask? Adding this feature to your mobile-friendly auction is as easy as a click of a button with Panorama. When the donor chooses to cover the fee, it saves your organization hundreds and possibly even thousands of dollars in processing fees!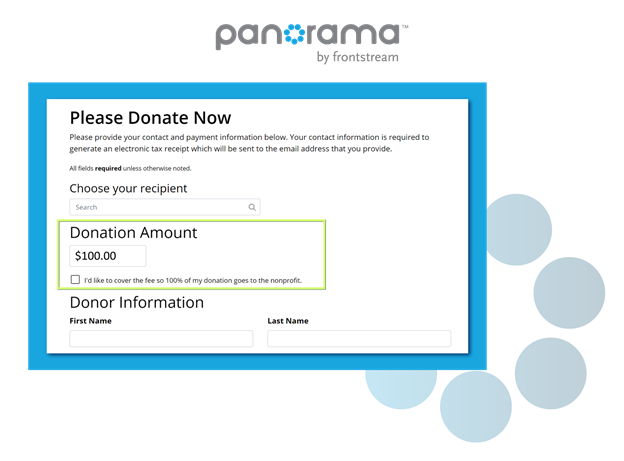 Quick Reconciliation with Easy Close Out
Now that you have everyone's payment information, close out and checkout is a breeze, too. Guests are able to pick up their items and go, and even get their tax receipt automatically delivered to them. For the organization, mobile bidding eliminates a lot of time having to reconcile this data, where it used to be that all of this information was on paper and not digitized. All you need is a platform like FrontStream's Panorama and you'll be equipped with everything you need to plan, manage and promote your online, mobile or in-person auction.
You can register your guests, promote your event across all communication channels, easily upload your auction items, photos and descriptions and then process all payments through Panorama's integrated, highly secure, integrated payment processing platform. If all this information isn't compelling enough to engage your supporters with mobile bidding, just ask any person standing nearby you holding a smartphone in their hand to check their bank account balance. If it's that simple of a task for them to do, then it should be just as simple and easy for them to make a donation to their favorite charity in that same fashion. The cause you care about and are invested in deserves the opportunity to reach a wider audience and mobile bidding is one of the most efficient ways to do just that.
FrontStream makes it for your next auction to be mobile-friendly and allow mobile bidding from just about any smartphone or mobile device. Our all-in-one fundraising platform, Panorama gives you everything you need to host a successful online, in-person or mobile auction.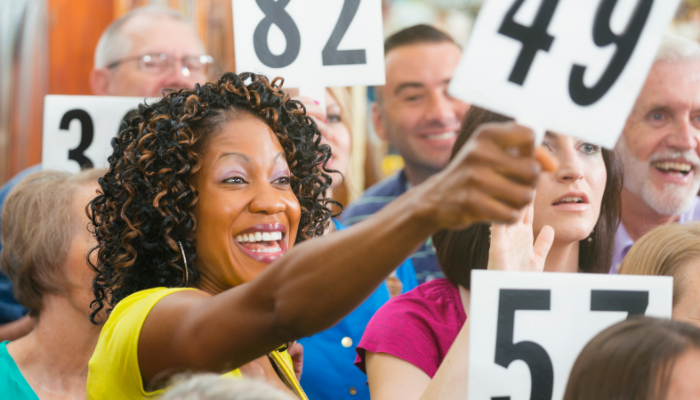 Hosting an auction soon?
Additional Resources:
On-Demand Demo: Panorama Auctions
On-Demand Demo: Auction Mobile Bidding Experience
Blog Article: 10 Simple Steps to Host an Online Auction
Blog Article: 6 Types of Auctions Items and Drive Fun and Success
Blog Article: 5 Steps to Raise More with Donor Covers the Fee