This year's Giving Tuesday results were record breaking with nearly 3.6 million gifts resulting in $380,000,000 million in donations. Even though this Global Day of Giving is over, the opportunity to turn your new donors into loyal supporters is just beginning! Below are some stats and ideas that will help you leverage your Giving Tuesday success year-round.
A sincere "Thank You" goes a long way
The Monday before Giving Tuesday, inboxes everywhere were flooded with last minute appeals for various campaigns, but there weren't nearly as many thank you emails sent out after all the donations were in. Your organization has a chance to stand out by sending a follow-up thank you email to all of your donors.
An email genuinely expressing your appreciation is also an opportunity to tell your story, report community impact, let donors know it's not too late to give, and inspire them to make a year-end contribution. Here's an example of a post Giving Tuesday email that we love from Dana-Farber Cancer Institute and the Jimmy Fund.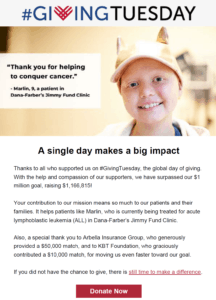 Another creative way to express thanks to your donors and remind them of their impact is a Giving Tuesday thank you video. Check out this adorable video from Best Friends Animal Society that is sure to keep their donors coming back.
Change up your end of year fundraising
Peer-to-peer campaigns or donate now buttons are great ways to raise funds on Giving Tuesday, but continually making the same ask in the same way can cause donor fatigue. For your next appeal, consider changing up your fundraising routine by hosting an online auction made up of fund-a-need items. A fund-a-need item is a request to fund a specific need at your organization and it's a unique way to show your supporters the impact their donations make. Best of all, if you have an integrated platform like Panorama, you already have easy access to the tools you need to run an online auction.
Guide Dogs of America's annual holiday auction is just one example of how successful a fund-a-need Auction can be! After they raised over $10,000 in 2012, Guide Dogs of America decided to run a Fund-A-Need Auction every year. Their auction's success has continued to grow with their 2017 auction raising nearly $44,000! Check out how they did it here.
Dive into your data
Sure, donor data is interesting but what do you do with it? Once this year's Giving Tuesday results are in don't just sit on static data, transform it into action items that can give your year-end fundraising a boost.
For example, did you know that Giving Tuesday can generate a virtual gold mine of new donors? Don't miss out on the chance to get these new donors engaged with targeted email campaigns. Create a unique communications plan for these donors that includes opportunities to become more involved with your organization such as participating in peer-to-peer fundraising or volunteering.
Year-end holiday appeals are also a great opportunity to reach out to donors who haven't been active in a while. Use your data to create a segmented list of donors who have given to your cause in the past, but perhaps opted not to donate this Giving Tuesday, and send out a final appeal to invite them back to support your organization. Be sure to thank them for their past support and show them the impact their donations have made. Check out this article for even more information on how maximize your donor data.
These are just a few of the things you can do after Giving Tuesday to keep your donors engaged. For even more tips on how to leverage your Giving Tuesday supporters, check out our upcoming webinar about how to create a strong annual giving program. Register here: "After Giving Tuesday: What Happens for the Next 364 Days?".
Get the latest trends and topics delivered to your inbox!
Subscribe to FrontStream's Blog