A color run is a vibrant, fun way to rally your community to fundraise for your organization or cause. It's similar to a walkathon or 5K, with participants walking or running along a pre-planned route. However, in a color run, they're running through cascades of shimmering powder that turn them into living canvases of bright, swirling color.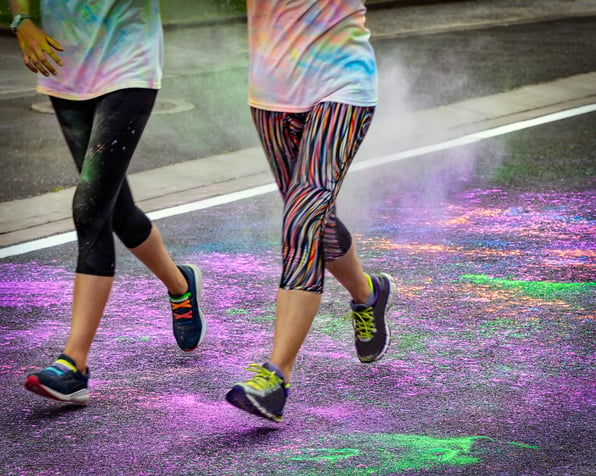 But a color run's unique format brings a distinctive set of considerations and challenges. Together, we'll explore the essentials of planning, the challenges you may encounter, and the keys to making your color run fundraiser a shining success.
What Is a Color Run?
Sometimes called a color-a-thon, a color run is a unique fundraising event that combines fitness, fun, and vibrant colors. Participants run or walk along a designated route while volunteers shower them with colored powders. Usually, people wear white clothing to give the colors maximum visual impact. The resulting photos are ideal for social media posts which can quickly reach a large audience at a low cost and promote your nonprofit organization and cause. These posts are notorious for catching people's attention and often attract more supporters, leading to more partners and increased funds for your cause.
Additionally, a color run is an experience that appeals to people of all ages and fitness levels. Color runs are typically held in spring, summer, or early fall when the weather is suitable for outdoor activities in many regions of the United States and Canada.
Why Choose a Color Run?
Choosing a color run for a fundraising event is a unique and exciting way to engage participants and attract sponsors. It is a fun way to unite people from all walks of life to support a common cause. The colorful powder used during the run creates a visually stunning experience for both participants and spectators, making it a memorable event that people will talk about for years to come.
Additionally, a color run is known for its inclusivity, as it welcomes participants of all ages and abilities, unlike full-on 5k races that may need to set specific criteria for a narrower amount of eligible participants to join. Also, the color run doesn't focus on speed or competition but rather on having a good time while supporting a good cause. Participants don't have to worry about their running time or placement, which is usually a relief for those who may not be experienced runners.
Who Can Participate in a Color Run?
Anyone can participate in a Color Run, regardless of age or fitness level. It is a, non-competitive event that emphasizes community, happiness, and health. For example, schools can create their own color run events for students and families as a way to promote physical activity and school spirit. These events area great way to bring the school community together and raise funds for school programs and activities.
When Should You Begin Planning a Color Run?
Allowing ample time for all necessary arrangements ensures a smooth planning process; hence it's recommended to begin planning a color run at least three to six months before the event. This allows time to apply for event permits and reserve space in private or public venues. For example, securing permits to use parks for registration booths, organizing other side events like auctions, or serving as the starting line of your color run. You may also need to secure town permits if you wish to use public roads for your color run.
However, the exact timeline may vary depending on factors such as the size of the event, the availability of permits, and the complexity of the logistics involved. Handling every step all at once isn't a mandate. For example, you can typically hold off on recruiting volunteers, identifying vendors and sponsors, or planning to market your event until 2-3 months out.
The bottom line: The sooner you start thinking through the logistics of your color run fundraiser, the smoother your experience will be for your team and participants on event day.
What Do You Need to Plan a Color Run?
When planning a color run, start with the same steps you would take for any fundraiser, i.e., creating a budget, setting fundraising goals, etc. However, there are also some extra considerations that are unique to this type of event. Here are a few things to think about as you begin planning:
1. Picking Your Venue and Designing a Course
An outdoor location is best for a color run because the powders get messy. Public parks, school grounds, or sports fields are good options due to their ample space and amenities. Some color runs also occur on roads, which must be closed to traffic during the event.
When looking at potential locations, consider the route you want participants to take. For example, most color runs are 5 kilometers (3.1 miles) because it is a manageable distance for participants of various fitness levels and ages, but 1-mile fun runs are also a popular format.
Depending on the available space and logistics, you can design the course as a loop or an out-and-back route. The route should include multiple color stations where volunteers shower participants with colored powder. Always check if the color stations are in spots where it's easy to transport the powders and other supplies.
Whichever venue you choose, it's important to check with local authorities and obtain any necessary permits for hosting the event in a public space. Closing off roads can be especially complicated, so if you go that route, reach out to the proper town or city officials far enough in advance to ensure you have time to work out logistics.
2. Sourcing Colored Powders
Once you have your venue, you're ready to think about the most crucial part of a color run: the color. First, you'll need to decide how much powder to buy in which colors. Different fundraising events may require specific colors, such as rainbow for LGBTQ+ causes or pink for breast cancer awareness. Then, you have to choose a good supplier.
Plan on approximately 1 to 2 ounces (28 to 56 grams) of colored powder per participant. If you want to lean into a more vibrant color experience or have larger color stations, consider increasing the amount of powder accordingly. It's always better to have some extra colored powder on hand to accommodate unexpected circumstances or higher participant turnout. So, to determine how many ounces of powder to order, take your expected number of participants and multiply it by 1.5 or 2.
It's important to choose non-toxic, biodegradable powders that are safe for participants and the environment. You can buy powders from several different vendors, including event supply companies, art supply stores, and even online retailers specializing in color run supplies.
When selecting a supplier, consider factors such as the quality and safety of the powders, color variety, pricing, and shipping options. Additionally, communicate with the supplier to ensure the powders are suitable for use in outdoor events and won't excessively stain clothing.
Aside from color powders, you may also use non-toxic slime as a fun alternative for the color run because it is also washable and comes in a variety of bright and vibrant colors. Slime adds an extra element of excitement to the run as participants can throw, splash, and smear the slime on themselves and their friends.
3. Recruit Volunteers and Vendors
Your color run will get off the ground with a roster of enthusiastic volunteers. Thus, you should create a volunteer recruitment plan that includes outreach through social media, local community organizations, schools, and universities. Highlight volunteers' unique experiences, emphasizing the fun and rewarding nature of being part of a colorful event.
Make sure your volunteers are always on the same page about where to go or what to do during your event. You will need them to provide support in key areas such as registration, course management, color stations, water stations, and event clean-up. Provide your volunteer team with clear instructions, training, and support to ensure they understand their roles and responsibilities. Some volunteer responsibilities are throwing colored powders to participants at designated stations or cleaning up after the event. Consider using a volunteer management system to keep everything organized.
At the same time, remember that volunteers are there to enjoy themselves, too. Encourage them to decorate themselves with extra powder before the event, so a rainbow of enthusiastic cheerers will greet participants as they run.
What Are the Top Challenges of Planning a Color Run?
While color runs are generally fun, easygoing events, planning can present various challenges. Here are some of the top issues you may encounter during the planning process:
1. Participant Safety
Participant safety is a primary concern for any event organizer. Managing a large number of participants in an outdoor setting requires careful planning. You need to design a well-marked course, consider traffic control measures (if applicable), and designate first aid stations to handle any potential injuries or emergencies. To prioritize safety, you may provide or require participants to wear protective gear like glasses and masks to avoid irritation.
Also, you have to consider participants who have allergies and asthma. So, you must consider keeping a safe distance from the color blast stations or preparing inhalers and medications for emergencies. Always remember that safety should be the top priority!
2. Permitting and Logistics
Organizing a color run may require extra clarity and communication when it comes to getting approval from your city or town. Planning ahead for months alleviates the anxiety of last-minute rushing and allows your team to get everything in place smoothly. And we can't stress enough how important it is to remember to secure permits for using public spaces, closing off roads, or hosting an event in certain areas! Also, logistics such as parking, portable toilets, waste management, and participant flow must be carefully coordinated.
3. Procuring Colored Powder
When buying colored powders, it's essential to keep a few things in mind. First, try to find powders with natural and food-grade ingredients, and steer clear of harmful chemicals and artificial colors. Second, look for colors that are vibrant and long-lasting, so that they won't fade easily. Third, keep an eye out for discounts and promos, such as free shipping, to save money. Also, you may check out customer reviews and ratings to learn more about the quality of the product from the real-life experiences of people.
4. The Risk of Bad Weather
Outdoor events are subject to weather conditions, which we all know are unpredictable. Inclement weather like rain, strong winds, or extreme heat can affect participant safety, color powder performance, and overall event experience. Having contingency plans in place and monitoring weather forecasts will help you mitigate potential challenges.
4 Keys to a Successful Color Run
Planning and executing a successful color run requires attention to a kaleidoscope of details. However, you'll get the best results if you prioritize these four key elements:
1. An Excellent Participant Experience
Leaving participants smiling is a surefire way to generate positive attention for your organization or cause. It also makes it more likely they'll return for other fundraising events in the future. To achieve this goal, create a welcoming atmosphere and provide a positive and inclusive environment for all ages and fitness levels. Incorporate elements like pre-run warm-ups, music, photo opportunities, and post-run celebrations to enhance the overall experience.
To ensure the smoothest possible color run experience, clear communication with participants is vital at every step. Consider building a custom landing page for the event to serve as a central hub for all participants to access event information, register, make donations, and share their experiences.
2. Vibrant Colors
The vibrant colors at color stations are a highlight of the event. Train volunteers to distribute the powders in a controlled and fun manner, maximizing the color experience for participants. And 100%, designate team members to take lots of photos!
3. Engaged and Excited Volunteers
Color runs rely heavily on volunteers for success. These volunteers are crucial as they not only hand out colored powder but also provide encouragement to runners. They play the role of cheerleaders, motivating participants to reach the finish line.
To maximize the success of your color run, it's crucial to have an enthusiastic and well-trained volunteer team! First things first: explain the rules and responsibilities clearly. Ensure they know their station, their role, and what color powder they'll be flinging. Since safety comes first, equip volunteers with buckets, cups, bottled water, tissues, and protective gear. Teach them how to handle the equipment like pros! And don't forget to supervise and support them along the way. Answer their questions, and provide plenty of water, snacks, and breaks.
A comprehensive fundraising platform such as Panorama by FrontStream can help you organize and communicate with volunteers, assign specific tasks, and track their involvement to ensure a smooth and well-organized event.
4. Effective Event Marketing and Promotion
When it comes to marketing your color run fundraiser, creativity and enthusiasm are the secret ingredients to success. Luckily, color runs are eye-catching by nature. You'll want to splash your event across various platforms and ignite the excitement of potential participants.
Get your posts noticed by using social media hashtags like #ColorRunForCancer on platforms like Twitter, Facebook, Instagram, and TikTok. Boost engagement by pairing the hashtag with a catchy slogan or logo to appeal to a wider audience. Short-form videos or podcasts for TikTok and YouTube that showcase your cause, provide details about fundraising events, and give a sneak peek of the exciting activities to come are a fantastic addition to your and the team participants' marketing plans.
Adding a social share button to your event landing page makes it easy for supporters to share event information with their networks. Consider creating hashtags participants can use to share photos of themselves bedecked in all the rainbow colors after their run. You can also spread the word about your event the old-fashioned way with printed flyers — just verify that each flyer includes a QR code directing people to your event webpage for more information.
How FrontStream Can Help You Run Your Color Run
Thinking about planning a color run for your cause?FrontStream's all-in-one fundraising solution can help make it a smashing success. From coordinating volunteers to collecting donations, our software streamlines every step of the planning process. You'll also gain access to analytics that help you track signups and measure the progress of your event. Request a demo to learn how our solutions can help your organization put on your best color run yet.