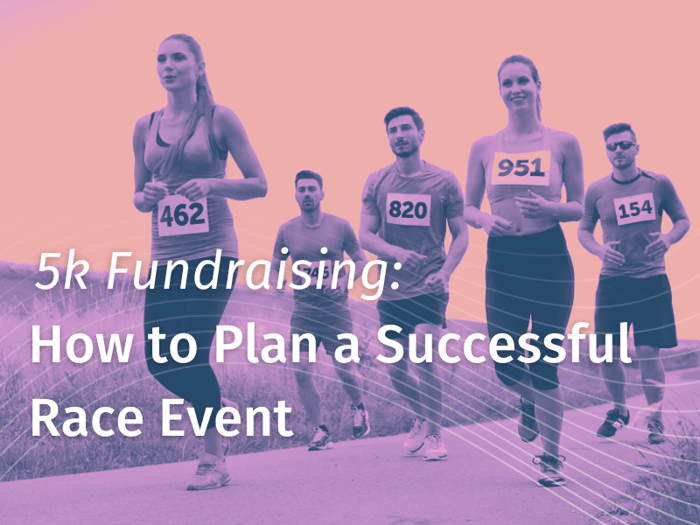 5K fundraisers are popular for a reason. Not only are they a great way to bring in donations, but they're also a great way to bring supporters together and raise your nonprofit's profile. The cost of hosting a run is also relatively low compared to other fundraising ventures such as galas or tournaments. That said, this type of fundraising event idea does require careful planning to get the most bang for your buck. Keep reading to learn all you need to know to plan a successful 5k fundraiser including how to set registration fees, raise money, and promote the event.
Planning a Successful 5K Fundraiser
The planning stage is important because it's what ensures your event will go off as intended. First and foremost, make sure you allow enough time between initial planning and the event date. You will need to choose a location, identify needed resources, and have enough time to advertise and garner interest before the event.
While you may be able to organize a 5K event in as little as 2 months, we recommend allowing your organization at least 6 months of lead time between initial planning and the date of the event. The date of your event may depend on where you'd like to hold it as well. Pinning down the location and the date should be your first priority.
When choosing a location, consider the route and the ability and age range of participants. A loop works best so that the finish line is near the starting line. Beware of unsafe areas or significant elevation changes along the route. If possible, use a local track or running trail. If you want to hold the area along a roadway, it's best to check with the city to get appropriate permits and to see if you can temporarily close the streets for your event.
Once you've established your location and date, then you can begin planning the finer details. Things to address during this planning include the following.
Size of the event–approximate number of participants
Fundraising goal–how much you hope to raise
Your budget–how much do you have to put toward event planning, supplies, and so on.
Required resources–how many volunteers will you need and what items may you need to rent or purchase for the event.


The Registration Fees & Other Details Involved in 5K Fundraising
One of the main ways funds are raised through a 5k event is from the registration fees. You will need to determine the appropriate price point that will maximize funds. Setting the price too high will deter potential participants, and setting it too low will mean missing out on money. Most 5k events have participation fees between $15 and $50 per person. Consider offering slightly lower registration fees for those who register in advance in order to encourage interest and participation. You may also look into the cost of providing each participant a free t-shirt in exchange for higher fees.
It's also a good idea to make registration as easy as possible. Online forms work great, and offering a variety of payment options can help secure more participants, for example. It's also a good idea to let participants know how these fees will be spent so that they feel confident in giving you money. Open up registration well in advance of the event to allow people time to register and make sure they can work the event into their schedules.
How to Raise Money with 5K Fundraisers
In addition to registration fees, there are other ways you can bring in money at a 5k fundraiser. Some ideas include:
Selling branded merchandise that has your organization's logo or a logo associated with the event. Items like shirts, hats, and water bottles often go over well.
Including a kids' dash in which kids can line up to participate in a short (100 meters or so) dash for a small fee.
Selling concessions such as snacks and beverages or even contracting with food trucks can help bring in additional funds.
Providing participants the option to create personalized fundraising pages on your site where they can solicit donations from family and friends.
Holding a raffle with thematic prizes or an

auction

.
Having clearly marked donation boxes located around the event site for those who'd like to contribute more.
Contacting corporate sponsors and offering free advertising space at your event in exchange for donations.


Promoting Your 5K Fundraising Event
Once your event is planned, it's time to make the public aware of it by generating excitement and encouraging registration. Some avenue promotions cost very little while others may be expensive, so plan and budget accordingly. More expensive options may include creating and posting signage, advertising on local media such as radio or television, or buying billboards or other ad space.
Less expensive options include social media campaigns–which work best if you have a lot of supporters willing to like, comment, and share the event. You can also send out emails to your supporters with the details and direct links to signing up. As previously mentioned, it's a good idea to get the word out early to allow people time to plan their attendance.
5k Fundraiser Ideas to Consider
Feel free to get creative when it comes to making your event stand out or seem attractive. You could incorporate an obstacle course portion, for example, or collaborate on the event with another nonprofit. Consider letting participants register their dogs to run alongside them or to show up in costume. Or, maybe a color run fundraiser might be more up your alley!
It's also helpful to adopt the right technology. An all-in-one digital fundraising platform like FrontStream's Panorama, for example, makes it possible to plan, manage, promote, and process payments all in one place, making the whole process of putting together your 5k event that much easier. In fact, you can contact FrontStream's sales department today to learn more.