Thanks in part to the rise of millennials in the workplace, employee volunteering is a growing hot topic for employers! While monetary donations usually steal the spotlight, many innovative companies across North America are promoting volunteer programs from understudy to the lead in their sustainability agendas.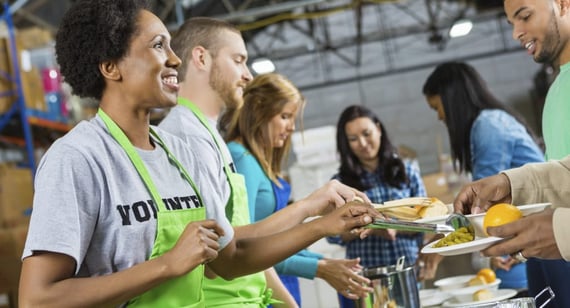 Here's three big reasons why your company should follow their example!
1. Volunteering enhances employee recruitment
Millennials now occupy about 54% of the workforce, according to Pew Research Center. This generation of employees is not just looking for careers where they will have opportunities to make a positive impact - they're demanding them! So, what do millennials consider most impactful?
According to the Case Foundation's 2015 Millennial Impact Report the answer is volunteerism. Millennial employees prefer being part of a company volunteer project rather than donating to a giving campaign. Subsequently, about 77% of millennial employees would be more likely to volunteer if they could use their specific skillset or expertise to benefit the cause. Companies that are adjusting their CSR approach to include a heavy dose of volunteer opportunities are more successful at recruiting and retaining a millennial workforce.
2. Volunteering increases employee engagement
According to the Trends in Excellence study by the Corporate Institute, volunteering increases participation in CSR programs at work. For example, PriceWaterhouseCoopers (PwC) introduces new hires to their employee volunteer program at the onset of their orientation. New hires work together to build a bike that they donate to a local youth organization.
When companies like PwC embed volunteerism into their company culture, employee satisfaction and engagement increases substantially. Findings from a recent study by UnitedHealth Group reinforce this by reporting, "81% of employed volunteers who volunteered through their workplace, agreed that volunteering together strengthens relations among colleagues."
3. Volunteering is better for your bottom line
It seems counter-intuitive to match philanthropic goals to corporate goals. After all, isn't it the objective of corporations to acquire money and resources while philanthropy is all about giving those things away? The surprise reality is that effectively integrated CSR is actually better for a company's ROI. That's why many corporations are already working towards this alignment.
Employee volunteering offers companies the opportunity to help the communities they serve, increase employee retention, improve happiness at work, and in turn improve efficiency.
For smaller companies where cost is a factor, volunteerism and corporate integration doesn't have to be a huge undertaking. For instance, in their employee volunteering guide for small to medium sized business, Volunteering Australia suggests that "volunteering general business skills such as running meetings, basic budgeting, how to use software applications, and a range of trade skills could all be useful to not-for-profits." This type of volunteering plays on employee strengths and also happens to be a great branding and networking opportunity for businesses!
Volunteerism's potential to increase employee morale and retention while improving company metrics across the board, clearly demonstrates why volunteering programs are essential to a successful CSR program!
Not sure where to start with workplace giving programs? Find out how to get started with a CSR program!
Get the latest trends and topics delivered to your inbox!
Subscribe to FrontStream's Blog