It was a knockout!
Facebook took the crown for top-performing social network. On #GivingTuesday, Facebook drove 19% of online donations made for good causes.
Love online donor metrics? So do we!
Our FrontStream #GivingTuesday Impact Dashboard captured real-time benchmarking information about online, social and mobile donors on December 1st, 2015. Today we're excited to share these fundraising insights with you!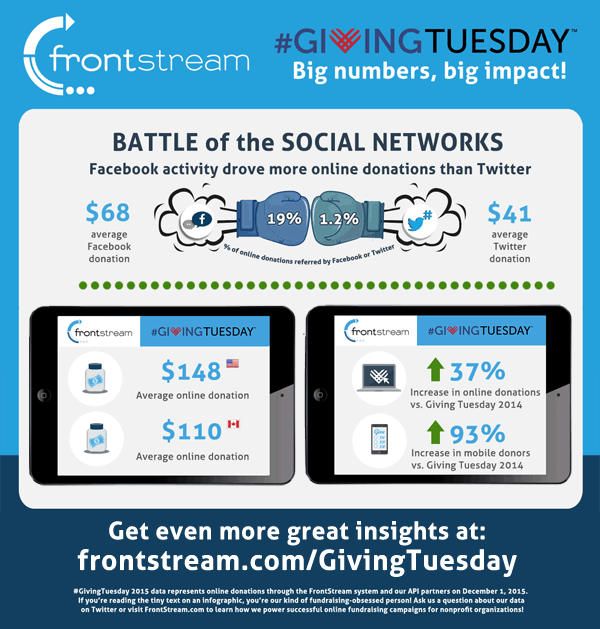 Visit FrontStream.com/GivingTuesday to see the full infographic and share it with your friends and colleagues.
From average donation sizes, to mobile giving trends, to the impact of Facebook on fundraising, we hope you'll be intrigued by this deeper look at how your donors give to causes they care about.
How well do you know your donors?
The end of the year is often the busiest time for donations to charity. Some nonprofits receive 30% of their annual online gifts in December alone!
#GivingTuesday gives us great information about how donors give online that we can use to optimize our appeals and donation forms in advance of the hectic holiday period.
Questions?
We love to chat fundraising stats, tips and tricks! Tweet us @frontstream or ask us a question on Facebook!
Get the latest trends and topics delivered to your inbox!
Subscribe to FrontStream's Blog