Pull out your calendar and circle Tuesday, November 29, 2022: This year marks the 10th anniversary of #GivingTuesday, and there's no better time for your organization to celebrate! By joining this international day of charitable giving, your nonprofit is sure to reach new and reoccurring supporters alike.
#GivingTuesday in a Nutshell
GivingTuesday originated in 2012 as a simple concept: why not create a day dedicated to encouraging people to do good? Since the movement's humble inception at the 92nd Street Y in New York, it has spread to 80 countries and hundreds of cities.

Our mission at FrontStream is to help good happen with solutions and expertise centered on empowering organizations to raise more for their causes and do more good for their communities, so we applaud the spirit of GivingTuesday!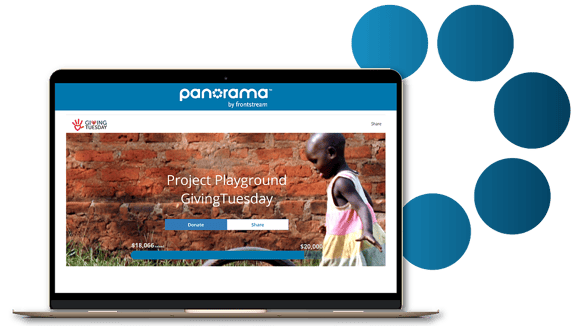 Here are three reasons your organization will do more good by taking part in #GivingTuesday2022:


1. EXCEED FUNDRAISING GOALS
Between 2012 – 2021, GivingTuesday helped raise nearly nine billion dollars for charities. And, as the chart below shows, the total amount donated consistently grows year after year. Last year saw a 12% increase compared to 2020, and this year is estimated to be nearly 20% more than last. It's no wonder predictions indicate 2022 donations will offer the largest gain yet for your organization:





2. GAIN NEW SUPPORTERS
Not only will you raise more this year, but you're bound to draw new supporters to your cause. Between 2019 – 2021, GivingTuesday attracted about 94.5 million charitable participants. Once again, you can see the bars grow longer year after year: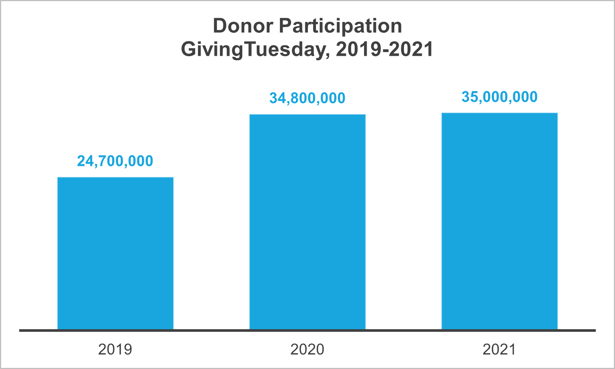 A whopping 63% of people who participate in GivingTuesday don't donate to charitable causes on any other day of the year. This means that over 22 of 35 million overall donors who participated in GivingTuesday 2021 haven't supported an organization since last year and won't again until November 29th, 2022. The time to take part in this international movement is now!
There's little reason for an organization to sit out on a day so widely recognized for helping good happen. Not only will your nonprofit receive an uptick in charitable donations on GivingTuesday, but it will also have a chance to welcome these first-time supporters into its donor base for years to come.


3. ENGAGE PAST DONORS
As you know, finding new support is necessary for the financial health of your nonprofit. However, engaging and maintaining a sturdy donor base is fundamental. Taking part in GivingTuesday is an opportunity to further engage previous donors where you know they support your cause.
Tips for Engaging and Maintaining Your Donor Base
• Share your impact. Everyone loves being on a winning team. While gearing up for #GivingTuesday2022, remind your donors how they've impacted your ability to advance the cause and subsequent accomplishments over the year. What struggles did the organization face and overcome? What's in store for next year? This is an opportunity to make an emotional appeal and remind them why they should continue to support your efforts!
• Send a thank you note. Although the supporter retention rate is low (21%) when
it comes to people who donate $100 or less for the first time, a kind Thank You email or letter goes a long way. When you let supporters know that you see the good they do—and that you appreciate their generosity—you strengthen your connection.
• Survey your supporters. Another way to connect to your donors is to ask them what THEY want. If donor turnout seems stagnant—or is decreasing—year after year at an annual event, your organization might need to start a dialogue with its supporters. Consider emailing attendees a short survey within 24 hours of a fundraising event. Ask a few basic questions, such as: How much did you enjoy the event? / What (if anything) would you like to see change with this event? / What other types of events would you be excited to attend in the future? Incorporating donor feedback into future campaigns will show supporters that your organization cares about them. Plus, if a first-time donor turns into a second-time donor, then your retention rate will skyrocket to 64% afterward.

It's important that you survey data on your donor base and are meeting supporters where they stand. For instance, if many of your supporters donate smaller amounts more frequently, then consider that when you're planning your next campaign or event. By paying close attention to your donor-base data, you empower your supporters, and in turn, your organization.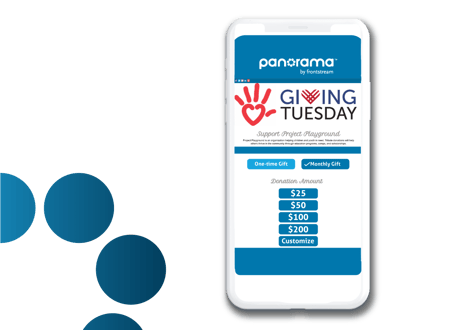 Regardless of whether your organization is focused on reaching new supporters or engaging repeat donors, keep in mind:
• You should ask your supporters if their companies match charitable donations. Many people are unaware if their company offers a matching gift program, so you can open a lot of doors by letting supporters know that there's a decent chance their company can double the impact of their generous contribution to your cause.
• Provide a great donation experience. The easier it is to donate, the more people will donate. An all-in-one fundraising platform—like Panorama by FrontStream—provides features that make it simple to build beautifully branded, mobile-responsive donation and event pages that are optimized for converting donors with the highest level of security. The last thing you want is for your supporters to be wondering how to give or if their information and donation are secure.
• Bonus tip: Incorporate a QR code connected to your nonprofit's donation page when you're advertising or at your event. (Donating while waiting in a bathroom or concessions line is more engaging than wondering why the line is crawling!)


FrontStream is Here to Help Make Good Happen
We assembled 14 super helpful (and free!) resources to help you get ready for #GivingTuesday2022 and motivate more people to give to your cause. Let's do good, together!