Has Pokémon GO has taken over your neighborhood? Chances are good you've already noticed the folks walking down the street with their eyes glued to their screens thanks to this popular new mobile app.
Pokémon GO is a game for your smartphone or tablet based on the famous Pokémon series by Nintendo. It combines the excitement of finding "pocket monsters" with an augmented reality twist!
Players are encouraged to explore their own cities and parks, using GPS to find locations with useful items and ultimately, catch Pokémon in their own backyards.
Less than a month after launching, Pokémon GO already has more active users than Tinder, and is about to beat Twitter. We bet you know at least one or two people who are obsessed with the game.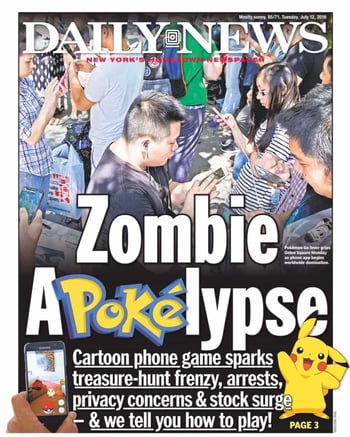 Pokémon GO seems like an obvious opportunity for businesses and retailers, but is it possible for your charity or nonprofit organization to also leverage this trend? You bet!
Here are five ways Pokémon GO can benefit your good cause...can you catch them all? *Pikachu wink*
Warmly welcome those Pokémon Trainers!
Many buildings, parks, intersections, and outdoor spaces appear as "Poké Stops" or "Gyms" in the game. A Poké Stop is a location where gamers can acquire Poké Balls, potions, eggs and essential game items. A Gym is where Pokémon Trainers meet in (virtual!) combat.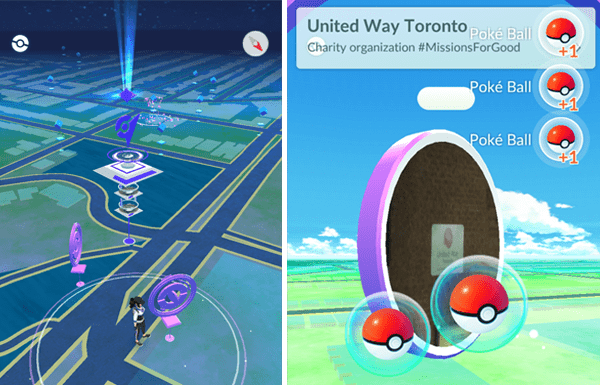 Is your office, school, shelter, church, or community center near a Poké Stop or Gym? Many charitable organizations are designed in the game with the hashtag #MissonsForGood. Follow the lead of enterprising restaurants and greet the Pokémon Trainers you know will be coming in close to power up. You could use your Facebook or Twitter account to cheer gamers on, or put out some clever signs in your windows or on the sidewalk. Don't forget to use this opportunity to share your mission!
If you find you're seeing new friendly faces thanks to Pokémon GO, make sure those Trainers learn about what you do and have the chance to make a small donation or take your marketing collateral. And if you feel catching Pokémon is not appropriate in your area, you can let folks know that too.
Explore the historic places in your city that matter to your cause.
Pokémon GO is powered by city data from an earlier game called Ingress, which used geolocation data to map unusual or hidden landmarks around town. This means many historical and often overlooked parts of your city are included in the game!
Pokémon Trainers are walking into parks and exploring monuments that they've never stopped to examine before. We've heard how employees at a hospital foundation were excited to see that a memorial to their founder was featured as a Poké Stop, prompting people to read and take pictures of the plaque talking about the importance of his legacy.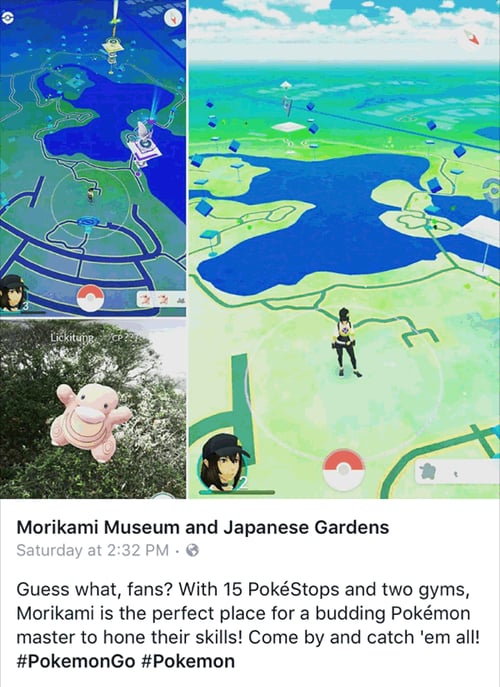 What's in your own history that can be explored in the world of Pokémon GO? MuseumHack.com even suggests buying a Lure Module for .99 cents to tempt people to your area!
Connect Pokémon to your story and mission
Pokémon are all unique little creatures, and they have a connection to their natural environments. Some are found near water, some are found at night, others can fly, some have fur and claws, some are reptiles, and some are even plants! (Seriously.)
If you take the time to get to know a little about the game, you may find there's a few Pokémon that connect to your cause. Think about how quirky and entertaining Pokémon content could work for you in a blog post, a newsletter to your subscribers, or as something to fun to chat about on social media. It's easy to use the Pokédex to learn about individual Pokémon and how they relate to the fantastical world around them.
Animal rescue organizations can REALLY take advantage of the "get outside and walk!" element of the game. For instance, the WoofTrax app Walk For A Dog will make a donation to an animal shelter based on how long you walk your own pet or a dog in need.
Power up your volunteers & staff
Nonprofit employees and volunteers often battle burnout and stress. Many employees say they work in "silos" where they don't interact with other departments. Think about how great it would feel to get up from your desk, get outside, and go for a walk with your coworkers.
Beth Kanter wrote about the importance of "walking meetings". Why not hunt some Pokémon together and hit up some Poké Stops along the way?Pokémon GO is designed to be social, so when one person spots a pocket monster, others can catch it too!
Once you reach Level 5, you can even join one of 3 Pokémon Teams and work together as a group to attack or defend a Gym. Whether you play together or you battle apart, you'll be bonding over the summer.
Workplace fundraising...no, really!
There's so much potential to leverage Pokémon GO for charitable fundraising! For those of you with corporate partners and connections to employers in your community who want to contribute to your cause, here's a great pitch: "workplace team challenges." Managers could allow employees to buy "Pokémon GO" minutes to hunt Pokémon during office hours by making a donation to a good cause. Think "Wear Jeans Day" but with Pikachu!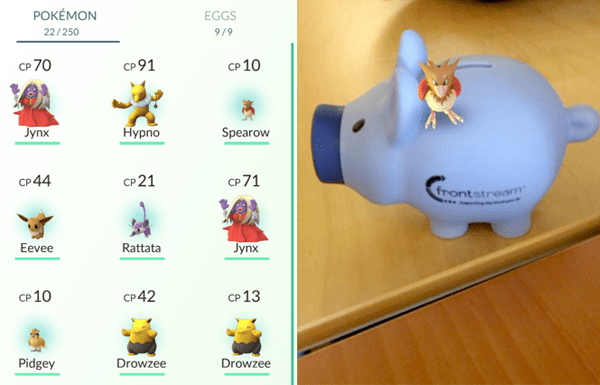 Also, employers could ask their employees to bring in one food bank item for every Pokémon caught. Which department can catch the most (and donate the most)?
Workplaces could divide into teams for timed challenges, with the most powerful team at the end of the month choosing a charity for the losers to support through volunteering or a group donation.
Make it easy for corporations to support your cause at the workplace by helping people create an online fundraising page to track donations for you. You could even offer downloadable posters, flyers, or pledge sheets on your website.
What are your ideas for Pokémon Go?
Give us your suggestions on Twitter or Facebook!
With so many options to jump in, we're sure you'll have fun reaching out to Pokémon Trainers in your community.
Get the latest trends and topics delivered to your inbox!
Subscribe to FrontStream's Blog