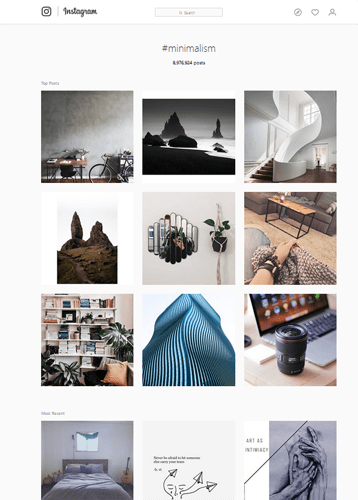 You may have noticed that a big theme over the last couple of years has been minimalism, or "tidying up" one's living spaces, work spaces, and so on (check the #minimalism hashtag on Instagram for examples). There have always been books about getting rid of the stuff you don't need, but with the releases of books like Marie Kondo's The Life-Changing Magic of Tidying Up and Dana Shultz's Minimalist Baker, the trend has reached a fever pitch - and we're into it!
Think about how you can apply the minimalist trend to your work at your nonprofit or charity. It's all about decluttering your work life, especially when it comes to organizing! Whether your storage and organization is digital or physical, it can make a huge difference if you pare down and tidy up.
For instance:
Purge what emails you don't need
Quick, take a look at your inbox. Is it overflowing with emails that you don't need to be receiving, or completed communications that you could be archiving instead? Start using folders to sort and organize old emails, and don't be afraid to delete emails that you won't need! Take a mental inventory of which digital trails you need to hang on to - we're willing to bet it's a lot fewer emails than you'd think.
Also, when it comes to email, you should look at cleaning up your own mailing lists for your supporter base. Removing inactive subscribers or "ramping down" by sending less messages helps improve your sender reputation. We've all gotten tired of receiving multiple emails from mailing lists - don't be a perpetrator!
Be thoughtful about your social channels
While we're definitely in favor of using social media to get the word out on your cause, there's the chance you could have gone overboard and signed up for everything - YouTube, Tumblr, Pinterest, Snapchat, LinkedIn, and more. If you're not consistently using these channels - as in, if you're letting them lie dormant for more than a couple days in a row - delete them. Having social media with little to no updates can look even worse than not having it at all.
Instead, look at which social channels match your donor personas and plan out engagement techniques to specifically target them. It's not worth it to be creating content for channels that don't have your audience of supporters and prospects - focus your energy on where you'll find engagement.
Partner up!
In your community you might find multiple organizations trying to solve problems independently, which can make the entire process less efficient. Who can you pool resources with to help find solutions for the community? You could consider partnering up for a fundraising event, particularly if your two causes align well together. Sharing the work means less stress and more combined effort!
For example, as we profiled in our Realize campaign, Habitat for Humanity worked together with Community Living North Halton to build a home for a group of men with autism. These two organizations were able to come together to create a lasting solution for the community, and put together a wonderful cause story at the same time.
Minimalism isn't just a buzzword - it's a movement that can help promote better peace of mind and less stressful work environments. Take some time to see how it can be applied to your daily tasks at your nonprofit - not only is it a good form of self-care, but it can also help you de-clutter and get a better view of your work!
Get the latest trends and topics delivered to your inbox!
Subscribe to FrontStream's Blog