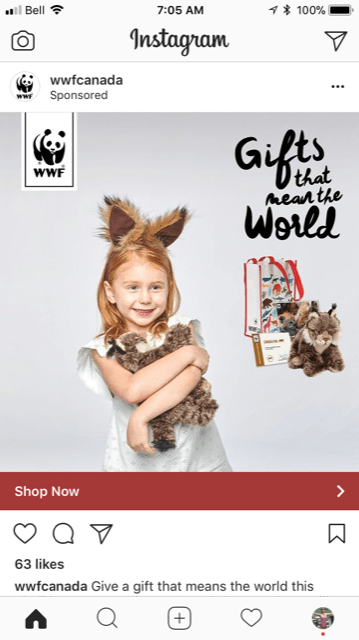 The Giving Tuesday 2017 numbers are in, and they're interesting: Instagram was the second most popular social network after Facebook for donors on Giving Tuesday!
We looked at a large segment of online donation traffic on our platform and found Instagram represented 4.3% of socially-referred gifts at a $78.5 average gift size.
This year, Instagram sent more individual donors to donation forms than Twitter, had a higher donation conversion rate, and the resulting gifts were of a higher average value.
We've noticed the recent rise of Instagram across FrontStream's online donation products, but this was the first time we've seen Instagram outpace its more famous and established rival Twitter!
Many organizations think of Twitter as being crucial to their #GivingTuesday outreach, and considering the volume of tweets on Tuesday November 28th, 2017, it's easy to see why. Twitter helps you amplify your message on an event day, attract media attention, and make it easy for your followers to share your content.
But, is Twitter the same platform it was when Giving Tuesday launched in 2012? Not exactly!
The statistics show that Twitter's active user base is stagnant. Active means the number of people who are currently using the platform, as opposed to the number of people who have an account.
Even though you'd expect the number of Twitter users to be growing quarter over quarter, the number's actually stayed about the same. Now, compare Twitter's 300,000,000+ reported users to Instagram's 800,000,000, and you can see how Instagram is beginning to leave Twitter in the dust. Instagram has also shown signs of user base growth since April 2017, while Twitter has remained flat.
Hang on, I don't think of Instagram as a transactional platform!
Instagram lets users share images (or videos) and find new ones through hashtag and keyword searches. The vast majority of users access Instagram on a mobile device, usually a smartphone.
Instagram likes to keep users inside the platform, and does not allow clickable links in text sections or comments. There are only two ways to "click out" of Instagram: The user's bio includes a section for links, and Instagram ads include call-to-action items like "Learn More" or "Donate Now" that take users to a website.
The fact that Instagram is generating traffic to donation forms could indicate that nonprofits and their influential supporters are encouraging donors to "Click the link in the bio to give".
But, it most likely represents the increased number of charities and nonprofit organizations that are using sponsored Instagram posts!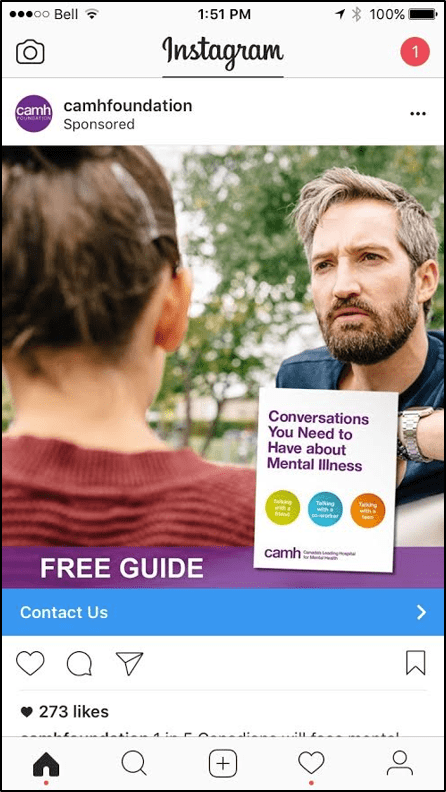 I've heard of Facebook ads, is it a similar idea on Instagram?
Very similar – In fact, many organizations choose to run a single advertising campaign on both Facebook and Instagram. It's easy as Facebook controls both advertising platforms.
Instagram allows you to pay for sponsored postings and add a strong call-to-action like "Shop" or "Donate".
Pair this with Instagram's options for adding multiple photos and videos to an ad, and you've got the ability to create a truly impactful and convincing message that goes beyond a simple in-feed advertisement.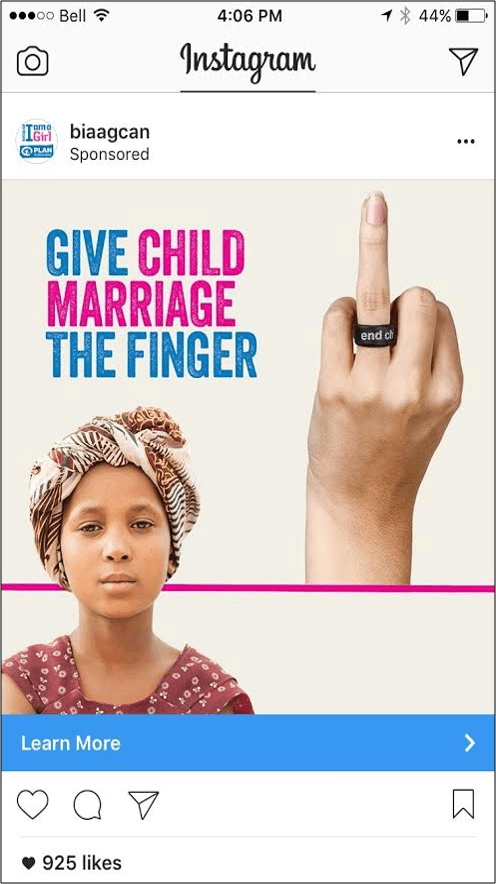 What does this mean for your organization?
Given that we know Instagram ads can drive donations, why not use the strategy year-round?
Try targeting the demographic profile of your typical donor by location, age, interest, or who they are following. You might be surprised at how easy it is – and how this method of advertising can help you reach new audiences.
Switch up your strategy and do occasional A/B testing with your sponsored ads to see if some are performing better than others, and why. Ad placement on Instagram is surprisingly inexpensive and you can set a maximum daily or weekly budget!
Your Big Takeaway: Instagram outperformed Twitter in number of gifts, size, and conversion rate. It's second to Facebook, which you already know is doing a good job of pushing donors to your donation and fundraising pages.
In 2018, consider planning out a strategy to reach those supporters and donors on Instagram!
Want to learn more about Instagram for events? We've got the perfect - and free - ebook about using Instagram for P2P events. Download it here!
Get the latest trends and topics delivered to your inbox!
Subscribe to FrontStream's Blog