Katie Burke - Director, Media & Analyst Relations at HubSpot - is an expert in topics like inbound marketing, events, sponsorships and much more. We're so excited to have her joining us at the FrontStream Philanthropy Solutions Conference on March 10th in Toronto that we decided to ask for a quick preview!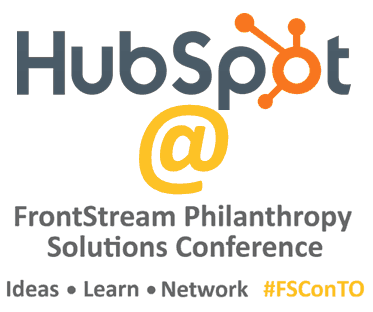 We got a chance to speak with Katie last week, and are happy to share some of her fantastic insights for digital fundraising.
What are the best practices nonprofits should know about successful inbound marketing?
One of the big misconceptions is that just creating content is not enough - you must find ways to market and share this content effectively. It's not just about having a blog, it's about investing the energy and time to make your blog truly remarkable, and earn the attention of your potential viewers, donors, and volunteers.
Second, the notion that your potential networks are not on social media is out dated. Today, Twitter, Facebook, and LinkedIn are some of the BEST ways to engage people who are not yet familiar with your brand. I believe being on social media and having a strong strategy is a requisite, rather than an option.
Finally, developing a brand that has a great personality. At the end of the day, we are given countless options for where to spend our time, energy, and money; and we want to do so with a brand that emits the kind of character people are attracted to. Building a brand with a strong personality is essential for getting people involved and continually engaged.
With all the noise created by the different social media available today, how can nonprofits make their campaigns stand out?
One of the best ways to do that is through visual content. You want to be as visually engaging as possible, because a 100-paged eBook will make it hard for you to stand out. Create visual content that will engage and attract people to your campaign, and although it seems easy, there is a catch! If you try doing what everyone else is doing, you will be grouped among the others. It's less about just having a presence, and more about what you are investing to help you stand out from the pack. That may include: optimizing all your social channels to drive engagement, investing in co-marketing with a brand that uses social media very well and finding a way to work together - but whatever the case may be, it is less about table stakes, and more about how you can differentiate yourself on social media.
What are common mistakes people make when trying to get media attention?
One of the biggest mistakes people make is being there, to just be there. It's like attending an event and not speaking to anyone while you're are there - so just sitting on the sidelines. Of course you're not going to meet anyone, and of course you're not going to make meaningful connections. The same concept applies with social media. People cannot expect that just showing up is enough to be noticed. Your goal is to engage and inspire action, and as a result, the bar is much higher than just showing up. You need to be meaningful, inspirational, and educational. Wherever on that range you are aiming to be, it is totally alright, but I think more energy needs to be dedicated than just showing up and having a compelling strategy or story to tell.
What can attendees expect to learn and take away from your presentation at #FSConTO?
As every attendee will know, and has lived personally, it is really hard to earn attention and interest as a nonprofit organization, especially when a lot of people have competing demands for their time, energy, and of course their funds. At #FSConTO, I will be talking about how a nonprofit can leverage inbound marketing to successfully attract and engage potential donors and volunteers.
---
There's a lot more in store at #FSConTO on March 1oth! Register today to make sure you don't miss out on an incredible day of speakers, networking and so much more!
Get the latest trends and topics delivered to your inbox!
Subscribe to FrontStream's Blog