Engaged employees make better employees. They create emotional bonds with their employers and coworkers, find inspiration to innovate and seek out creative solutions, and they stay at companies longer. Businesses find many ways to engage employees including fun incentives, company events, and contests.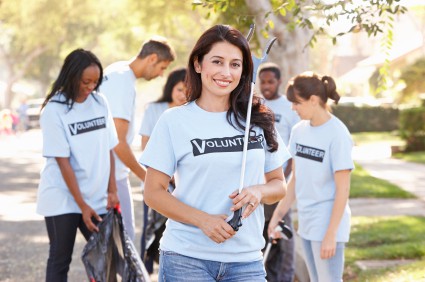 Those tried and true employee engagement ideas work well. But, you can also build engagement and bolster your corporate philanthropy efforts by offering employees time to engage in volunteer opportunities during work hours.
Although it may seem counterintuitive for a company to encourage its employees to take time off from work to go out in the local community and volunteer, substantial evidence suggests the opposite. By incorporating workplace volunteering as a part of their jobs, employees have the opportunity to share their knowledge and skills, build stronger community ties, and become the public face of the company.
Sharing Knowledge
Having knowledge and skills is rewarding. Sharing those skills with others is even more rewarding. By allowing individuals to get out of the office and contribute their skills to those in need, employees can become more engaged in their day to day activities knowing that they bring more to the table than what they can achieve by only fulfilling the roles of their positions at work.
At the same time, employees also gain knowledge and skills from their corporate volunteering activities which they can bring back to the office as well.
You can encourage this kind of engagement and integration with local nonprofit organizations by incentivizing the program. Some corporate giving initiatives take a strong head-on approach by incentivizing their employees with bonuses and paid trips to volunteer sites, whereas other companies simply give their employees the opportunity to get out and help should they want to do so.
Representing Company Values
By working with local non-profit organizations, employees gain valuable experiences. They also represent their company in a unique way by putting a human face on what is often seen as a faceless entity by the community.
The majority of marketing campaigns attempt to persuade a consumer that a certain product would benefit their lifestyle. On the other hand, corporate promotion through workplace volunteering shows that a company is more than just computers and calculations. Corporations are actually made of living, breathing people who play a beneficial role in the community. Sharing the company's values with the community is also an incredibly effective tool for employee recruitment.
Workplace Volunteering is Effective
Because workplace volunteering is so effective, many large corporations have taken a leading role in popularizing corporate volunteering programs. One such company is Hewlett-Packard, which offers its employees four hours of paid time off per month to volunteer in the community.
HP has been so successful with this program that they have expanded it to include a wide array of domestic and international projects focused on community engagement. They have put their focus on projects including clothing needy children, offering youth in impoverished countries lessons in entrepreneurship, supporting health initiatives, and providing pro-bono legal support. HP has grown their employee engagement programs to a level the initially never thought imaginable.
Getting Started is Easy
Workplace volunteering programs can start small, with maybe one employee going to help out at an animal shelter for the morning. Or, programs can kick off on a larger scale with an entire office supplying ready-to-go food bags for a food bank. Whichever approach you choose, your company can make a real difference in the community.
As employees become engaged with their local communities, they have the opportunity to address the needs at hand. They also have the opportunity to provide this community service in a way that doesn't financially penalize them by having to make up work hours or take paid time off.
It's easy to increase employee engagement by giving employees a sense of purpose beyond their job titles through corporate volunteer programs during the work day.
Get the latest trends and topics delivered to your inbox!
Subscribe to FrontStream's Blog