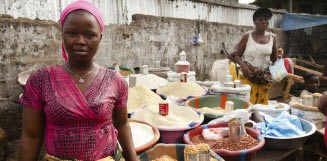 On any given day, newspapers are filled with stories of disasters, from war and famine to destruction by natural causes. These crisis situations are undoubtedly worthy of attention and the humanitarian relief that they receive. Yet according to the Disaster Volunteers of Ghana (DIVOG), misfortune does not need a newspaper headline to be worthy of the label "disaster." In the words of the organization, "Every time a child cannot attend school because there is no building, it is a disaster. Every time a community cannot access food and opportunity, it is a disaster." In fact, all socioeconomic crises, no matter how small, merit our attention in the effort to better the daily lives of all people.
In this vein, DIVOG focuses on grassroots initiatives to empower local Ghanaian communities. While Ghana enjoys one of the most stable political and economic climates in Africa, many rural areas of the country still face poverty with few education and employment opportunities. DIVOG therefore provides solutions for education, healthcare, infrastructure and sanitation problems with an emphasis on sustainability. For instance, since 2002, they have organized school construction, latrine installation, and lessons in literacy, math, and health.
However, this non-governmental organization with 501c3 status stands apart from other charitable groups due to its volunteer programs. DIVOG's priority is to facilitate partnerships between international volunteers and local establishments, such as orphanages, schools, and hospitals. This meaningful exchange changes the lives of all participants: visitors from abroad become global citizens and locals can see their community improvement projects come to fruition.
DIVOG is particularly important to Truist Operations Coordinator, Brandolon Barnett. Several years ago, Brandolon's nonprofit work took him to Ghana in search of a local partner in Africa for volunteer programs. The establishment of this partnership is among the most meaningful work Brandolon has ever done: the resulting volunteers and funds truly bettered lives and demonstrated a positive aspect of globalization. Although Brandolon no longer has professional ties with DIVOG, he maintains a meaningful friendship with the staff and has even hosted the founder and director, Richard Yinkah, during trips to the US.
Brandolon continues to be energized by DIVOG's perseverance and success: "Whenever I think of how hard a task is, I take inspiration from all they've managed to accomplish and pride that I may have done even a little to help."
To show your support for the Disaster Volunteers of Ghana, please consider volunteering through one of DIVOG's many programs.
Get the latest trends and topics delivered to your inbox!
Subscribe to FrontStream's Blog