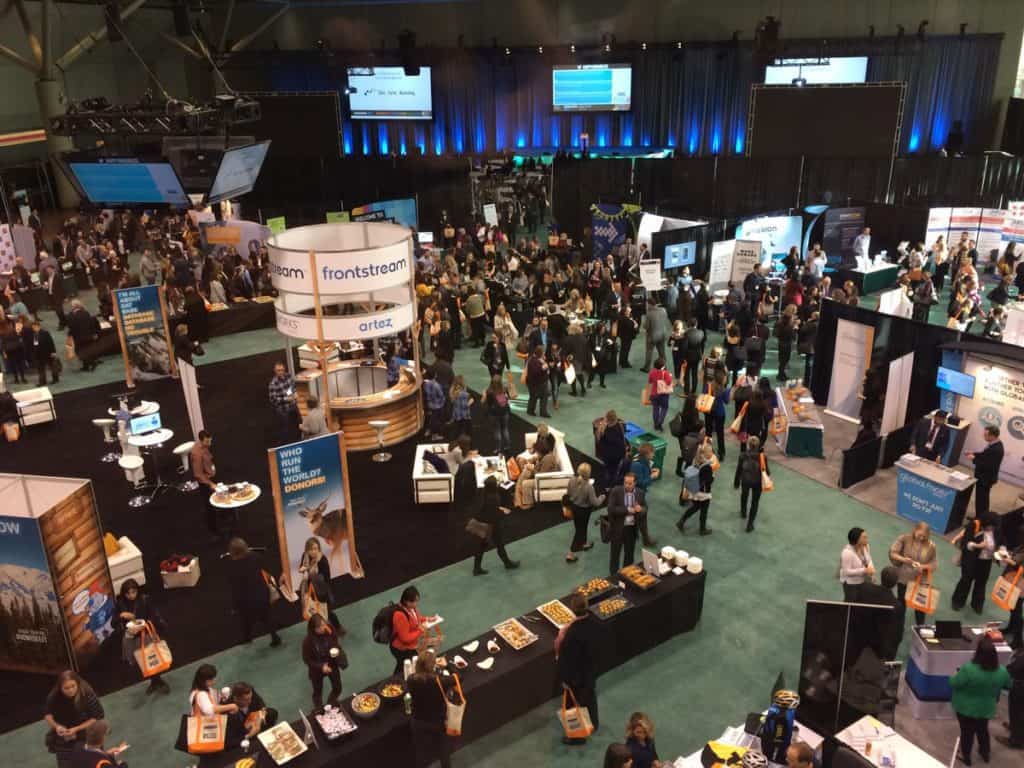 Now that spring is on the horizon, that also means that nonprofit conference season is upon us once again! Whether you're a frequent attendee or a newbie to the conference scene, you probably have an idea of what the event entails: plenty of panel discussions, a bustling trade show, and inspiring keynote speeches.
What you might not think about is what you need to get ready for a nonprofit conference. As fun as they are, you're also heading into some activity-packed days in a potentially different city, so it's best to be prepared!
Our team has had plenty of experience attending conferences, and here are some of our top tips & tricks when it comes to getting the most out of your time at the event. (P.S. We'll also be at NTEN and AFP International coming up this April, so join us and put these tips into action!)
Conference tips
Download the app: Many festivals and conferences have their own apps that allow you quick access to panel descriptions, floor maps, speaker info, and much more. Check to see if there's one available for your upcoming conference and make sure it's installed on your smartphone!
Make your plans in advance: Check out the agenda and schedule and book time for sessions, meetings, and downtime to recharge. If networking is your goal, scan the speaker list and reach out to them on social media ahead of time to let them know you'd love to meet them in person.
Divide and conquer - and team up: Going to a conference with colleagues? Choose different sessions and compare notes afterward. Colleagues are also super valuable if you're an introvert and have sweaty palms about "mix and mingle" cocktail hours!
Get the most out of Q&As: Jot down questions as you think of them during a session. If you don't have your laptop on you (see our point below), then at least be sure to have a notebook handy, as well as more than a couple pens (in case one of them dies mid-bullet point).
Leave a session if it's not for you: If you're sitting in a session and realize you're not getting anything out of it, don't be afraid to get up and go! Your time is valuable and you paid to attend - trust us, nobody will judge you.
Try NOT to work: You're there attending for a reason - don't get sucked into working instead of learning. Put on your Out Of Office alert on your email/phone if you need to.
General prep & survival
Stay hydrated: Before you head to the conference, make sure you have a good travel water bottle that will fit in your bag or purse - and keep it filled throughout the event! (Heads up that we'll have a few tasty beverages available at the FrontStream booth at AFP.)
Bring your laptop: We know, it can seem like extra baggage to tote around, but you'll be grateful when you're able to take notes quickly! You might think you can take notes in a notebook, but there's a lot being said.
Watch your partying: After-parties and happy hours are some of the best parts of conferences, but be careful when it comes to late nights and too much alcohol - and if it's unavoidable, take vitamin B to help with hangovers.
Have business cards on hand: Bring lots of business cards! And don't be shy about asking for one from anyone you want to connect with post-conference.
Bring an extra phone battery: A portable battery pack should always be on your preparation list. Even if the conference has charging stations (and most of them do), there's the chance they could all be occupied, or you may not want to leave your phone behind. Plus, you don't want to miss any sessions just to sit by a wall outlet!
Dress for the day: Always bring a blazer/cardigan, even if you're off to a hot city - you'll probably freeze after a few hours of blasting A/C inside the conference halls. Also, it's essential to wear comfortable shoes (or at least bring a change of shoes), because you never know how much you'll be on your feet.
Make a mini survival pack: Think about packing handy little things like breath mints, Advil, vitamins, a Tide stick for sudden stains, and so on. It could save you money (and quick trips to any nearby convenience stores).
Get ready to maneuver: Make sure to have an app like Lyft on your phone to help you get back and forth more easily. It's an additional good idea to download any maps you might need just so you can have offline access if the Wifi is spotty.
Bring money: There are some cabs, food trucks and so on that are cash only. Don't be caught with plastic only!
Did we miss anything? Send us a tweet and let us know your suggestions for conference season - and don't forget to swing by our booths at NTEN April 11-13 and AFP International April 15-17!
Get the latest trends and topics delivered to your inbox!
Subscribe to FrontStream's Blog